One of the items in the Sweets/Desserts section of Lukas Volger's Snacks for Dinner is titled "Dates Four Ways."  
I decided to test them out to find my favorite before committing a bunch of dates to the effort.  
At the top, we have a broiled date with olive oil drizzle, lime zest and Aleppo pepper flakes.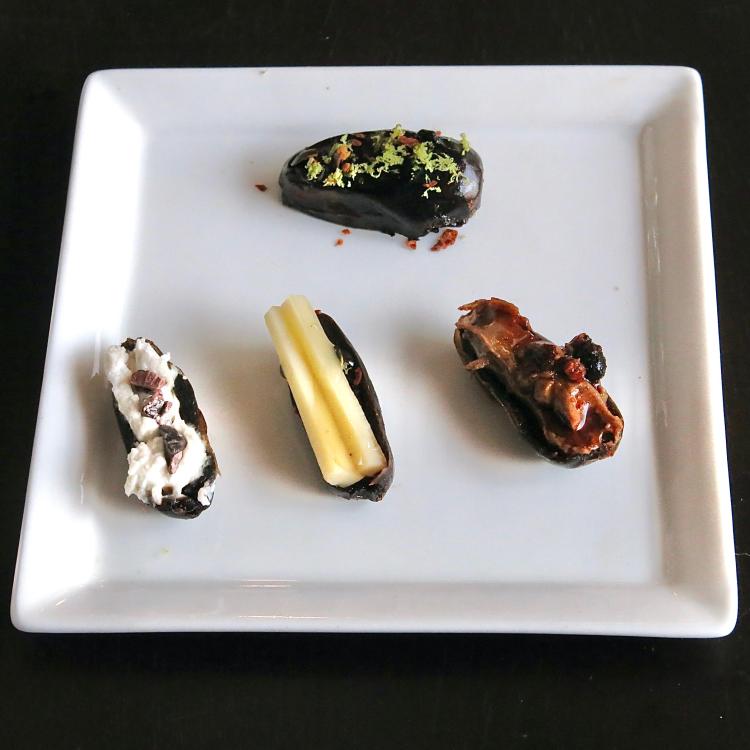 In the second row, from left to right, we have a date stuffed with maple goat cheese (Silver Goat chèvre mixed with a little maple syrup) and topped with cacao nibs, a date stuffed with sharp Cheddar and drizzled with honey and a date stuffed with almond butter and topped with Fly By Jing chili crisp.  
These dates are pretty small so this looks rather silly but they're the last of the ones I bought at the farmers market.  All are good enough for further exploration. 
The broiled one was supposed to be broiled until the skin blistered, turned and done on the other side.  I wasn't seeing any obvious blistering so it got left in too long.  Still, the inside was nicely chewy and the lime and pepper were a nice contrast. 
The maple goat cheese tasted delicious on its own.  I'd happily smear it on a waffle or bagel or muffin.  The tang of the goat cheese contrasts with the sweet date and the cacao nibs add a nice crunch.  This wins the dessert category. If you made these with larger dates, cut in half and piped the goat cheese on with a pretty tip, these could look quite fancy. 
The sharp Cheddar was good with the date but the honey just blended in.  I'd be tempted to skip the honey and use a few drops of aged sherry vinegar or balsamic. 
The nut butter and chili crisp wins the savory category.  Very more-ish.  
Edited to add these were accompanied by a small glass of Pineau des Charentes....a small glass that I refilled once...or twice 🙃