This started out as a take on a standard lemon curd. This version will give a softer set that's good for tart filling - if you want something with more structural integrity, use all dark chocolate or increase the dark chocolate content by 50%. The quantities here will give enough for a 16cm tart.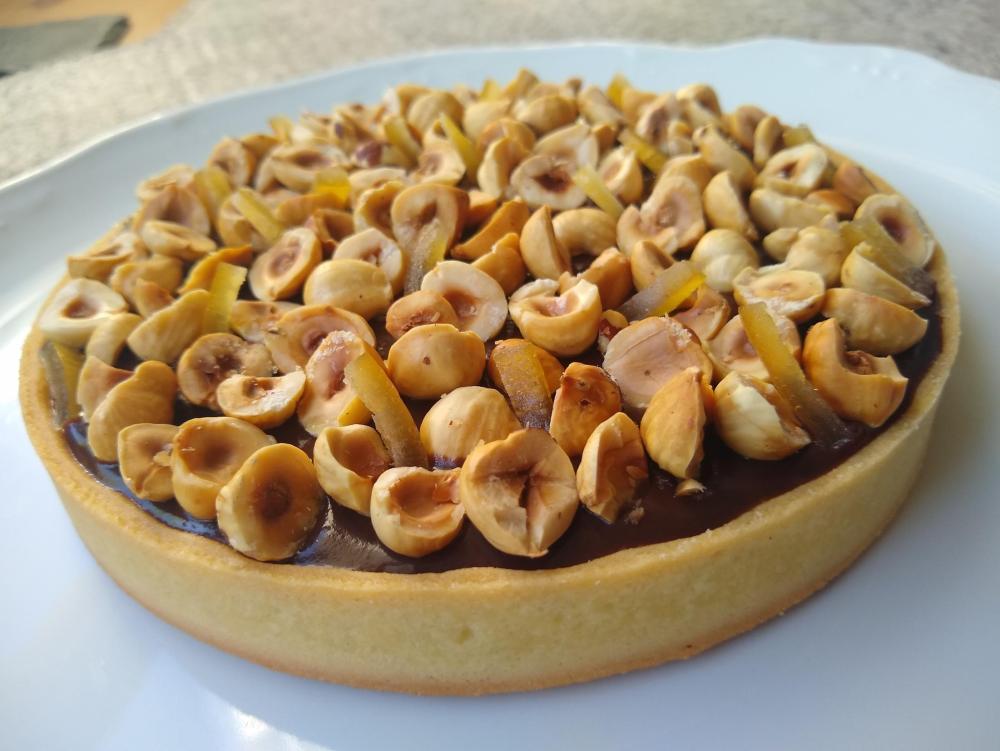 2 large oranges (for a stronger orange flavour and more acidity, use 3)
80g sugar
2 large eggs
80g milk chocolate
80g dark chocolate
- Wash then zest the oranges directly into the sugar, stirring between oranges. Set aside, preferably overnight.
- Juice the oranges and weigh or measure the volume of juice - there will probably be around 250ml (three will give you around 375ml). Put it into a pan or microwave-proof bowl and reduce until you end up with around 120ml of juice (this increases the flavour and acidity).
- Break the eggs into the sugar/zest mixture and beat well.
- Break up the chocolate into a large bowl, then place a sieve or strainer over it.
- Pour the hot juice over the egg mixture, mix well, then pour into a pan and cook over a medium heat, stirring constantly, until it thickens to a bit thicker than a crème anglaise consistency. This should be around 85°C, or until it coats the back of a spoon.
- Take off the heat and pour through the sieve/strainer over the chocolate.
- Let it sit for a minute or so, then stir or blitz with a hand blender until it forms a smooth, ganache-like consistency.
- Pour directly into a tart shell and refrigerate. It will set quite softly, but will still slice. For a firmer curd, see the comment at the top.
ETA: I forgot to adjust the sugar content for the milk chocolate - with all dark, use 100-120g, depending on the cocoa %. I've tweaked the chocolate levels as well.