That's was our lunch at "Cardamo Oinomageireio".
The sign states that they "like stray dogs" and that's a feeding spot for them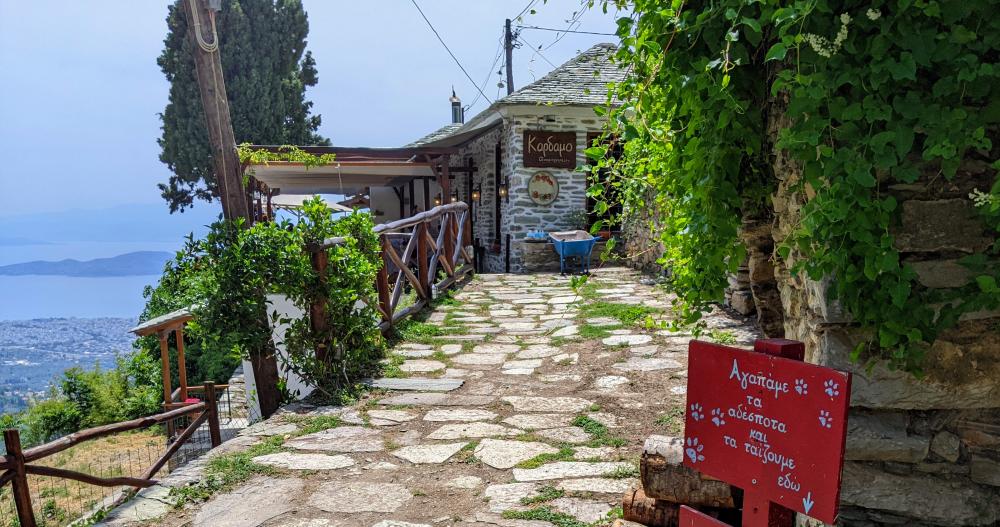 We had patzarosalata - a salad of cooked beetroot with thick yogurt which was only lightly tart, dill, a hint of garlic, olive oil, some nuts. Mixed for eating. A bit mild, but refreshing.
Grilled halloumi with sweet tomato jam and oregano. Very good cheese with a strong grilling flavor. The jam was quite tasty and a classic pairing with grilled cheese. Even though I'm not usually a fan of sweet tomato sauces and jams. 
Soft gigante beans with lots of lemon zest, gentle olive oil, sweet scallions, and a small amount of dill (the Greek seem to prefer sweeter olive oil, compared to the Italian green-peppery or the local sharp and bitter which I'm used to).
Grilled beef meatballs with herbs and a side of fries (fries are extremely popular in restaurants, and the Greek often refer to them simply as "potatoes"). I was told the meatballs were flavorful and tender.
And a local micro/craft pilsner "Local Streets" (both me and my father are more into beer than wine, and I personally prefer heavy reds and low acidity roses). It was a bit amateurish as far as craft beer goes, but had good hops. So while not exactly a pilsner, and not greatly balanced, it was still interesting to drink and enjoyable.
Complementary dessert - portokalopita. A cake made of phyllo sheets, yogurt, butter and eggs, soaked in syrup, boldly flavored with orange zest and some orange juice. The topping of toasted hazelnuts worked very well. It's a dessert I never had but always found intruding - what is the purpose of soaked phyllo in such a cake. The answer is that the phyllo maintains a bite not unlike that of stewed tofu skins, and holds to juices in the same way, quite different than that of either semolina cakes or baklava. It was however very sweet (as expected). The string orange flavor is a great way to finish a meal along with coffee.