20 minutes ago, Kim Shook said:

@chord - a question.  I went and looked at the recipes and I plan to make a couple of them, seeing how well yours turned out. I was wondering about your baking vessel.  It looks to me like you used a loaf pan.  I don't have the Pyrex bowls that she recommends and, anyway, I prefer loaves.  I have two of the loaf pans in the sizes she recommends.  Did you increase your ingredients by 1.5, as she says?  Thanks!

 
I only have a single loaf pan, so I made a 3/4 recipe. Below are the actual amounts I used. As I'm at altitude, my version is light on the yeast. Also, I realize now that I didn't account for the different flour weights, so there's less cornmeal and more whole wheat flour than in the published recipe.
Ingredient

Percentage

3/4 Recipe

AP flour

62.5

240g

Cornmeal

12.5

48g

Whole wheat flour

25

96g

1 cup boiling water

+ 1 cup 110F water

92

177g + 177g

Molasses

16

61g (3 tbsp)

Butter

5

21g (1.5 tbsp)

Kosher Salt

2.3

9g (1.5 tsp Diamond/.75 tsp Mortons)

Yeast (@high altitude)

0.8

3g (1.1 tsp yeast)
ETA: I previously made the standard recipe and really liked that as well. I made half of it in an Anchor Hocking glass bowl and the other half in the loaf pan as a short loaf: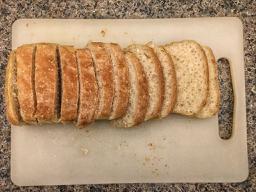 There's a lot more info on the standard recipe at Alexandra Stafford's blog: https://alexandracooks.com/2012/11/07/my-mothers-peasant-bread-the-best-easiest-bread-you-will-ever-make/