Not quite IKEA's, but the version the little one (and me) like best. There are usually no mushrooms in the sauce, but I like to include them. Serve with boiled potatoes or buttery mash, veggies of your choice (think root vegetables) and lingonberry jam: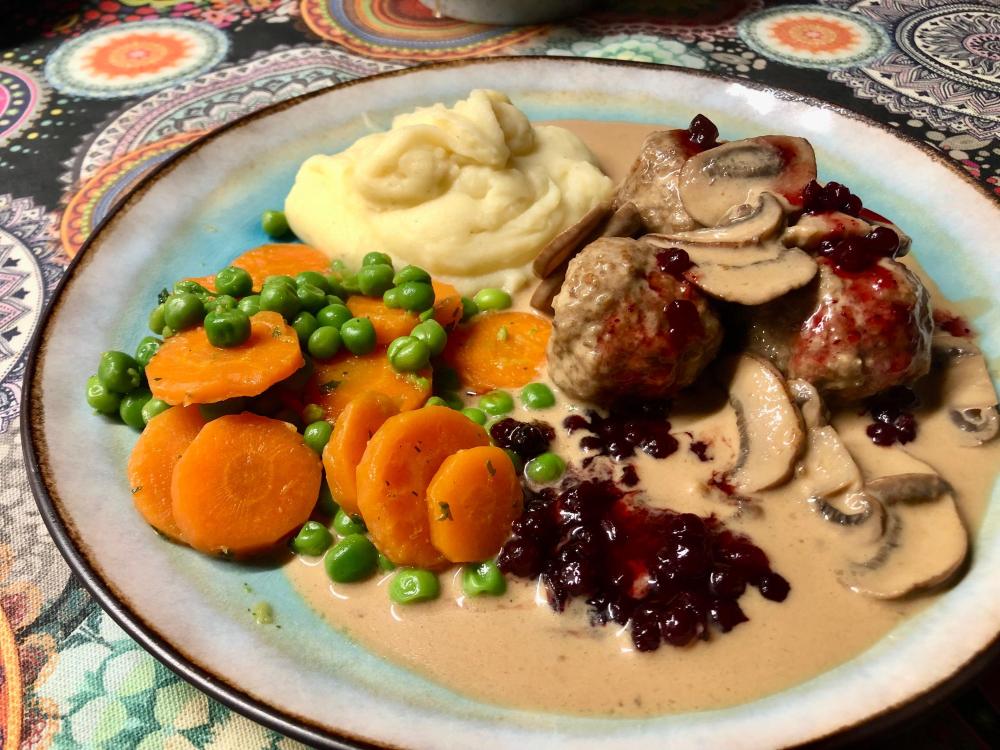 Ingredients:
600 g of mixed minced meat. I like 50% beef and 50% fatty pork, but really - you can use anything.
1 egg
~ 80 g of freshly made breadcrumbs 
14 g salt
1 grated garlic clove
3 g of this mixture: equal parts of black pepper, nutmeg (or mace), dried ginger and allspice. If you don't want to go all the way: just pepper & nutmeg will do fine.
40 g butter
40 g flour
200 g thickly sliced mushrooms 
1/2 teaspoon mustard*
1 teaspoon soy sauce*
400 ml beef stock
150 ml creme fraiche (or cream plus some lemon juice)
dash of Worcestershire sauce (optional)
salt to taste
Method:
Mix all the ingredients for the meatballs and set aside for 30 min. Form into balls (between walnut and goofball size), put on a baking sheet and bale at 220 oC convection for about 15 min, or until browned nd cooked through.
In the meantime melt the butter, brown the mushrooms and add the flour to make a light roux. Stir in stock, mustard, soy sauce and bring to a light simmer. Add creme fraiche, most of the meat balls (reserve two or three as a cooks treat) and cook for about 5 min more. Check seasonings and serve …
 
—-
* this is a fairly mild sauce. You can double these two ingredients to get bit more oomph.