These have been mentioned a couple of times recently on different threads and I felt they deserved one of their own. After all, they did keep me alive when I lived in Xi'an.
Rou jia mo (ròu jiá mò; literally "Meat Sandwich") are Chinese sandwiches which originated in Shaanxi Province, but can be found all over China. Away from their point of origin, they tend to be made with long stewed pork belly. However in Xi'an (capital of Shaanxi), there is a large Muslim population so the meat of choice is more usually beef. In nearby Gansu Province, lamb or mutton is more likely.
When I was living in Xi'an in 1996-1997, I lived on these. I was living on campus in North-West University (西北大学) and right outside the school gate was a street lined with cheap food joints, most of which would serve you one. I had one favourite place which I still head to when I visit. First thing I do when I get off the train.
What I eat is Cumin Beef Jia Mo (孜然牛肉夹馍 zī rán niú ròu jiá mò). The beef is stir fried or grilled/BBQd with cumin and mild green peppers. It is also given a bit of a kick with red chill flakes.
Here is a recipe wrested from the owner of my Xi'an favourite. So simple, yet so delicious.
Lean Beef
Fairly lean beef is cut into slivers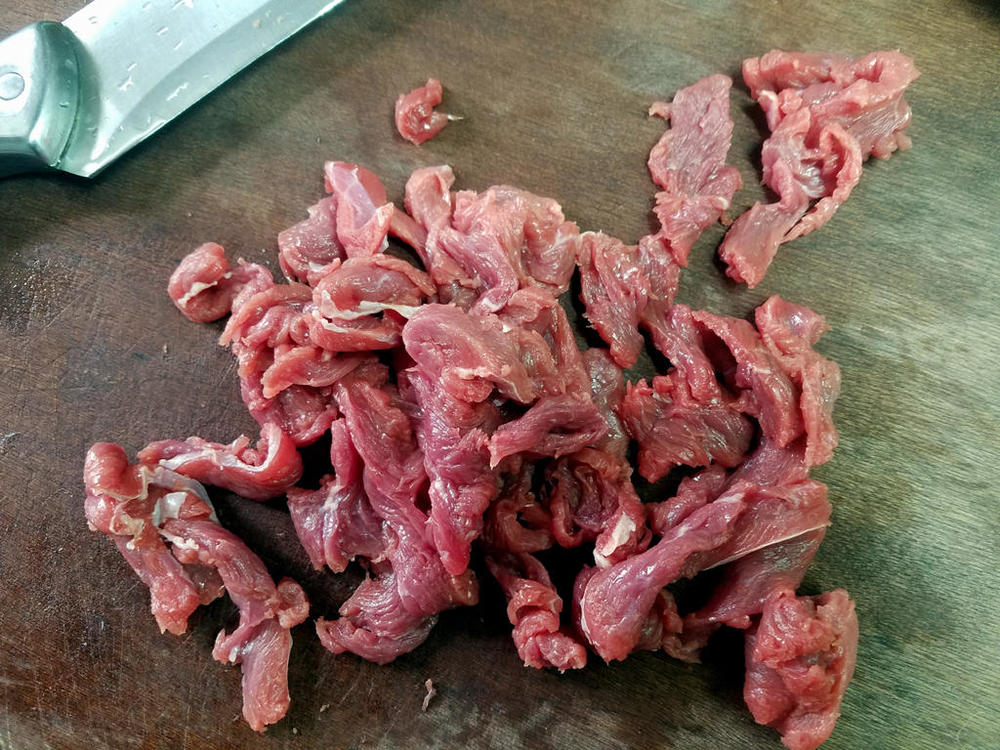 Sliced  Beef
Chopped garlic
I use this single clove garlic from Sichuan, but regular garlic does just fine.
The beef and garlic are mixed in a bowl and generously sprinkled with ground cumin. This is then moistened with a little light soy sauce and Shaoxing wine. You don't want to flood it. Set aside for as long as you can.
Mild Green Chilli Pepper
Take one or two mild green peppers and crush with the back of a knife, then slice roughly. You could de-seed if you prefer. I don't bother.
Chopped Green Pepper
Fire up the wok, add oil (I use rice bran oil, but any  vegetable oil except olive oil would be fine) and stir fry the meat mixture until the meat is just done. 
Frying Tonight
Then add the green peppers and fry until they are as you prefer them. I tend to like them still with a bit of crunch, so slightly under-cook them
In with the peppers
You will, of course, have prepared the bread. The sandwiches are made with a type of flat bread known as 白吉饼 (bái jí bǐng; literally "white lucky cake-shape"). The ones here are store bought but I often make them. Recipe below.
Bai Ji Bing
Take one and split it. Test the seasoning of the filling, adding salt if necessary. It may not need it because of the soy sauce. 
Nearly there
Cover to make a sandwich  and enjoy. You will see that I have used a bunch of kitchen paper to hold the sandwich and to soak up any escaping juices. But it should be fairly dry.

The final product.
Note: I usually cook the meat and pepper in batches. Enough for one sandwich per person at a time. If we need another (and we usually do) I start the next batch. 
Bread Recipe
350g plain flour
140ml water
1/2 teaspoon instant yeast

Mix the yeast with the flour and stir in the water. Continue stirring until a dough forms. Knead until smooth. Cover with a damp towel or plastic wrap and leave to rise by about one third. (maybe 30-40 minutes).
Knead again to remove any air then roll the dough into a log shape around 5cm in diameter, then cut into six portions. Press these into a circle shape using a rolling pin. You want to end up with 1.5cm thick buns. 
Preheat oven to 190C/370F.
Dry fry the buns in a skillet until they take on some colour about a minute or less on each side, then finish in the oven for ten minutes. Allow to cool before using.