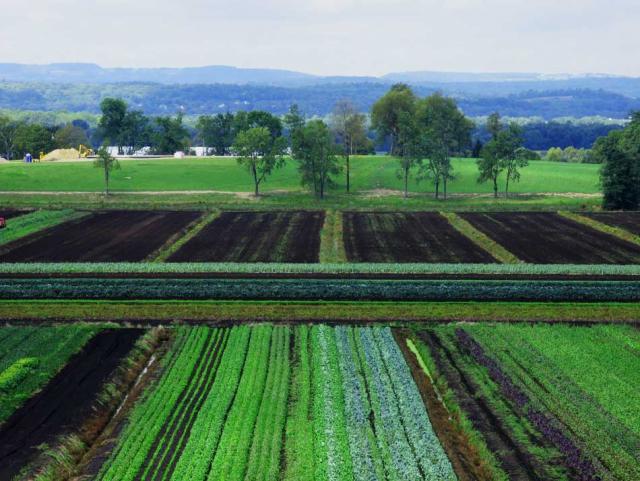 Last Thursday was a beautiful day for a field trip, so I visited some fields. In this case, they were in the Black Dirt belt of Pine Island, N.Y., just over the border from northwestern New Jersey, a three-hour ride from Philadelphia.
The ostensible purpose of the trip was not to view the Black Dirt farms (ideal for growing yellow onions, but also good for potatoes and all sorts of other veggies), but to collect my annual supply of Cox Orange Pippins, an apple variety that I am quick to tell all and anyone is one of the finest dessert (fresh-eating) apples in the world. They're hard to find, but Warwick Valley Winery & Distillery's pick-your-own operation has a row of them along with many other varieties of apples. The winery is located just a half-mile down the road form the fields pictured here.
The Cox Orange Pippin is a finicky fruit; like many other "antique" apples, it's not a commercially appealing variety, since you only get a decent yield every other year. The variety dates back to the early 1800s and remains a much-loved apple in England, which is imported from South Africa in the off-season much as we do fruit from Chile. Today's Gala apple is a descendant of the Cox Orange Pippin.
Other than Warwick Valley Winery, the closest grower of this apple to Philadelphia of which I'm aware is Holy Root Farm in New Tripoli in Lehigh County. Farmer Rick Stuby advised me that his crop doesn't look so hot this year, hence, the trip to New York State. Warwick Valley Winery, btw, makes killer hard cider from apples and/or pears.
For those wishing to learn more about the Black Dirt Belt of Pine Island, there was an
interesting article
last year in The New York Times.