For the past few weeks, we have been experimenting with an exciting new technology called Amazon Context Links. The test has been limited to Daily Gullet articles. If you have, for example, had a look at Ivy Knight's recent piece,
Respect Your Mother: Stocking up in Toronto
, you may have noticed a new type of link. It's a double-underlined link in our "flamingo" color and, if you hover your cursor over it, an information box pops up, which you can click on to go to an Amazon purchasing page. Like so:
+++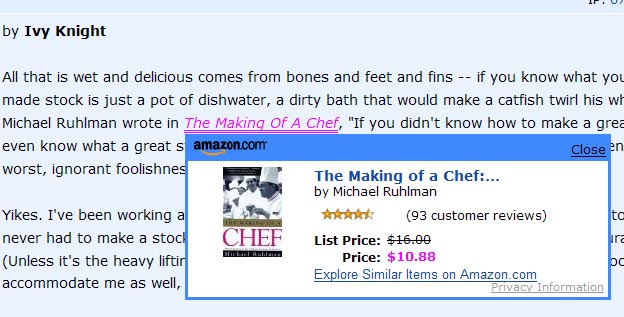 +++
Amazon's software scans our pages and uses various algorithms to identify words and phrases that are relevant to products available on Amazon. So in the above illustration the Amazon software saw the phrase "The Making Of A Chef" and had the wherewithal to connect that to Michael Ruhlman's book.
We have now activated this technology for all eG Forums pages. Starting this weekend, you will see the double-underlined, flamingo-colored links as you browse various eG Forums topics. (If you're running an ad-blocker, you'll need to disable it to see the links.)
The benefits of these links are: first, that our members who are interested in reading books and purchasing products mentioned in eG Forums posts will now have an easy way to do so; and, second, those purchases will help support the eGullet Society's mission and services.
If you click on one of these Amazon Context Links and buy the book or product (or any other books or products of any kind -- sold by or through Amazon.com -- in the same session), Amazon pays the eGullet Society a commission of about 5% of your purchase price. It doesn't cost you, the buyer, anything to make this happen. Amazon doesn't increase the price; the eGullet Society just gets a commission.
Our food-loving members and readers purchase many thousands of dollars a week worth of merchandise, with many of those purchases inspired by eG Forums discussions. A small portion of that revenue, if directed to the eGullet Society, will go a long way towards enabling us to expand our scholarship program and improve our online services.
This technology is still in its early stages, so at this point we can't promise that every link will make sense. Please understand that these are links generated by an automated system and that they do not represent the opinions or desires of the eGullet Society. In addition, the links are not meant always to be literal. This is more of an impressionistic, fun, sometimes trippy way to explore interesting books and products that folks might otherwise not explore. And, while there may be some bizarre links, many of the links are genuinely helpful, making it easier for our members and readers to find books and products that are mentioned in eG Forums discussions, Daily Gullet articles and beyond.
You can help things along by using exact book titles and full product names and model numbers in your posts. There are no guarantees that this will be 100% effective, but it increases the chances that Amazon will catch a title or product.
We realize the flamingo color can be a bit flamboyant, however we have applied very conservative settings to the Amazon Context Links software: we are only linking to books, housewares and food products (in other words, categories germane to our mission) as opposed to the dozens of other categories of merchandise Amazon sells (computer games, automotive, etc.). In addition, we are limiting the number of links per page to a handful.
Needless to say, as a not-for-profit public charity, we need to pursue fundraising opportunities like this whenever possible, so that we can generate the funds needed to support our mission of advancing the culinary arts. We hope you'll support the eGullet Society with your Amazon purchases. Even if you're purchasing something unrelated to a link in the eG Forums, please do use one of the little flamingo-colored links to access Amazon.com, so that the eGullet Society can realize a commission from your purchase.
For our members around the world, please note that these links all currently lead to Amazon US. The technology does not currently provide for links to the Amazon UK, Canada and other international portals. We'll let you know if that changes.
With relish,