We got through Kansas City yesterday without any traffic mishaps. We could see southbound traffic horribly snarled from some accident, and were glad to be going the other way. Kansas City is another nerve-wracking traffic adventure for me, due to the convergence of multiple freeways that box the downtown area, but we've done it enough times that we know the way reasonably well. Still, the GPS warned us of a significant delay. It didn't materialize, but my darling started singing anyway: "I got to Kansas City on a Friday, by Saturday I hadn't gotten through..." (with apologies to Rogers and Hammerstein).
Ham sandwiches for road food, along with the vegetable snacks, coffee and water.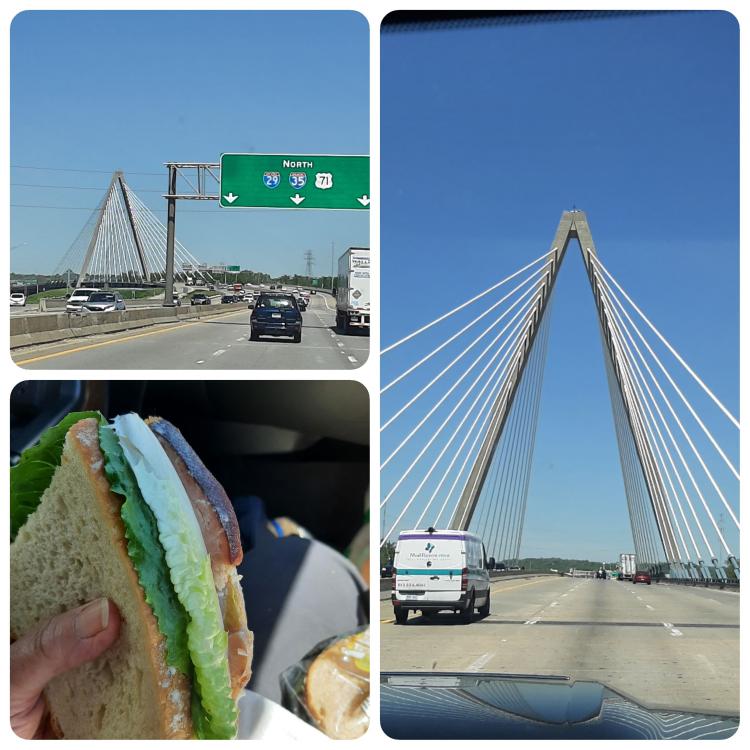 The Lakeside Casino, formerly known as Terrible's, is a pretty good stopping spot for this leg of the trip. Like many other places, they've gone to a reservations-only system in their RV park. Fortunately there's a free parking area, first-come first-served, where truckers and a few intrepid RV'ers who don't need electrical service can park. If we were to spend a couple of days it might be worth paying the RV park fee and putting up with the aggravation of looking for a reservation WHEN THERE ARE OODLES OF OPEN SPACES but for an overnight it doesn't make sense. There seems to be a nationwide trend pushing everyone toward a reservation-only system, but we don't like it and prefer not to participate as long as we can avoid it.
The Casino business seems to be picking up again, though they're still a long way from being at full capacity. We could have cooked something in the trailer, or reheated some leftovers (we still have some) but we wanted to support the restaurant and casino operation, and we have historically liked the stuff. Besides, I could snoop while I waited for our food.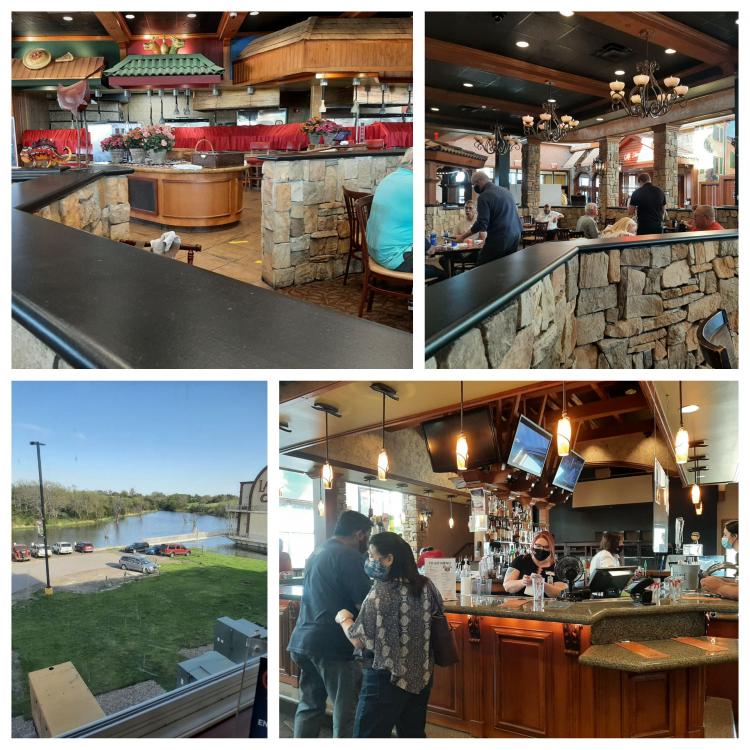 They tried to insist on social distancing. The signs insisted that everyone wear masks that cover nose AND mouth except when actively eating or drinking. At least one bartender didn't have her nose covered. At least one patron had no mask at all. I considered going into the casino proper to see how much action there was, but I'd have had to go past a greeter and a sign that said STOP. LOWER YOUR MASK. I think it was just for an ID check, but decided not to wait around to see. There was a line.
The restaurant buffet was closed, but one could order from the usual menu. Unfortunately, to-go orders could not be placed or picked up between 6 and 9 p.m. because that's the restaurant's busiest time. That meant ordering around 5:30. His BBQ cheeseburger, my Awesome Chicken burger, and our fries suffered from languishing until he was actually ready to eat.  He even admitted it. That's about as close to an apology as he gets for holding up the show on food.