8 hours ago, NancyH said:

The type of potato salad I crave was unique to New York City and its suburbs. There was a German Deli on Larkfield Road in East Northport NY that made several kinds of potato salad. Our favorite was very white in color, with the potatoes thinly sliced as if on an egg slicer. It had very little visible ingredients mixed into it, though "strips" of shredded carrots and chopped parsley were laid across the top of it (and mixed in with it when it was scooped out of the deli tray). It had a clean, slightly spicy, slightly sweet flavor that I now know was from a vinegar and sugar cure put on the potatoes after they were boiled. 

 

I don't know anyplace selling this type of potato salad anymore (though I'm a long way from Long Island these days). I keep trying to perfect the recipe, because It's my favorite potato salad! Here's a photo of what it looked like when I made it. Any comments to improve the recipe would be appreciated! 
I was a deli guy in high school, on Long Island (though Nassau, and south shore).  Guess who the person was who got to shred the carrots and chop the parsley?
That shit stuff (the potato salad) came in 5 pound tubs - and yes, it was very good (albeit less liquid-y than the one shown above).
You know what else? The carrots and parsley also went on top of the cole slaw. Which also came in 5 pound tubs. And was very good!  If I could remember the name of the company which produced them, I'd tell you - but that ain't happening.  Depending on which deli I was in at the time, we might've also had chopped herring salad, "health" salad, and various other options. I kept a nice case, even back then!!
Now, depending on mood and also on what type of potatoes on hand, I'll make a "French" version of potato salad (Julia liked to use a little chicken stock, tossing the potatoes with it after they were cooked), or an Italian sans mayo (both can certainly have capers), with just good olive oil and vinegar. The tip about dressing with vinegar while the potatoes are still warm is key.
If making an "American" version of potato salad, I see no wrong in nicely diced celery and sweet onion (if you can't stand the thought of raw celery and onion, just sauté them in a little olive oil; what I do for mac salad), a fair amount of herbs, good mayo (Duke's for me).

Sweet pickle stuff or relish is, as some of my peeps might say, a little goyish.
And nothing wrong with Ensaladilla Rusa, when the fancy strikes...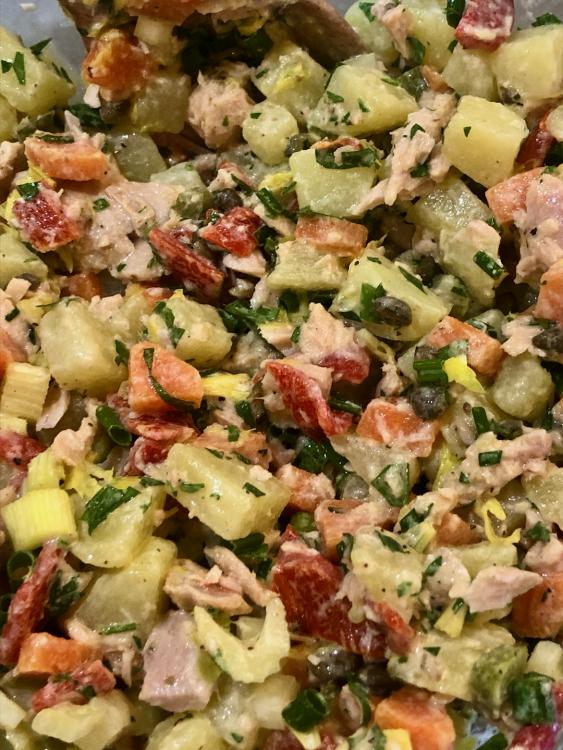 My mother's potato salad (which wasn't bad iirc) always had hard-boiled eggs in it, and probably a lot of mayo.