I live in a garlic deprived household. I have one housemate who is seriously allergic to garlic and onions and I can't use them in anything. So when @liuzhou posted this picture of pickled garlic on his thread the other day, I knew that I had to have it. After searching the internet for recipes and consultation with him, I think that I have come up with a recipe that will work.
I was lucky enough to have dark soy sauce and black rice vinegar but I had no garlic. I went shopping yesterday just for garlic and I'm ready to start my experiment.
Five heads of garlic fit perfectly in a pint jar, with a little left over. I had to peel each clove individually because I had given away my garlic peeler but it's going to be worth it.
I won't go into the individual steps to do this because anyone that's done any pickling, knows what to do. Here is the finished jar. Now I have to wait three weeks until I can open it and see what I have. I'll let you know at the unveiling how it turns out.
This is the recipe that I used.
Update:
After waiting for 3 weeks to open it I was disappointed with my results so rather than start from scratch I decided to heat the brine to the boiling point and pour it back over the garlic. I waited five days more before I opened it again and it no longer had the sharp bitter taste that it had before. I am changing the recipe below to reflect the changes that I made.
Pickled Garlic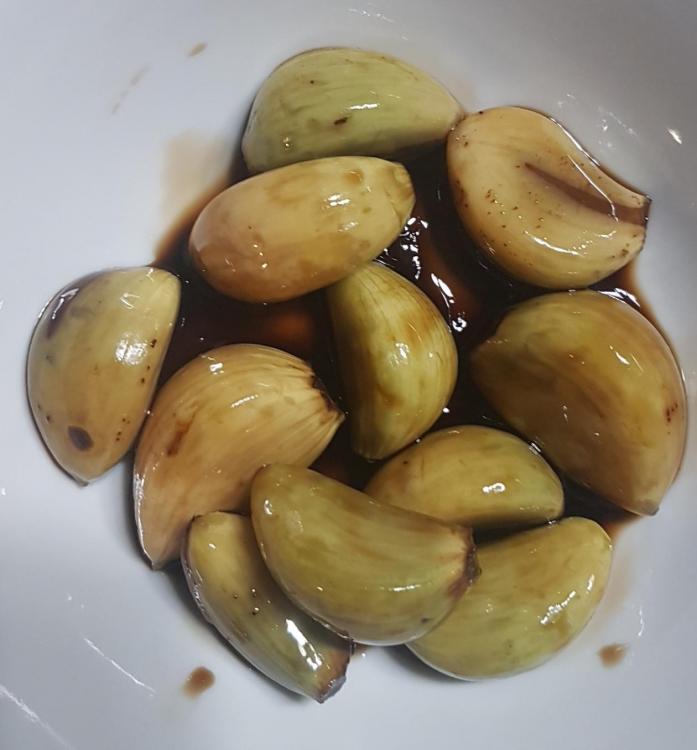 The general rule when making pickled garlic is that you need 3 parts soy sauce to 1 part vinegar and 1 part sugar. You calculate this by pouring out and measuring the water you added to cover all of the garlic cloves and using the same amount of soy sauce. The ingredient list here uses 1 cup soy sauce.
1 pound garlic (8 to 9 whole heads), cloves peeled and washed
1 cup dark soy sauce
1/3 cup black rice wine vinegar
1/3 cup sugar
Place the garlic cloves in a glass jar.
Fill the jar with water until the water covers about 2/3 of the garlic cloves.
Pour out the water and measure it. That's the amount of soy sauce you need.
Use 3 parts soy sauce to 1 part vinegar and 1 part sugar. (So if you need 1 cup of soy sauce, then you need 1/3 cup of vinegar and 1/3 cup of sugar).
Pour soy sauce, vinegar, and sugar in a small pan and bring mixture to a boil; simmer for about 10 minutes and 
pour over the garlic in the glass jar. Make sure the garlic cloves are completely covered and tightly seal the jar.
Store the jar at room temperature for at least 3 weeks before opening.
After opening, store the pickled garlic in the refrigerator.
Note: for a little more flavor, I added some ginger coins and star anise to it.
I have all this garlic left over.
So if anyone has a favorite recipe for a garlic snack, please let me know. I'm open to any suggestions.