4. 泡菜
泡菜 (pào cài) has a confusing etymology. 泡 ((pào) means 'bubble' or 'steeped; soaked'. Together with  菜 (cài) meaning 'vegetable' it means 'pickled vegetable'. I can imagine the name comes from the pickling liquid bubbling as things ferment; or maybe it just means the vegetable is steeped or soaked in that same liquid. Or both. Take your pick.
Whatever, the name covers all wet-pickled vegetables (including the suancai above). That said the most common use of the name is for this: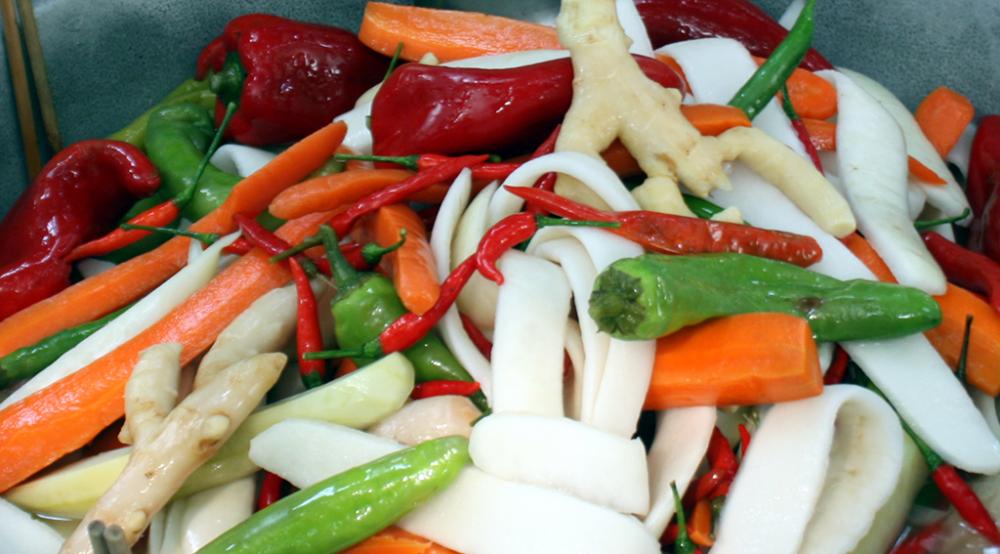 It normally consists of cabbage or mustard leaf with daikon radish, carrots, chilis and ginger , but there are many variations.
It is usually served as a pre-meal appetiser or palate-cleanser, but sometimes with the main meal. Available all over China, but often associated with Sichuan where it is particularly popular. The example pictured above is a commercial product and is pickled in rice vinegar with some spices, the most common method. Some are done in a brine.

Here is my own home-made version. Same vegetables as I listed above (cabbage rather than mustard, here), done in rice vinegar with green Sichuan peppercorns.