11C. Two Pints of Lager and a Packet of Crisps, Please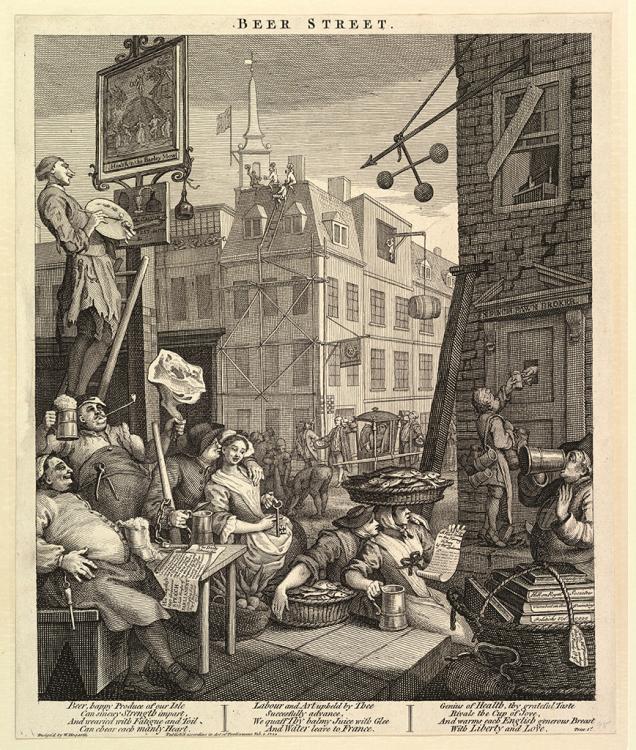 Image: Public Domain
As in many countries, the sale of alcohol is strictly controlled in the UK, particularly in terms of opening hours for pubs, etc. National alcohol regulations had first been introduced in the late 18th century as a reaction to the notorious gin addiction problem as depicted by William Hogarth in the famous Gin Lane print of 1751, actually one of a pair, the other being Beer Street, reproduced above.
However, it was the outbreak of Word War One in 1914 that had the longest lasting impact on British society. The 1914 government was concerned that wide availability of alcohol would hamper the war effort and slow down production of armaments etc. Pub opening times were restricted to 12 noon to 2:40 pm for lunch, then they were permitted to open again at 6:30 pm before closing at 10:30 pm. These laws were strictly enforced.

With only minor changes along the way, these wartime restrictions remained in force right into the 21st century. When I was 18 (the legal age for drinking in pubs then and now) and had my first (legal) pint in a British pub in the late 1960s, the opening hours in England and Wales were 11 am to 11 pm (11 am to 10 pm in Scotland) and this remained the case for years to come.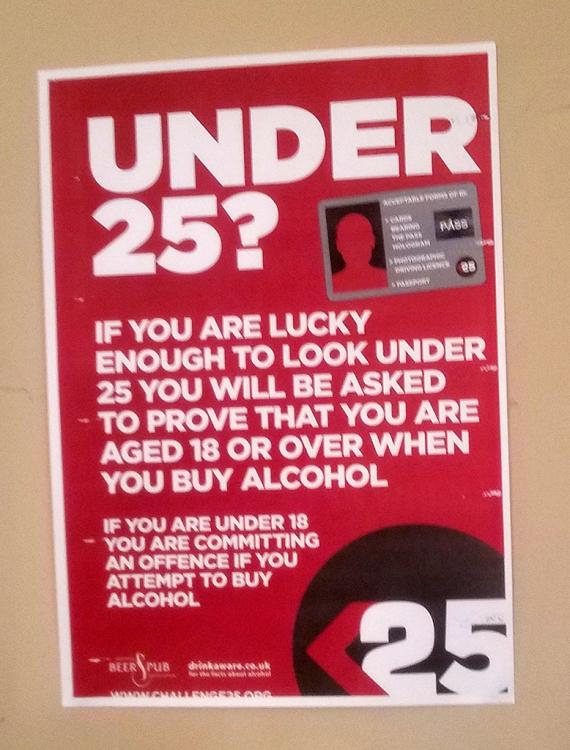 Sign in Scottish pub, 2019. My image.
These restrictions hit a snag in the 1970s and 80s, when a new-found affluence among the young, coupled with other social changes, led to a toxic culture in which young men (mostly) developed a habit of spending time in the pub, drinking more frantically as closing time approached knowing their supply would be cut off at precisely 11 pm.
At 11, they poured into the streets, drunk and often aggressive, still wanting more to drink. The only way to get more drink was to head to a restaurant, where different rules applied. So long as you bought a meal, alcohol could be served at virtually any time. The cheapest restaurants still open tended to be Indian or Chinese. So, in they would pile, demanding lager¹ and the hottest curries their low self-esteem thought they had to eat to prove their virility. Often while racially abusing the staff and upsetting other customers. Then vomiting, usually outside in the street as they left, but occasionally not getting that far.
Lager 2021 (Five minutes ago!) - My image
It was with this in mind, no doubt, that partly inspired British comedy scriptwriter John Sullivan, creator of Britain's favourite (still) situation comedy "Only Fools and Horses" to have the show's lead character Derek Trotter, better known as Del Boy, played by David Jason, say in one 1983 episode "I thought I might go down and have a couple of light ales² down the Nag's Head, and then go on to the Star of Bengal for a Ruby Murray.³" The "beer followed by curry and more beer" culture was nailed, although in the sitcom without the racism, violence or vomit.
Not everyone drank lager. I remember being in one Indian restaurant near London, sometime in the 1980s and seeing one young man drinking bad white wine – by the pint glass!
Scotland escaped the worst of what became known as the "lager lout" culture by repealing the World War One laws in 1976, effectively allowing pubs to open any time they liked. Few still stayed open after midnight, but there were few signs of the drunken chaos more conservative elements had predicted.
England and Wales delayed real reform until 2005, bringing it more in line with Scotland. So pubs today can legally open 24 hours a day, although very few do. Most still close around midnight.
Northern Ireland licensing laws remain very restricted.
Many restaurants dealt with the lager lout problem simply by raising their standards and offering more inventive dishes at higher prices, while dropping the vindaloos and especially the phal they had previously invented to attract business. They no longer wanted that business, so they priced them out of the market.
I won't say that the old style Indian restaurants have disappeared entirely; nor have the idiots. But things have definitely improved for everyone: the restaurants, the sensible customers, the police. And for Indian food in Britain
¹ British lager tends to be stronger than many American lagers. The lager of choice for many of the louts was Carlsberg Special Brew, at that time 9% by volume. (It has since been reduced to 7.5%)
² Del Boy never drank light ales; his preference was for outrageously pretentious cocktails. He is just using this here as a form of metonymy to refer to alcoholic drinks in general.
³ John Sullivan created this example of London rhyming slang specifically for the episode and it caught on, as did many of his other linguistic inventions used by the show's characters. There are thirteen phrases in the OED which he either invented or popularised.
Finally, here is a famous example of what closing time in a British pub was like! Recorded in 1980.