Just in case there's any interest I thought I would post a short review of the Tasty by Cuisinart mini food processor that I got last week (pictured below). I bought it for $16 from the Beall's website plus another $8 in shipping charges and for the price it is a great little machine.
The bowl holds 4 cups and the motor is rated to 300 watts. This is slightly larger and more powerful than the base Cuisinart mini chopper (model DLC-2ABC).  The blade features a sharp side and a dull side. Most chopping is done with the sharp side, although hard items like spices and seeds should be ground using the other side. Chopping is the primary reason I bought it and it handles this task just as one would expect.
As a lark I tried to use the machine to knead pizza dough. First I made a personal sized pizza made with 85g of whole wheat flour which the machine handled with aplomb. And then I tried a second time with 150g of AP flour for a medium sized pie. The latter attempt filled the bowl and I could hear that the motor was struggling but even so it was able to successfully form a dough ball. I have to say I was surprised that it managed to knead that much dough and this is something I intend to try again at some point. 
The machine also comes with a reversible cutting disc with one side for slicing and the other for grating. This works just fine--at least in principle. However, the feed tube is extremely narrow, about 1.3" x 1.8" limiting its usefulness. Couple that with the small bowl and you really don't save much time compared to a box grater.
A few other downsides:
Unlike the regular Cuisinart, this model doesn't spin in reverse, which means that the blade needs to be flipped over to use the duller side. This does mean that you have to be careful when reassembling the machine to make sure that you have the correct side facing up before using it.
Under very heavy loads, it will sometimes walk on the counter and need to be held in place. That's not terribly surprising considering that this is a very lightweight machine.
The only other negative which comes to mind is the name on the food processor. I wasn't really aware of them before, but apparently "Tasty" is a Buzzfeed brand known for its viral recipe videos that are poorly designed and short on technique. The logo doesn't particularly matter to me but I imagine it may be off-putting to some.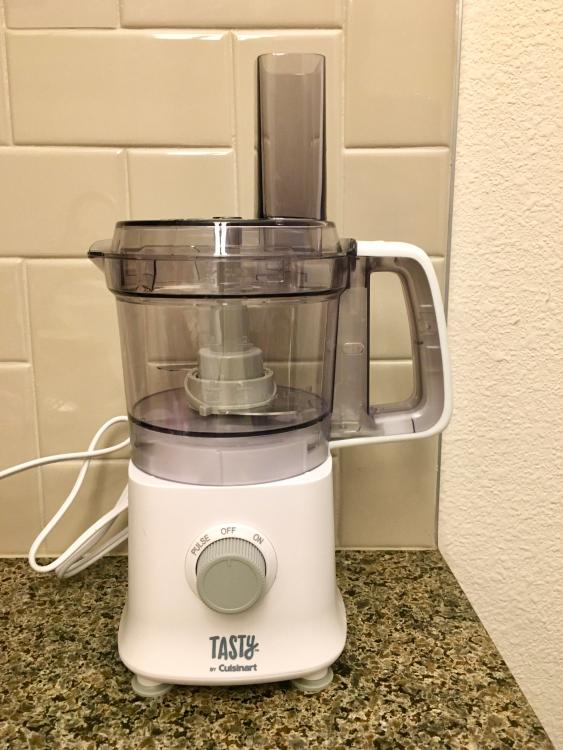 .