Big Plate Chicken - 大盘鸡 (dà pán jī)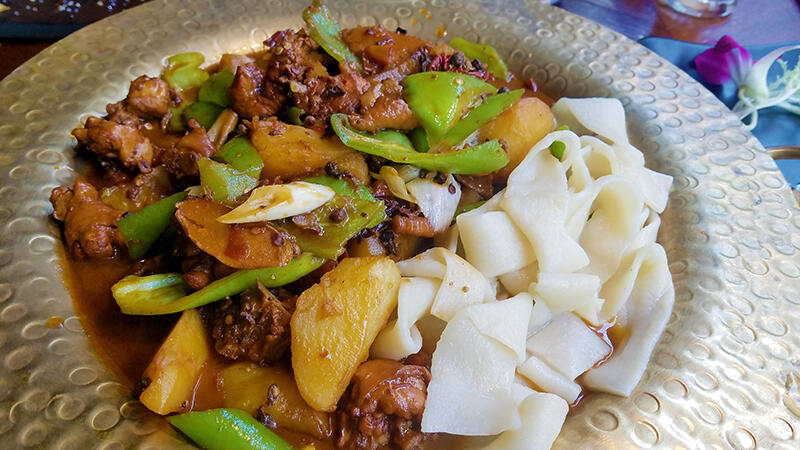 This very filling dish of chicken and potato stew is from Xinjiang province in China's far west, although it is said to have been invented by a visitor from Sichuan. In recent years, it has become popular in cities across China, where it is made using a whole chicken which is chopped, with skin and on the bone, into small pieces suitable for easy chopstick handling. If you want to go that way, any Asian market should be able to chop the bird for you. Otherwise you may use boneless chicken thighs instead.

Ingredients

Chicken chopped on the bone or Boneless skinless chicken thighs  6

Light soy sauce

Dark soy sauce

Shaoxing wine

Cornstarch or similar. I use potato starch.

Vegetable oil (not olive oil)

Star anise, 4

Cinnamon, 1 stick

Bay leaves, 5 or 6

Fresh ginger, 6 coin sized slices

Garlic.  5 cloves, roughly chopped

Sichuan peppercorns,  1 tablespoon

Whole dried red chillies,   6 -10  (optional). If you can source the Sichuan chiles known as Facing Heaven Chiles, so much the better.

Potatoes 2 or 3 medium sized. peeled and cut into bite-sized pieces

Carrot. 1,  thinly sliced

Dried wheat noodles.  8 oz. Traditionally, these would be a long, flat thick variety. I've use Italian tagliatelle successfully.    

Red bell pepper. 1 cut into chunks

Green bell pepper, 1 cut into chunks

Salt

Scallion, 2 sliced.
   
Method

First, cut the chicken into bite sized pieces and marinate in 1½ teaspoons light soy sauce, 3 teaspoons of Shaoxing and 1½ teaspoons of cornstarch. Set aside for about twenty minutes while you prepare the rest of the ingredients.

Heat the wok and add three tablespoons cooking oil. Add the ginger, garlic, star anise, cinnamon stick, bay leaves, Sichuan peppercorns and chilies. Fry on a low heat for a  minute or so. If they look about to burn, splash a little water into your wok. This will lower the temperature slightly. Add the chicken and turn up the heat. Continue frying until the meat is nicely seared, then add the potatoes and carrots. Stir fry a minute more then add 2 teaspoons of the dark soy sauce, 2 tablespoons of the light soy sauce and 2 tablespoons of the Shaoxing wine along with 3 cups of water. Bring to a boil, then reduce to medium. Cover and cook for around 15-20 minutes until the potatoes are done.

While the main dish is cooking, cook the noodles separately according to the packet instructions.  Reserve  some of the noodle cooking water and drain.

When the chicken and potatoes are done, you may add a little of the noodle water if the dish appears on the dry side. It should be saucy, but not soupy. Add the bell peppers and cook for three to four minutes more. Add scallions. Check seasoning and add some salt if it needs it. It may not due to the soy sauce and, if in the USA, Shaoxing wine.

Serve on a large plate for everyone to help themselves from. Plate the noodles first, then cover with the meat and potato. Enjoy.