Thanks to everyone who answered my plea! You helped more than you may know.
I agree that few people there may actually go on to make any of these dishes, but some may find them interesting anyway.

Here, in recognition of the debt, is what I finally submitted. I am sure there are still some errors. Feel free to point out any you spot!
Edited to note: This was the first draft. The full edited recipes (incorporating suggestions given here) are now on the RecipeGullet Forum. September 12, 2020
车螺芥菜汤
Clam Soup with Mustard Greens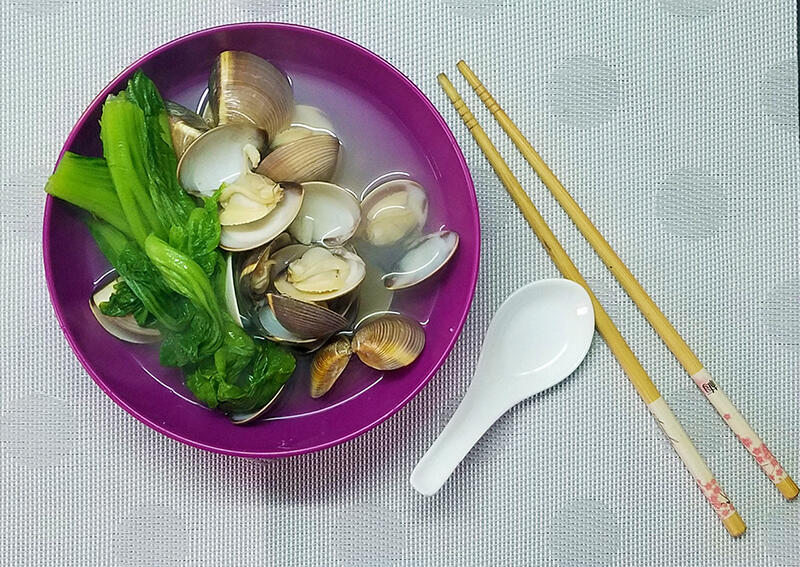 This is a popular, light but peppery soup available in most Liuzhou restaurants (even if its not listed on the menu). Also, very easy to make at home.

Ingredients

Clams. (around 8 to 10 per person. Some  restaurants are stingy with the clams, but I like to be more generous). Fresh live clams are always used in China,  but if, not available, I suppose frozen clams could be used. Not canned. Live clams should be kept in cold water until you are ready to cook them. The most common clams here are relatively small. Littleneck clams may be a good substitute.

 
Stock. Chicken, fish or clam stock are preferable. Stock made from cubes or bouillon powder is acceptable, although fresh is always best.
Mustard Greens. (A good handful per person. Remove the thick stems, to be used in another dish.)

Garlic. (to taste)

Chile. (One or two hot red chiles are optional).

Salt.

MSG (optional). If you have used a stock cube or bouillon powder for the stock, omit the MSG. The cubes and power already have enough.

White pepper (frehly ground. I recommend adding what you consider to be slightly too much pepper, then adding half that again. The soup should be peppery, although of course everything is variable to taste.)

Method

Bring your stock to a boil. Add salt to taste along with MSG if using.

Finely chop the garlic and chile if using. Add to stock and simmer for about five minutes.
Make sure all the clams are tightly closed, discarding any which are open - they are dead and should not be eaten.

The clams will begin to pop open fairly quickly. Remove the open ones as quickly as possible and keep to one side while the others catch up. One or two clams may never open. These should also be discarded. When you have all the clams fished out of the boiling stock, roughly the tear the mustard leaves in two and drop them into the stock. Simmer for one minute. Put all the clams back into the stock and when it comes back to the boil, take off the heat and serve.  
___________________________________________________________
荷兰豆鱿鱼
Stir-fried Squid with Snow Peas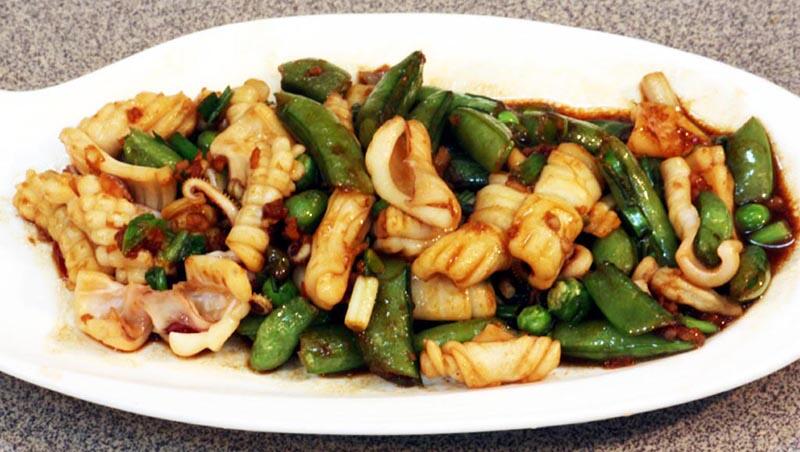 Another popular restaurant dish that can easily be made at home. The only difficult part (and it's really not that difficult) is preparing the squid. However, your seafood purveyor should be able to do that for you. I have given details below.

Ingredients

Fresh squid. I tend to prefer the smaller squid in which case I allow one or two squid per person, depending on what other dishes I'm serving. You could use whole frozen squid if fresh is unavailable. Certainly not dried squid.

Snow peas aka Mange Tout. Sugar snap peas can also be used. The final dish should be around 50% squid and 50% peas, so an amount roughly eqivalent to the squid in bulk is what you are looking for. De-string if necessary and cut in half width-wise.

Cooking oil. I use rice bran oil, but any vegetable cooking oil is fine. Not olive oil, though.

Garlic.  I prefer this dish to be rather garlicky so I use one clove or more per squid. Adjust to your preference.

Ginger. An amount equivalent to that of garlic.

Red Chile. One or two small hot red chiles.

Shaoxing wine. See method. Note: Unlike elsewhere, Shaoxing wine sold in N. America is salted. So, cut back on adding salt if using American sourced Shaoxing.

Oyster sauce

Sesame oil (optional)
Salt

Preparing the squid

The squid should be cleaned and the tentacles and innards pulled out and set aside while you deal with the tubular body. Remove the internal cartilege / bone along with any remaining innards. With a sharp knife remove the "wings" then slit open the tube by sliding your knife inside and cutting down one side. Open out the now butterflied body. Remove the reddish skin (It is edible, but removing it makes for a nicer presentation. It peels off easily.) Again, using the sharp knife cut score marks on the inside at 1/8th of an inch intervals being careful not to cut all the way through. Then repeat at right angles to the original scoring, to give a cross-hatch effect. Do the same to the squid wings. Cut the body into rectangles roughly the size of a large postage stamp.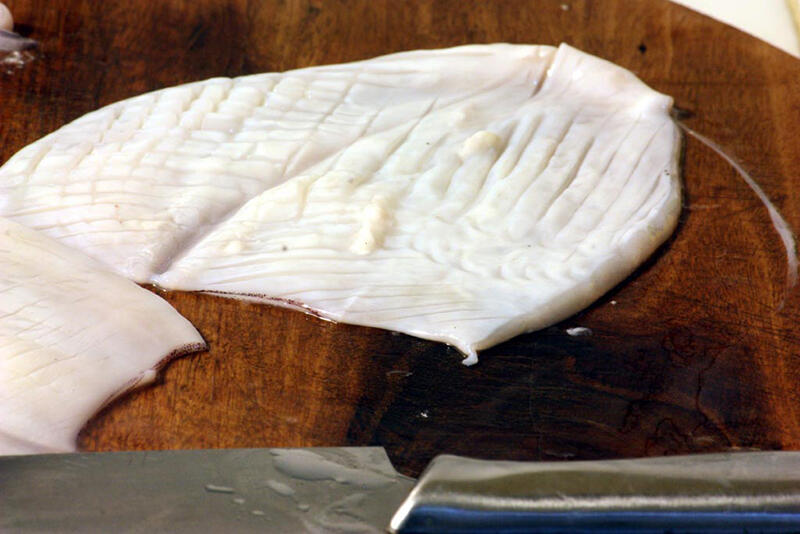 Separate the tentacles from the innards by feeling for the beak, a hard growth just above the tentacles and at the start of the animal's digestive tract. Dispose of all but the tentacles. If they are long, half them.

Wash all the squid meat again.

Method

There are only two ways to cook squid and have it remain edible. Long slow cooking (an hour or more) or very rapid (a few seconds) then served immediately. Anything else and you'll be chewing on rubber. So that is why I am stir frying it. Few restaurants get this right, so I mainly eat it at home.

Heat your wok and add oil. Have a cup of water to the side. Add the garlic, ginger and chile. Should you think it's about to burn, throw in a little of that water. It will evaporate almost immediately but slow down some of the heat.
As soon as you can smell the fragrance of the garlic and ginger, add the peas and salt and toss until the peas are nearly cooked (Try a piece to see!). Almost finally, add the squid with a tablespoon of the Shaoxing and about the same of oyster sauce. Do not attempt to add the oyster sauce straight from the bottle. The chances of the whole bottle emptying into your dinner is high! Believe me. I've been there!

The squid will curl up and turn opaque in seconds. It's cooked. Sprinkle with a teaspoon of so of sesame oil (if used) and serve immediately!
___________________________________________________________
啤酒鸭
Beer Duck

 
I understand that, unlike in China, duck is not a common meat in the USA, but it is worth searching out, especially for this dish from Hunan which is basically a duck stew, but full of exquisite flavors. I'm told that frozen duck meat is available in larger supermarkets or Asian markets in Cincinnatti, but of course, as always, fresh is best. So much so, that your average Chinese home cook will buy the bird alive!

Ingredients

Duck. 1 lb. This dish calls for cubes of duck meat, preferably from the legs/thighs but breast meat will work too.

Beer. One large can (16oz). Ideally you would choose a Chinese beer. Tsingtao is the most widely available internationally. Here in Liuzhou it would be Liquan Beer from Guilin. But actually, any well-flavored lager type beer will do the job.

Cooking Oil. Vegetable oil - but not olive oil. If you have duck fat to hand, this is even better.

Doubanjiang. 1 Tablespooon. Also called toban-djan or similar in the USA. This is a chile paste made with broad beans.

Garlic. About 6-8 whole cloves

Ginger. One thumb sized piece, finely chopped

Dried Tangerine Peel. One large piece - available from Asian markets and stores.

Star Anise. One

Light Soy Sauce. 1 Tablespoon

Dark Soy Sauce. 1 Tablespoon

Scallions.

Salt.

Method   

Wash and thoroughly dry the cubed duck meat. Heat oil or fat and add the garlic and ginger. When you detect their fragrance, add the duck and stir to brown the meat. When browned, add the doubanjiang and stir for a couple of minutes. Add the two soy sauces, the star anise and tangerine peel. Cover with beer. Add salt.
Cover the pan and simmer for 30 - 40 minutes, adding more beer if it begins to dry out. Finish by discarding the star anise and tangerine peel, but adding thinly sliced scallions and serve.
Accompany with steamed rice and a stir fried green vegetable of your choice. I like spinach. Drink any remaiining beer! You didn't just buy one can, did you?
___________________________________________________________
牛肉苦瓜
Beef with Bitter Melon

 
The name may be off-putting to many people, but Chinese people do have an appreciation for bitter tastes and anyway, modern cultivars of this gourd are less bitter than in the past. Also, depending on how it's cooked, the bitterness can be mitigated.
I'll admit that I wasn't sure at first, but have grown to love it.

Note: "Beef with Bitter Melon (牛肉苦瓜)" or "Bitter Melon with Beef (苦瓜牛肉)"? One Liuzhou restaurant I know has both on its menu! In Chinese, the ingredient listed first is the one there is most of, so, "beef with bitter melon" is mainly beef, whereas "bitter melon with beef" is much more a vegetable dish with just a little beef. This recipe is for the beefier version. To make the other version, just half the amount of beef and double the amount of melon.

Ingredients

Beef. One pound. Flank steak works best. Slice thinly against the grain.

Bitter Melon. Half a melon. You can use the other half in a soup or other dish.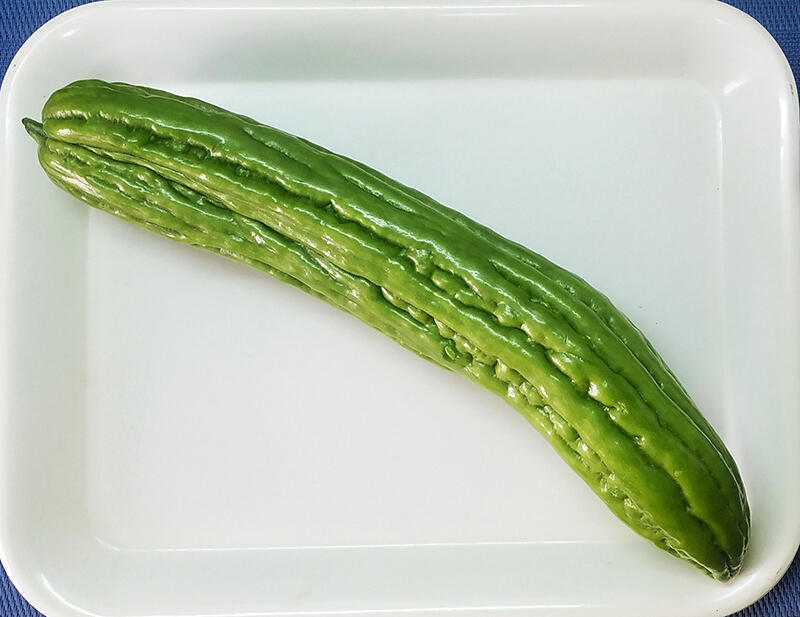 Salted Black Beans. One tablespoon. Available in packets from Asian markets and supermarkets, these are salted, fermented black soy beans. They are used as the basis for 'black bean sauce', but we are going to be making our own sauce!

Garlic. 6 cloves

Cooking oil. Any vegetable oil except olive oil

Shaoxing wine See method

Light soy sauce One tablespoon

Dark soy sauce One teaspoon

White pepper See method

Sesame oil See method

Method

Marinate the beef in a 1/2 tablespoon of light soy sauce with a splash of Shaoxing wine along with a teaspoon or so of cornstarch or similar (I use potato starch). Stir well and leave for 15-30 minutes.

Cut the melon(s) in half lengthwise and, using a teaspoon, scrape out all the seeds and pith. The more pith you remove, the less bitter the dish will be. Cut the melon into crescents about 1/8th inch wide.

Rinse the black beans and drain. Crush them with the blade of your knife, then chop finely. Finely chop the garlic.

Stir fry the meat in a tablespon of oil over a high heat until done. This should take less than a minute. Remove and set aside.

Add another tablespoon of oil and reduce heat to medium. fry the garlic and black beans until fragrant then add the bitter melon. Continue frying until the melon softens. then add a tablesoon of Shaoxing wine and soy sauces. Finally sprinkle on white pepper to taste along with a splash of sesame oil. Return the meat to the pan and mix everything well.

Note: If you prefer the dish more saucy, you can add a tablespoon or so of water with the soy sauces.

Serve with plained rice and a stir-fried green vegetable of choice.

___________________________________________________________
大盘鸡 (dà pán jī )
Big Plate Chicken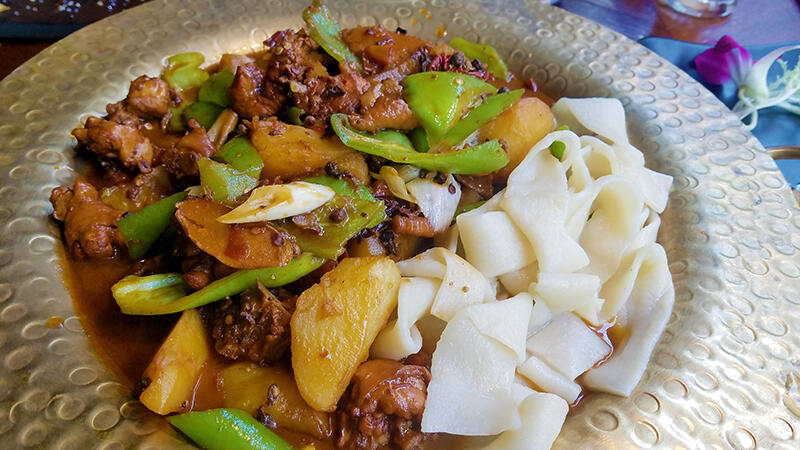 This very filling dish of chicken and potato stew is from Xinjiang province in China's far west, although it is said to have been invented by a visitor from Sichuan. In recent years, it has become popular in cities across China, where it is made using a whole chicken which is chopped, with skin and on the bone, into small pieces suitable for easy chopstick handling. If you want to go that way, any Asian market should be able to chop the bird for you. Otherwise you may use boneless chicken thighs instead.

Ingredients

Boneless skinless chicken thighs  6

Light soy sauce
Dark soy sauce

Shaoxing wine

Cornstarch or similar. I use potato starch.

Vegetable oil (not olive oil)

Star anise, 4

Cinnamon, 1 stick

Bay leaves, 5 or 6

Fresh ginger, 6 coin sized slices

Garlic.  5 cloves, roughly chopped

Sichuan peppercorns,  1 tablespoon

Whole dried red chiles,   6 -10  (optional). If you can source the Sichuan chiles known as Facing Heaven Chiles, so much the better.

Potatoes 2 or 3 medium sized. peeled and cut into bite-sized pieces
Carrot. 1,  thinly sliced

Dried wheat noodles.  8 oz. Traditionally, these would be a long, flat thick variety. I've use Italian tagliatelle successfully.    

Red bell pepper. 1 cut into chunks

Green bell pepper, 1 cut into chunks

Salt

Scallion, 2 sliced.   

Method

First, cut the chicken into bite sized pieces and marinate in 1 1/2 teaspoons light soy sauce, 3 teaspoons of Shaoxing and 1 1/2 teapoons of cornstarch. Set aside for about twenty minutes while you prepare the rest of the ingredients.

Heat the wok and add three tablespoons cooking oil. Add the ginger, garlic, star anise, cinnamon stick, bay leaves, Sichuan peppercorns and chiles. Fry on a low heat for a  minute or so. If they look about to burn, splash a little water into your wok. This will lower the temperature slighty. Add the chicken and turn up the heat. Continue frying until the meat is nicely seared, then add the potatoes and carrots. Stir fry a minute more then add 2 teaspoons of the dark soy sauce, 2 tablespoons of the light soy sauce and 2 tablespoons of the Shaoxing wine along with 3 cups of water. Bring to a boil, then reduce to medium. Cover and cook for around 15 minutes until the potatoes are done.

While the main dish is cooking, cook the noodles separately according to the packet instructions.  Reserve  some of the noodle cooking  water and drain.

When the chicken and potatoes are done, you may add a little of the noodle water if the dish appears on the dry side. It should be saucy, but not soupy. Add the bell peppers and cook for three to four minutes more. Add scallions. Check seasoning and add some salt if it needs it. It may not due to the soy sauce and Shaoxing.

Serve on a large plate for everyone to help themselves from. Plate the noodles first, then cover with the meat and potato. Enjoy.
___________________________________________________________

I also sent them my recipe for Rou Jia Mo, a slightly rewritten version of the one here.