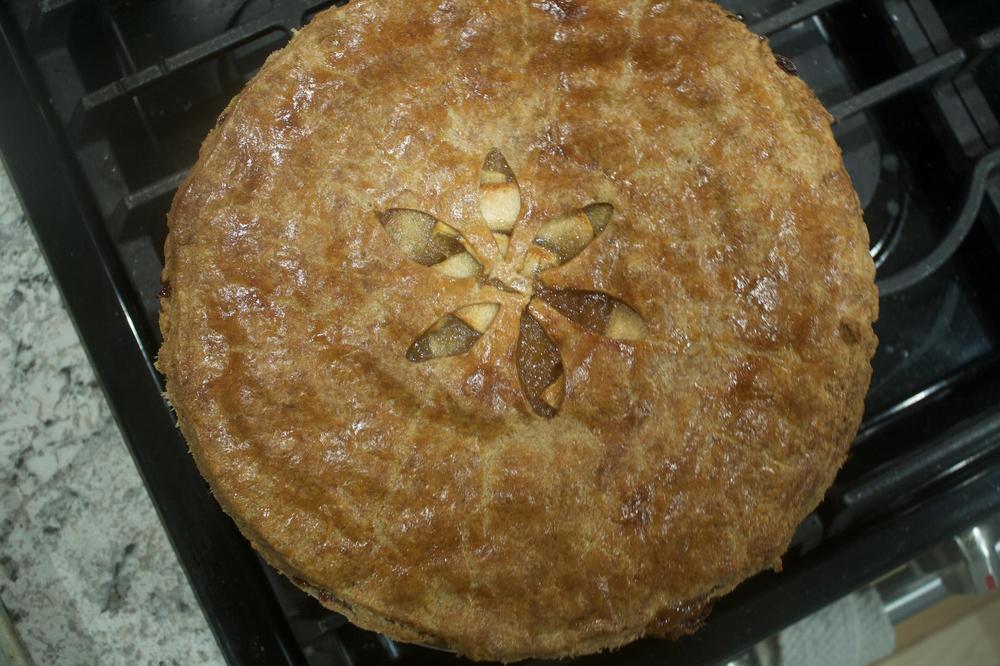 I'm very excited to share with you all a recipe that I developed for a double crust apple pie.  I had been inspired a few weeks ago to come up with a series of 3-ingredient recipes that would focus on technique and flavor but still be simple enough for the unseasoned chef.  I decided to make an apple pie as a challenge to myself--never having made one before--and as a way to show those who might find pastry intimidating how easy and adaptable it can be.
Basic Shortcrust Pastry
Ingredients:
- 300g flour
- 227g salted butter, cold
- 2 lemons, zested with juice reserved
1. Cut butter into small chunks.  Beat butter, zest of the 2 lemons, and flour together with an electric mixer OR combine with pastry blender OR rub together with fingers OR blitz in a food processor until it resembles sand.
2. Add just enough water to bring the mix together into a dough (about 20g for me).  You'll know your pastry is ready when you can press it together and it stays in one piece.
3. Divide dough in two and wrap tightly with plastic.  Refrigerate for at least 2 hours, or overnight.
4. When ready to use, roll out each portion to 13 inches in diameter. (I do this between two sheets of parchment paper.  Don't worry too much if the parchment sticks to the pastry. I periodically placed mine in the freezer to help keep everything cold, and the butter will separate from the parchment when frozen.)
5. Take 1 portion of rolled dough and place it in a 9-inch tart tin with a removable bottom.  Gently press into the sides to ensure even coverage.  Place in the freezer for 30 minutes.  Freeze the other portion of dough in-between the parchment pieces.
Apple Filling (and Assembly)
- 1 kg apples (I used about 7 apples for this recipe.)
- 220g dark brown sugar, divided
- 1 egg, separated
Making the apple butter: 
1. Cut and core 500g of your apples, but do not peel.  Add cut apples, juice of the one lemon, about 100g or so of water, and 170g of sugar to a large saucepan.
2. Bring to a boil over high heat, reduce to a simmer and cover.  Let the apples cook for 20-30 minutes or until tender.
3. Remove from heat and blend until smooth.
4. Return puree to saucepan and simmer uncovered over low heat, stirring occasionally, for an hour.  Color should deepen and the mixture should thicken slightly, but do not allow it to scorch.
5. Remove from heat and refrigerate until cool.
Apple filling:
1. Peel, quarter, and core the remaining 500g of apples. Slice on a mandolin to about 1/8th inch thickness. Place sliced apples in a large bowl of cold water while slicing remaining apples.
2. Once apples are sliced, drain water and add the juice from the remaining lemon, as well as the remaining 50g of sugar, over the apples. Stir to coat.
Assembly:
1. Remove pie base from the freezer.  Dock with a fork and brush on egg white.  Place back in the freezer and allow to set for for about 5-10 minutes.
2. Pour the entire recipe of apple butter into the pie base and even out with an offset spatula.
3. Arrange apple slices over the apple butter.
4. Remove remaining pie dough from the freezer and cut designs in while still cold. Transfer to the surface of the pie and seal overhanging edges.  Trim excess dough.
5. Brush top pastry with egg yolk (beaten with any remaining egg white) and bake in a 365˚F oven for 60-70 minutes.  Crust should be shiny and golden brown.
6. Remove from oven and allow to cool completely before removing from tin.
Some notes:
The reason for using salted butter is I think the flavor incorporates a little better into the mix than if I were to use unsalted butter and added salt.  That being said, you could do that instead, though your recipe would then have 7 ingredients
The addition of apple butter here takes the place of the normal apple pie filling, which is usually thickened with cornstarch and is typically quite sweet.  By using the apple butter, I push the flavor of apple forward beyond what you would find in a typically apple pie.  Also, the apple butter acts as a glue of sorts so that my slices are always clean, so no need to resort to adding thickeners or extra sweeteners.
I'm always looking for a way around blind baking, and using an egg white seal has worked out very well for me. The egg white creates a water-tight layer between the crust and the filling, so no matter how wet my filling is, the crust will always bake crispy and won't get soggy for as long as the pie is around.
Feel free to change this up as you see fit.  Obviously you can spices to this (I recommend cinnamon, clove, and cardamom) but the beauty of this pie is that it's really not necessary.  Although at first blush it may seem one-noted, the harmony between the flaky, almost savory crust and the bright and refreshing filling is one that doesn't need any help, in my honest opinion.
So there you have it! My 6-ingredient apple pie, sure to become a go-to for me, and hopefully for you as well!