4 large servings.
The fried pasta adds another crisp texture to the toothsome pasta and tender chickpeas.
Ingredients:
180g dry small chickpeas, soaked overnight in salted water
3 bay leaves
~
apx 380g dry pasta (tagliatelle is traditional, but short pastas also work) - or - fresh pasta from 350g flour (I opt for egg based pasta)
oil for frying
~
1 large onion, finely diced
1 small carrot (or half of a big one), finely diced
2 large stalks of celery
2 tbsp tomato paste
4 cloves garlic, minced
hot chili flakes, to taste
2-3 tsp thyme
2-3 tsp rosemary
optional: 1/3 tsp cinnamon
optional: 1 tsp dark sugar  (I use date molasses)
2-3 tbsp lemon juice
Plenty of freshly ground black pepper, for serving
Parmesan, for serving
Method:
If using dry pasta, soak apx 80g of it in cold salted water for an hour. Then drain and dry it well.
If using fresh pasta, set aside apx 160g of it, and cut into shorter pieces.
Fry the pasta in shallow oil until brown and crisp - or - mix generously with oil and bake at 180dC (medium heat) until brown and crisp.
Season slightly with salt and pepper.
~
Cook chickpeas in salted water (or better, stock) with bay leaves, until very tender. Pressure cooker is recommended.
Drain and set aside. Cooking liquid can be reserved for cooking the pasta.
~
In a pot or tall pan, cook onion and carrot with some butter or olive oil until the onion browns.
Add the celery and cook until it is softened.
Add the tomato paste and cook for a couple of minutes.
Set the vegetables to one side of the pan
Add some butter or olive oil to the cleared pan, and fry the garlic, chili, thyme and rosemary until aromatic.
Mix in the cooked and drained chickpeas.
Add cinnamon (optional), sugar (optional).
It's optional, but recommended, to blend smooth a third of the mixture.
~
Cook the (not fried) pasta in salted water (you can reuse the chickpeas cooking liquid).
Mix with the sauce, adding from the cooking water as needed.
Add lemon to taste, and salt to taste.
~
Serve, topped with the fried pasta, and a grating of Parmesan and pepper.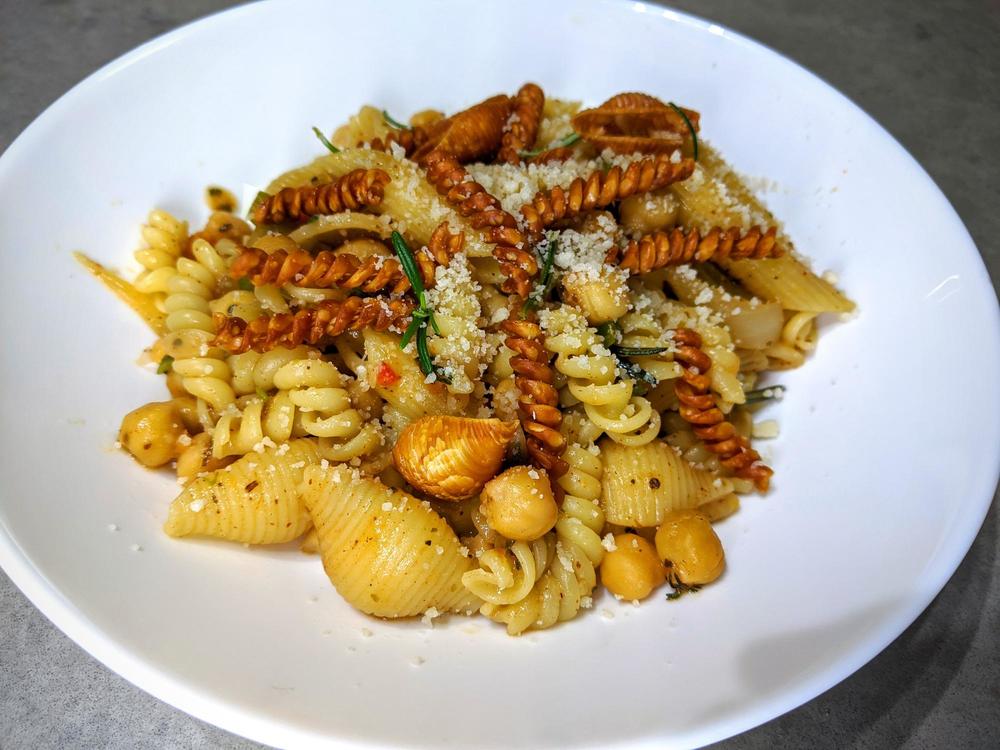 2019
2017