I can't tell you how much I've enjoyed these posts about @KennethT's trip to New Zealand. As I mentioned above, it prompted me to dig out my notes and photos on a trip I took to the South Island at this very time of year.  While it's not exactly current, I'd like to share it and encourage anyone who's considering it to visit this beautiful place.   I can't say that food was the focus but lots of exercise and time spent outdoors made almost everything taste pretty great!  
I arrived before the group trip I'd booked so I could adjust to the time change and spent the first day wandering around Christchurch, a very walkable city, with lovely footpaths along the River Avon where you can rent punts or canoes.  I spent quite a while at the Arts Center, visiting artist studios and wandering the weekly outdoor market where I picked up fruit, cheese and bread for picnic meal. I also visited the Canterbury Museum and the Christchurch Art Gallery.  I spent the next morning walking around the Botanical Gardens and then headed out to tour a few wineries in the Waipara Valley: Canterbury House,  Muddy Water Vineyard, Torlesse Wines (my favorite) and Pegasus Bay Winery.  We had lunch at the first winery (a generous spread of breads, cheeses, dips, olives, pickled and fresh veggies, fresh fruit, etc) and finished with dessert and coffee at the last one. 
I booked a 14-day South Island trip with a company called Active New Zealand (now called Active Adventures) and met up with my group of 8 travelers and 2 guides the following morning.  On the way to our lodging at Lake Tekapo, we stopped for a short hike in Peel Forest at Te Wanahu Flat and had a picnic lunch that was standard for most of the trip - make-it-yourselves sandwiches chips, juice, fruit, muesli bars, cookies - nothing fancy but good quality.  The van was stocked with a big bowl of fresh fruit, muesli bars, gum, mints, a pile of New Zealand bird, plant and animal reference books and plenty of sunscreen and bug spray.  Our guide regularly played music from New Zealand artists during our drives - some of which still bring up memories of this trip when I hear them.  We took another short hike after lunch, then checked into our hotel.  Since the days are long at this time of year, we were often able to head back out after dinner for a short hike or walk along a lakeshore.  
Here's a view of the Church of the Good Shepherd on the shore of Lake Tekapo
The next day, we headed to the vicinity of Aoraki / Mount Cook, the highest mountain in New Zealand.  It was misty and raining steadily so we never saw the mountain but enjoyed hiking the Hooker Valley Loop and appreciated stopping for mugs of hot cocoa afterwards. 
Almost every trail featured suspension bridges like the one below.  All of them were marked with a limit for the number of people allowed and this particular group of brightly garbed hikers were sticking close together as they crossed.
That evening, we went out to Pepe's Pizza for dinner.  It was quite a popular spot and offered interesting pizzas like chicken, brie and cranberry,  a seafood combo with mussels, shrimp and salmon and a venison and lamb combo.  
The next day, we had sunnier weather for our drive to Queenstown.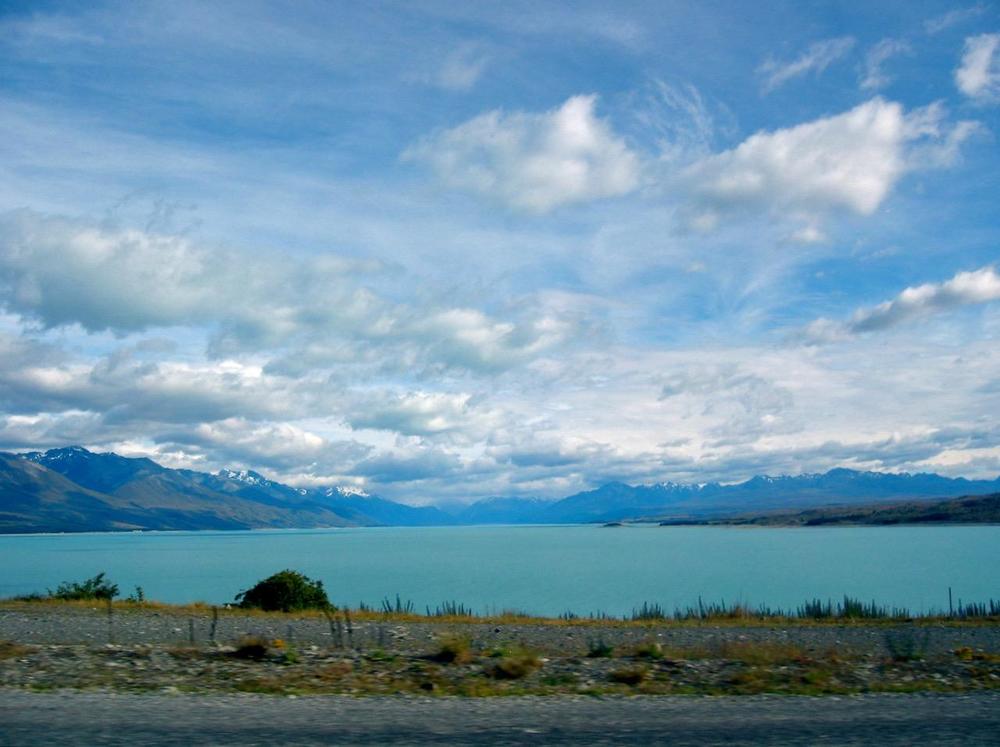 We stopped at a fruit stand that had an interesting ice cream gadget I hadn't seen before.  You picked your fruit, which went into the hopper along with scoops of regular ice cream:
What came out the bottom was a soft-serve-like mix of fruit and ice cream.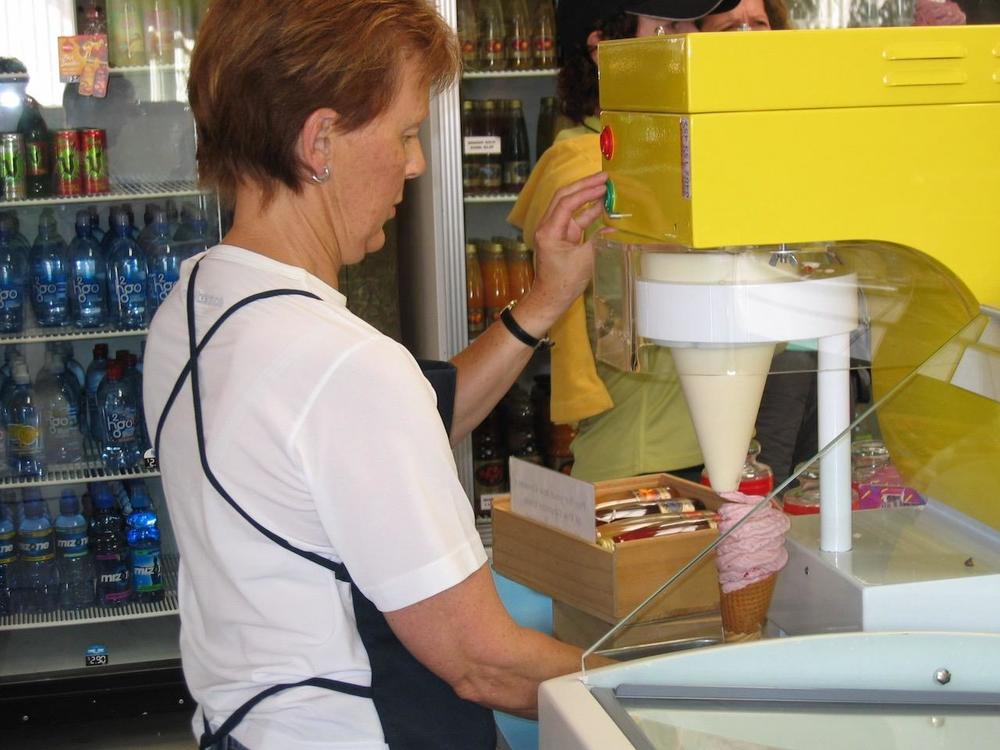 They also had lots of New Zealand honey available for purchase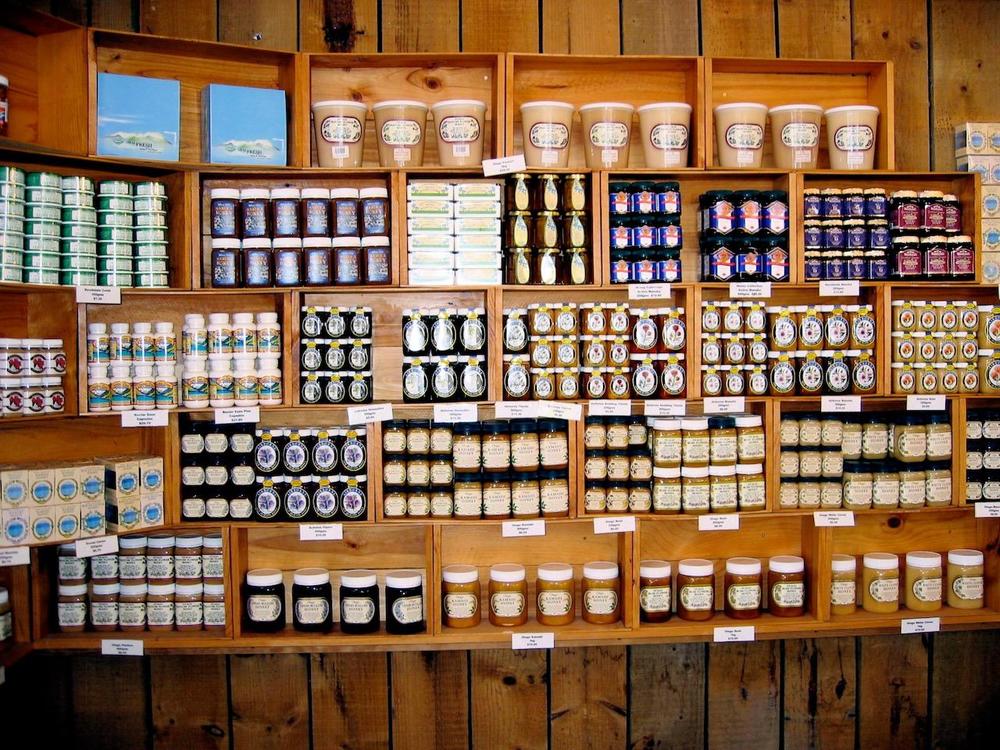 We continued on, stopping to hike to the top of Queenstown Hill to take in the views and eat our picnic lunch, then had a briefing on what we'd need for the highlight of our trip - guided trips on either the Hollyford Track, which I chose, or the Milford Track. As @KennethT mentioned, the New Zealand Dept of Conservation maintains a network of trails that and can be hiked independently with accomodations in rustic huts where you can reserve a bunk or in your own tents.  The "guided walk" option was described by one of our group as "filet of hiking" as instead of tents and sleeping bags, we stayed in lodges with hot showers and comfortable beds so we only needed small packs for the clothes we'd need for 4 days - no need to lug tons of gear.  So lazy!   That night, some of us went to Roaring Megs in Queenstown.  I had delicious lamb and some great pinot -  the best dinner of the trip, for sure.
The next morning, we drove to Te Anau and spent some time visiting the town and walking around the lake, then headed out of town to hike part of the Kepler Track (one of those "Great Walks") before checking into our lodge on Lake Manapouri.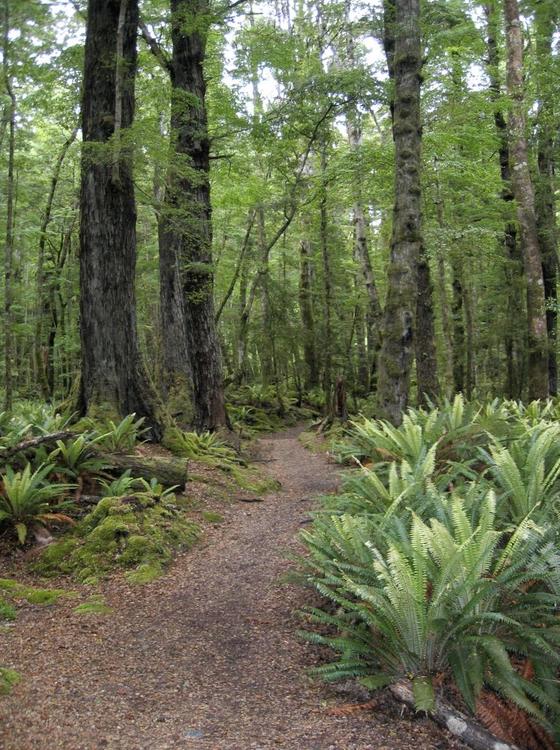 Dinner was cooked outside on the barbecue and afterwards, we learned to do Tim Tam Slams with Tim Tam cookies and mugs of hot Milo around the fire.  I guess Tim Tams are more of an Aussie thing and I've since bought them at Target but that was my first!
The first day of the Hollyford Track featured a comfortable walk through some of the most beautiful scenery I've ever seen.  From mossy green trails...
where we were surrounded by plants and trees I've never seen before..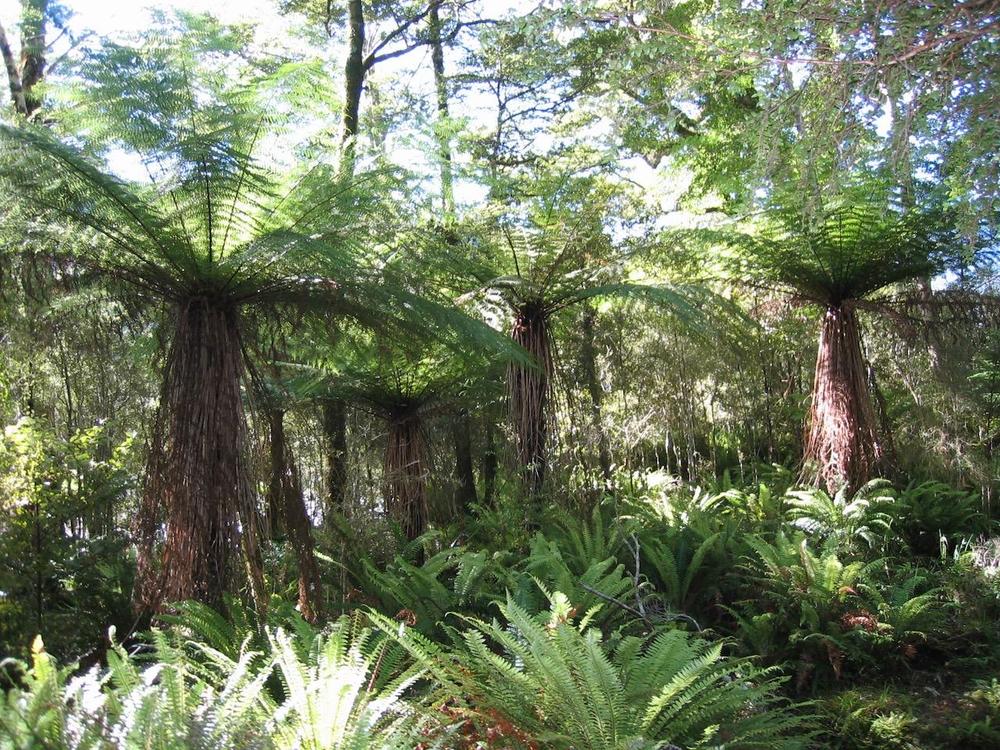 to clearings with views of lakes, streams and snow-capped mountains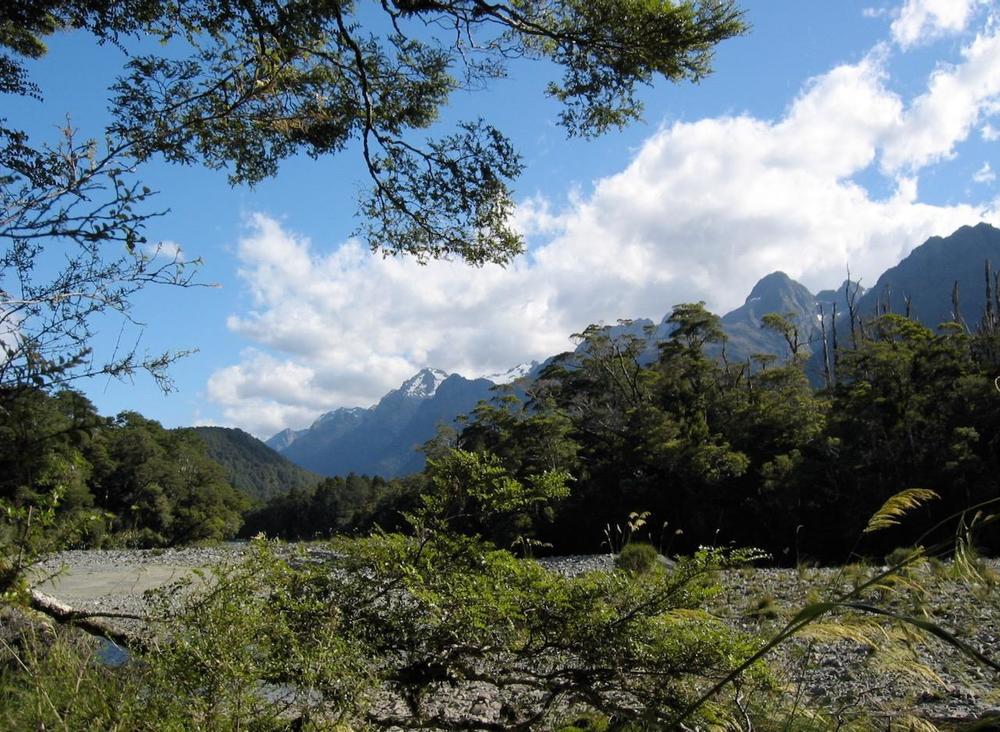 After 12 miles of this, we arrived at our lodge where we were greeted with freshly baked cookies and mugs of tea and coffee.  We had time for showers before a delicious dinner, complete with New Zealand wine and comfy beds.  Ahhhh!
Here's a photo of Mt. Madeline that I took from outside the lodge before we headed out the next morning.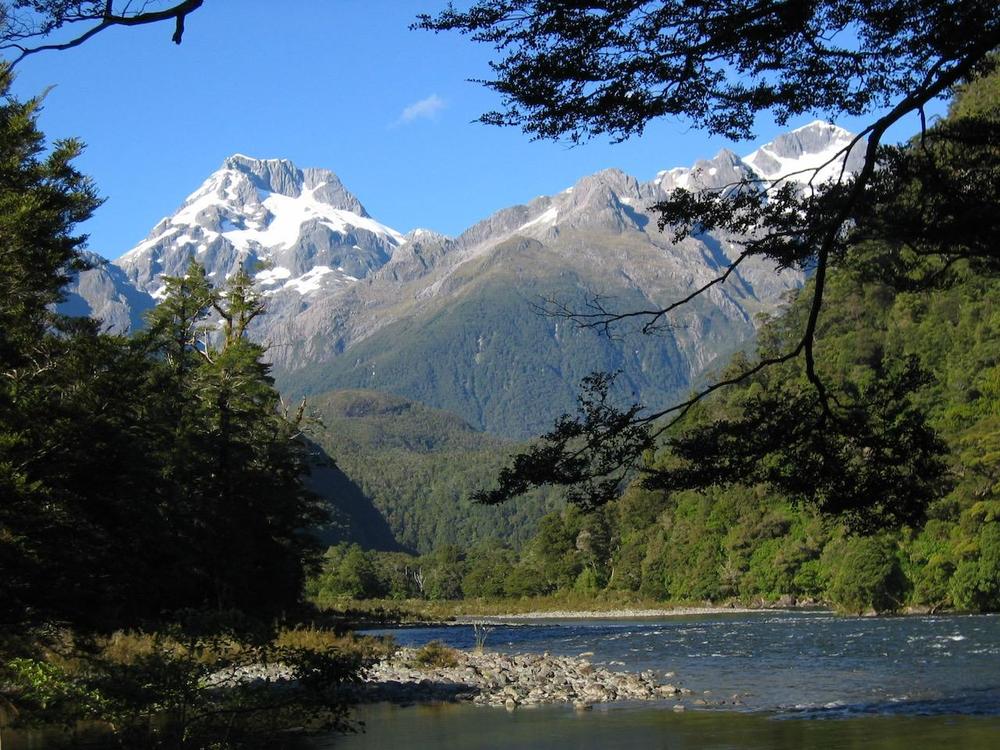 We first took a short walk to Lake Alabaster which was like glass early in the AM
More beautiful scenery as we hiked along Lake McKerrow 
Just off the trail, we found a tent cabin set up with our lunch, complete with a Christmas tree - it was Christmas Eve, after all!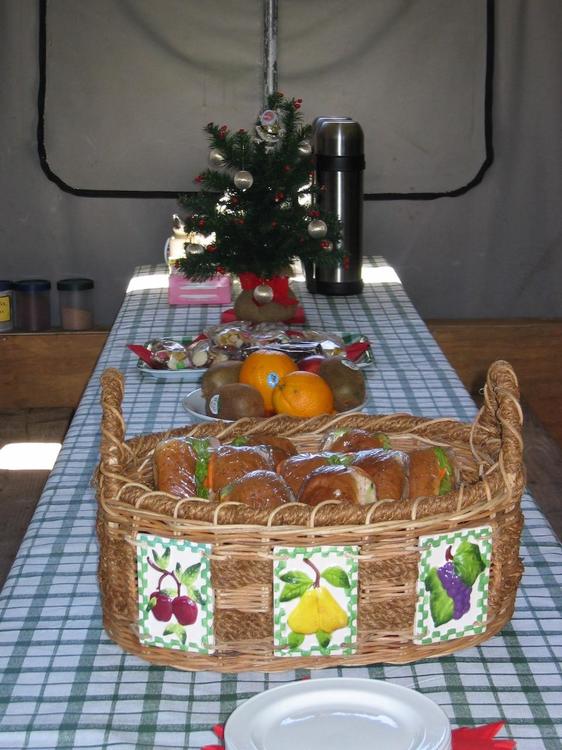 After that break, we continued hiking until we first heard and finally were able to see the sea
When we arrived at our lodge at Martins Bay, we were greeted with this platter to enjoy with wine
Dinner was salmon
with chocolate cake for dessert
I'd intended to make one short post but I've been enjoying my trip down memory lane so much that I've gone on much longer than I intended!   I'll have to finish up in another post later if people are interested in this blast from the past!