Warmed Black Mission Figs in Browned Butter Maple Sauce, with Danish Blue Cheese, Sage and Ciabatta
The penultimate dish was one Scott says is a perennial favorite at the restaurant, to the point that people are disappointed when they can't get it. "We drove all the way up from The Cities for this!" they cry, and he has to disappoint them by pointing out that the figs simply aren't available then. Only fresh black mission figs will do, and when they aren't in season, they simply aren't in season.
Here's the initial setup, although the carrots and the aji amarilla sauce near the right weren't part of this dish.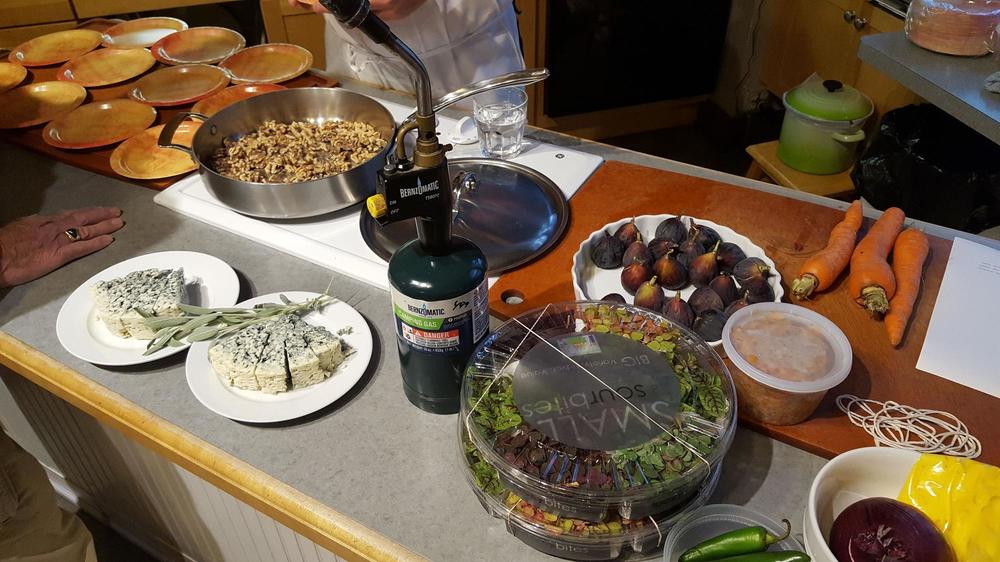 The butter maple sauce was made by melting butter over medium heat, stirring frequently to keep it from burning, until the solids began to turn a light- to medium-brown color, then turning off the heat. After the butter was allowed to cool slightly, maple syrup was added: 1-1/4 cup maple syrup for 1 cup butter. He whisked it together, brought it to a boil, then took it off the heat. Some of the sauce was then used to warm the figs (quartered or cut smaller, depending on their size) and some toasted walnuts. The figs were simply warmed, not cooked, in this sauce.
To plate, he put a wedge of cheese in the center, surrounded it with carefully-spooned figs and walnuts, and poured more sauce over the top. The garnish was a few sage leaves, and the accompaniment was slices of warm ciabatta.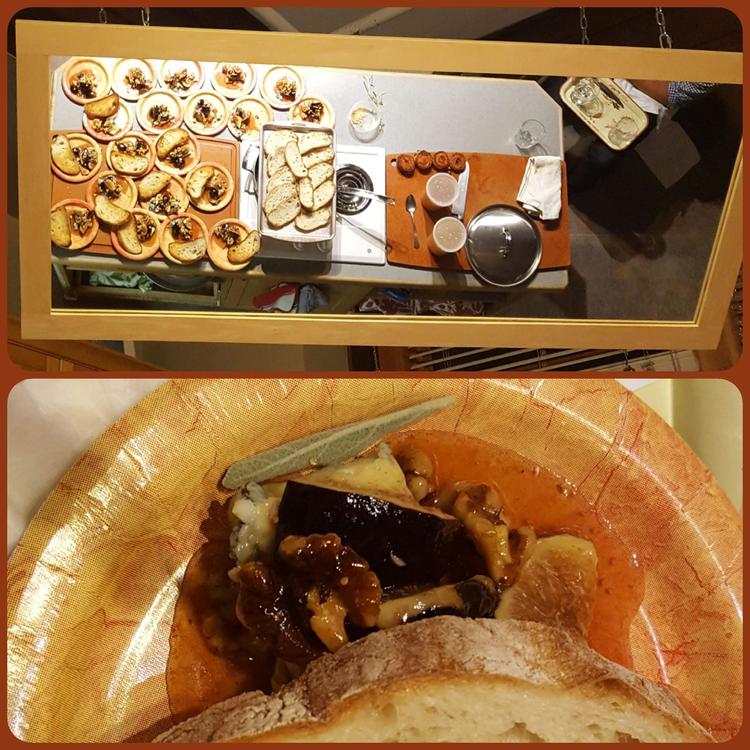 There had been oohs and ahs of anticipation over this dish. It was clear that several members of the class had had this at the restaurant and were eagerly awaiting it. A few of us were outliers, though. One woman, when prodded for a response, said, "I thought it would be more special!' to general laughter and a few groans. I must admit that this was my least-favorite dish. I'm not a big fan of blue (or bleu) cheese, and to my tastes the strong cheese didn't necessarily play well with the very-sweet figs and sauce. For that matter, I'm not a big fan of figs or maple syrup either. That said, the maply buttery sauce with the toasted walnuts was excellent. I'll probably look for other applications of that sauce. The sage was a lovely addition.