I almost never host Thanksgiving because we always have the big Xmas Eve family/friends/friends of friends/neighbors etc. gathering at our house.  Long time eG'ers might remember that I used to make the full sit down turkey and fixings dinner for 50+ people.  I got increasingly frustrated at folks who wouldn't RSVP and who treated it like an open house – arriving whenever.  So I changed things up and now we actually do an open house.  I've done beef burgundy, a sandwich buffet, assorted appetizers and such over the last few years. 
This year for Xmas Eve, I'm planning to scale down even farther, despite the sad looks I'm getting from Mr. Kim and Jessica.  All the sweets will be the same.  All that stuff can be made ahead of time – most all of it freezes well.  But for the food, I'm planning on ham, a platter of cheeses and crackers (for the vegetarians), rolls, salad with two dressings, slow cooker sour cream mashed potatoes, and these pineapple upside down biscuits: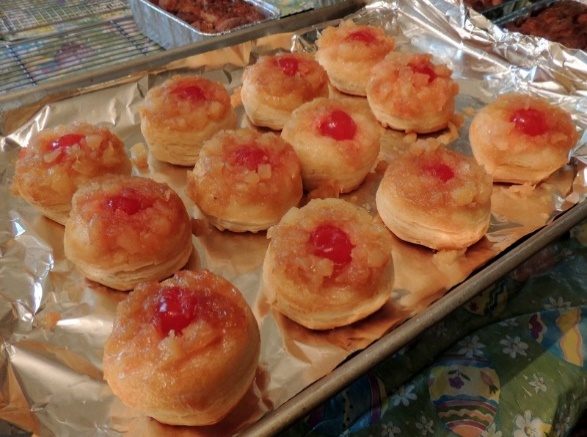 Thanksgiving this year is a whole 'nother thing.  I think that Jessica is feeling pushed aside and neglected with my mother needing so much care and time.  So, she has pleaded for us to host Th'giving as well as Xmas Eve this year.  Sigh.  Did I mention that she is a very much indulged 34 year old only child?  That menu is:
Turkey
Gravy
Challah bread dressing
Sweet potato gnocchi
Corn pudding
Roasted Brussels sprouts
Butternut squash soup
Broccoli casserole
Fruit salad
Cranberry sauce
Slow cooker sour cream potatoes
Rolls
Pecan pie
Apple pie
Supposedly, I am only responsible for the turkey, gravy (already in the freezer), cranberry sauce (also in the freezer), and the sour cream potatoes.  She has promised to make the dressing, gnocchi, corn pudding, soup and sprouts.  The rest of the family is bringing the other things.  We'll see how this turns out.