While there have been other Chinese vegetable topics in the past, few of them were illustrated And some which were have lost those images in various "upgrades".
What I plan to do is photograph every vegetable I see and say what it is, if I know. However, this is a formidable task so it'll take time. The problem is that so many vegetables go under many different Chinese names and English names adopted from one or other Chinese language, too. For example, I know four different words for 'potato' and know there are more. And there are multiple regional preference in nomenclature. Most of what you will see will be vegetables from supermarkets, where I can see the Chinese labelling. In "farmer's" or wet markets, there is no labelling and although, If I ask, different traders will have different names for the same vegetable. Many a time I've been supplied a name, but been unable to find any reference to it from Mr Google or his Chinese counterparts. Or if I find the Chinese, can't find an accepted translation so have to translate literally.
Also, there is the problem that most of the names which are used in the English speaking countries have, for historical reasons, been adopted from Cantonese, whereas 90% of Chinese speak Mandarin (普通话 pǔ tōng huà). But I will do my best to supply as many alternative names as I can find. I shall also attempt to give Chinese names in simplified Chinese characters as used throughout mainland China and then in  traditional Chinese characters,  now mainly only used in Hong Kong, Taiwan and among much of the Chinese diaspora. If I only give one version, that means they are the same in Simp and Trad.
I'll try to do at least one a day. Until I collapse under the weight of vegetation.
Please, if you know any other names for any of these, chip in. Also, please point out any errors of mine.
I'll start with bok choy/choy. This is and alternatives such as  pak choi or pok choi are Anglicised attempts at the Cantonese pronunciation of the Mandarin! However in Cantonese it is more often 紹菜; Jyutping: siu6 coi3. In Chinese it is 白菜. Mandarin Pinyin 'bái cài'. This literally means 'white vegetable' but really just means 'cabbage' and of course there are many forms of cabbage. Merely asking for bái cài in many a Chinese store or restaurant will be met with blank stares and requests to clarify. From here on I'm just going to translate 白菜 as 'cabbage'.

So, here we go.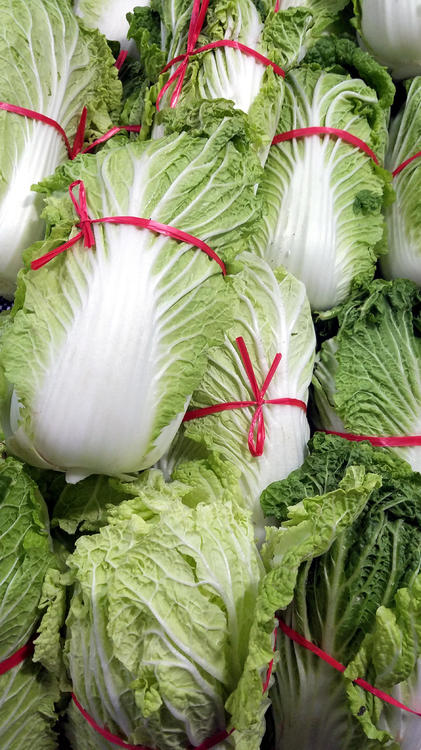 Brassica rapa subsp. pekinensis
This is what you may be served if you just ask for baicai. Or maybe not. In much of China it is 大白菜 dà bái cài meaning 'big cabbage'. In English, usually known as Napa cabbage, Chinese cabbage, celery cabbage, Chinese leaf, etc.  In Chinese, alternative names include 结球白菜 / 結球白菜 ( jié qiú bái cài ), literally knotted ball cabbage, but there are many more. 
This cabbage is also frequently pickled and becomes  known as 酸菜 (Mand: suān cài; Cant: syun1 coi3) meaning 'sour vegetable', although this term is also used to refer to pickled mustard greens.
Pickled cabbage.