When we arrived in Sanjiang we were led into a theatre where we saw yet another Dong musical extravaganza. This was a professional  production billed as a Love Story and although it was OK, it didn't have the magic or thrill of the amateur performances done for love rather than money which we had been watching for two days.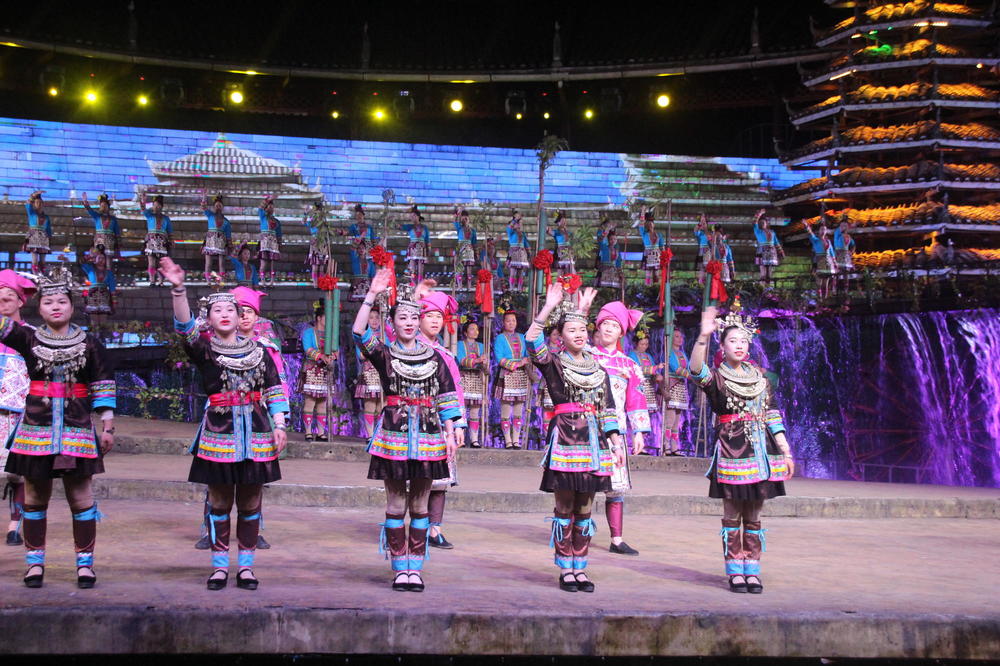 So, I thought I'd now take the opportunity to fill in a little detail of the Dong people's food culture.
Like the Miao, they very much like their oil tea, made from Tea Seed Oil (Camellia oil). Do not confuse this with the inedible, indeed toxic, tea tree.oil. Dong oil tree is slightly different from the Miao's version. They include spices, ginger and, in particular, garlic. I'm never sure which one I prefer. Usually the one I happen to be drinking at the time.

Most Dong people consume this every day and they also share the Miao hospitality rituals associated with the oil tea, offering it to all guests until they can take no more. They also tend to tease guests by serving the tea without chopsticks and seeing how they deal with the rice, peanuts and beans etc which it contains. If a young girl offers a boy a bowl of oil tea, but with only one chopstick, then it has a meaning much more than simple hospitality. I can only politely translate it as "Take me, I'm yours!"
Sanjiang county has around 1 million hectares (287,000 square miles) of tea plantations.The best tea is picked in early spring and Sanjiang tea comes to perfection earlier than that in most of China. It is therefore called "No. 1 China Early Spring Tea" and has won many awards.
They also enjoy stick rice cakes made from glutinous rice and sugar. Really sticky, tooth destroyers. I've only eaten them once. It took me weeks to separate my upper and lower teeth!

Pickled foods are also very popular and not just vegetables. They also pickle fish, pork etc. Oil tea and pickled foods are mandatory at festivals and weddings.
Unlike most Chinese people, the Dong eat a lot of raw food, especially in summer. Carrot, bamboo shoots, tomato and cucumber are chopped into small pieces and mixed as a salad with a vinegar, salt and sugar dressing. They also eat raw fish and even raw pork in a sushi style.
Perhaps the strangest is their Herb Soup. This uses various wild herbs and half digested grasses from the stomachs of goats. They believe that this has medicinal properties especially for stomach ailments. The Dong name translates as "Dong Stomach Medicine". I've never had it.
After the show, I had a beer and went to bed. Tomorrow, I will post the final instalment which will include one more gustatory novelty.