About an hour and a half later, somewhat behind schedule, we arrived at Guandong village (冠洞村  guàn dòng cūn), a traditional Dong village in the east of Sanjiang Dong county. We were here for something very special. The villagers were hosting a 侗族百家宴 (dóng zú bǎi jiā yàn), "Dong People Hundred Family Feast".
We rolled into the village and were escorted to the place of honour facing this drum tower. Totally built of wood, without nails, these are to be found in every Dong village. In fact, they have a saying that a village without a drum tower isn't a village, just a bunch of houses. The drum tower was used to sound warnings or to send signals. Today they are community meeting places, courts, places of worship etc. The centre of village life.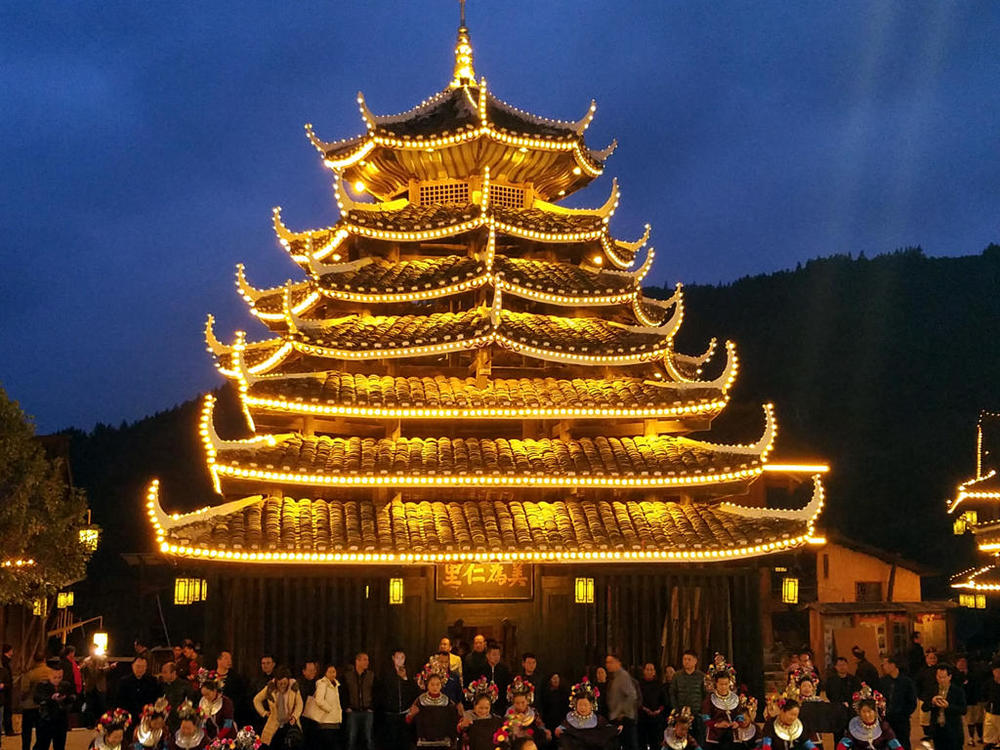 .
In front of the tower, the villagers put on a short performance for our benefit.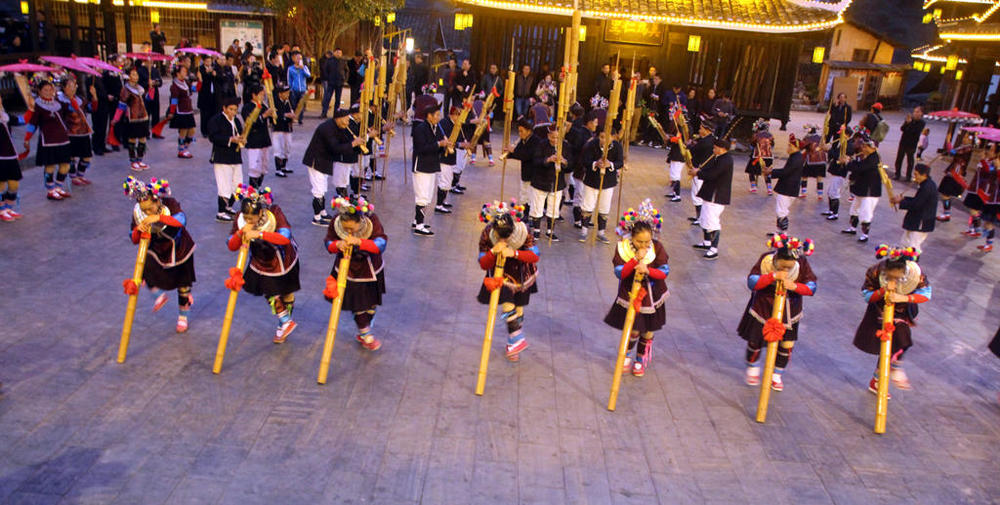 Like the Miao people, the Dong also have a Lusheng culture and their music is very similar.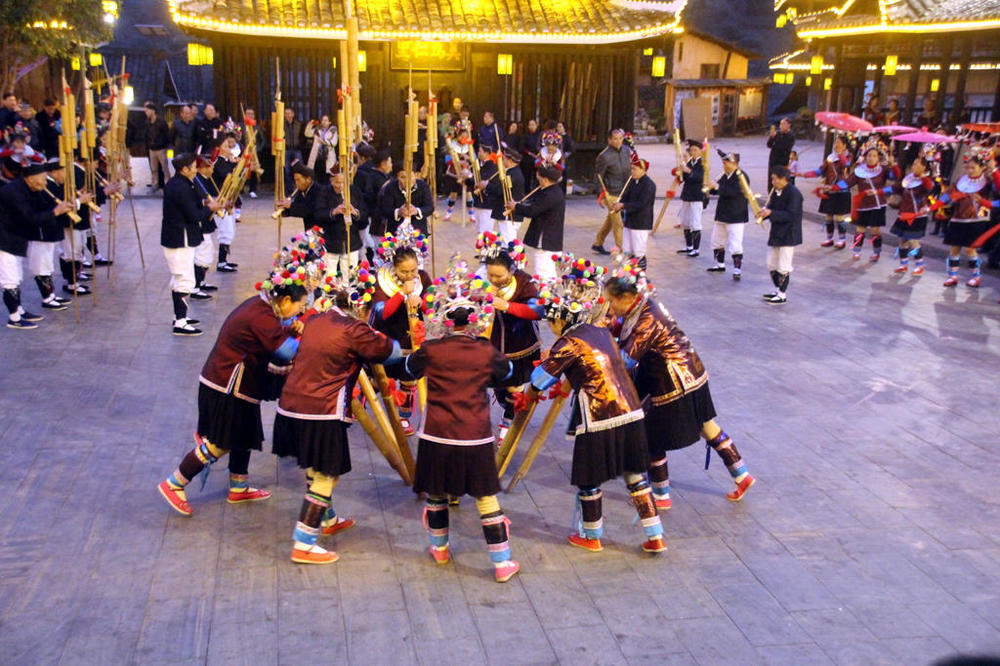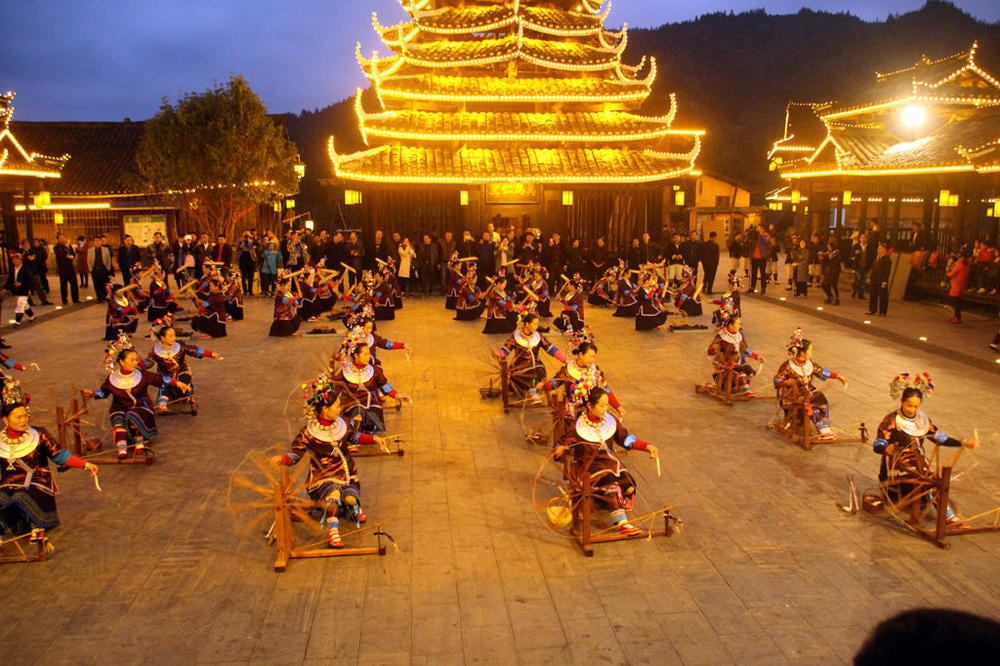 As you can see their dress is different from that of the Miao. Here they are singing a song about weaving.
After this they bring out tables to fill the square in front of the Drum Tower.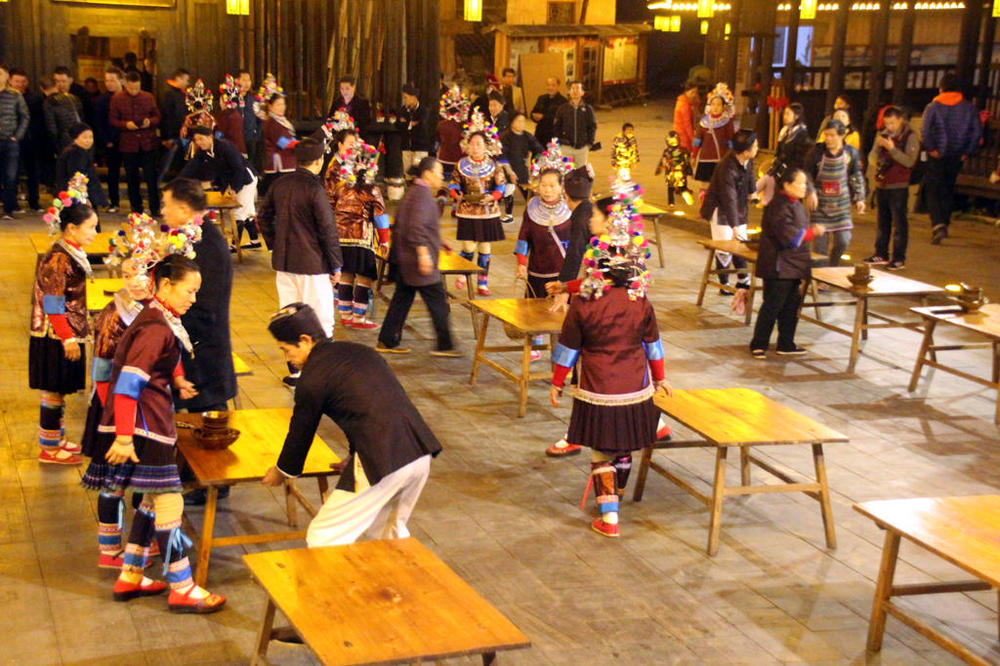 At this point, I went for a wander. Behind the drum tower, is the 'main street' - actually, the only street.
Here I met this charming young man who babbled away to me in the Dong language - not one in which I am very proficient..
I returned to find  this. Everyone has taken up position at a table.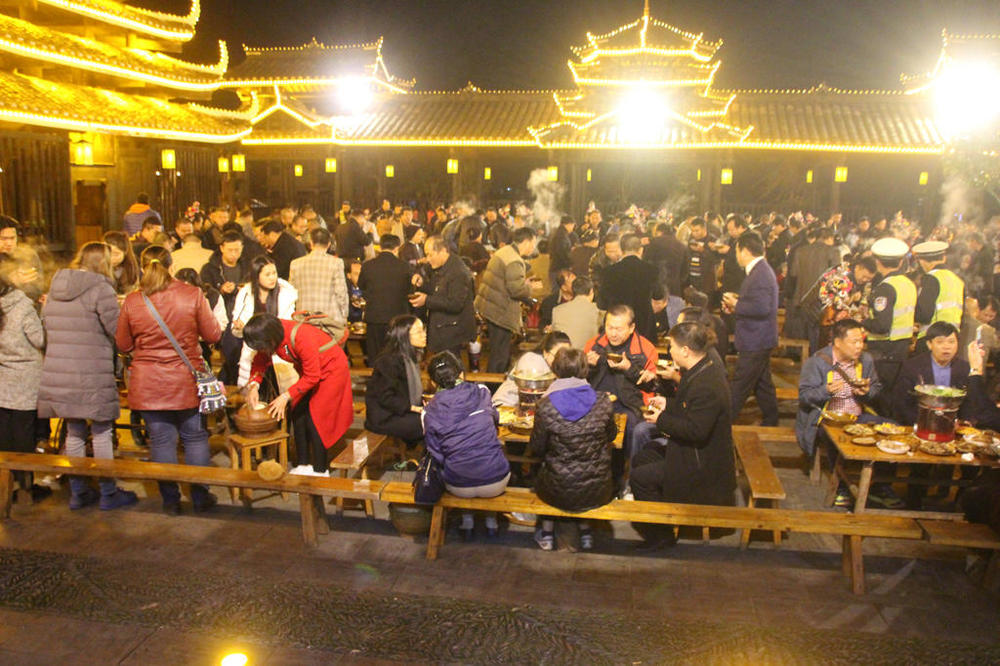 I joined the one on the left.
Each family in the village makes a meal for one table. This chap made ours and happily served us. Real Dong style home cooking.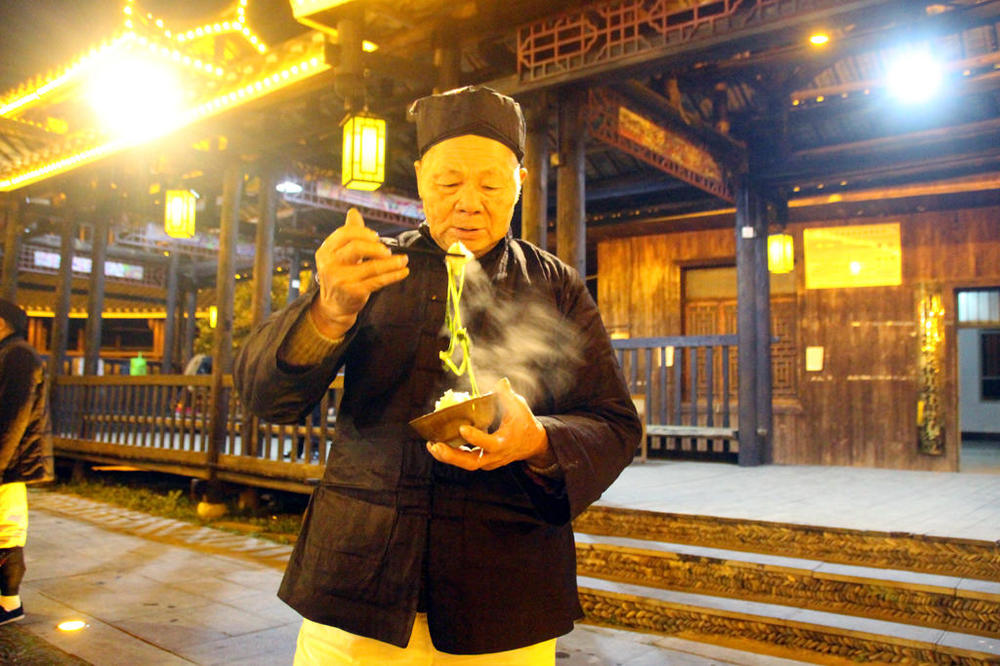 This means that every table is having a different meal, although of course there are duplicated dishes. But the way it works is that you start out at the table of your choice and sample the delights on offer. Our table had: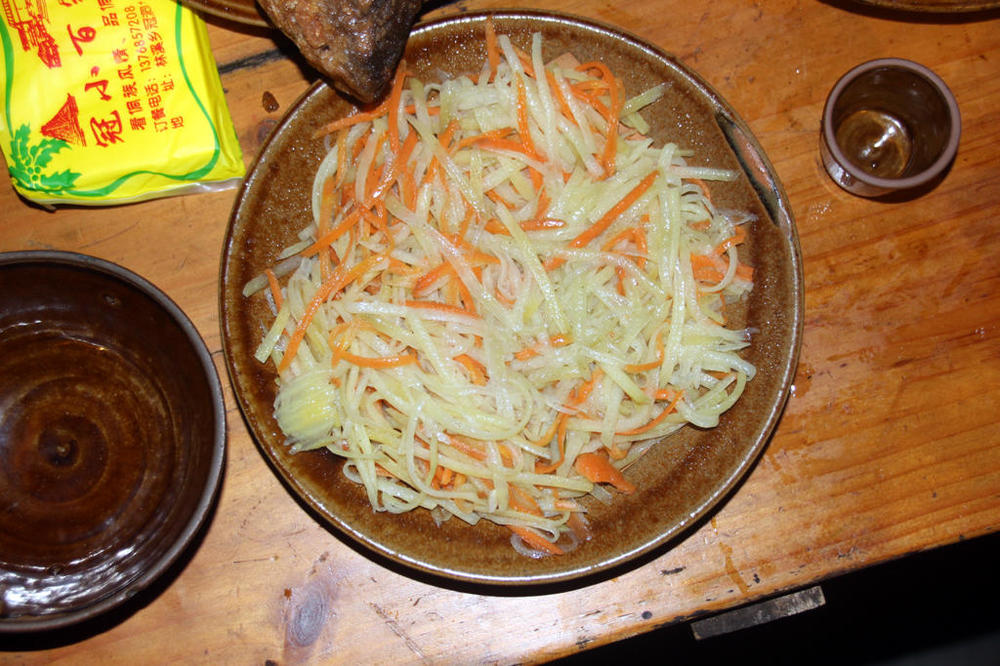 Daikon radish and carrot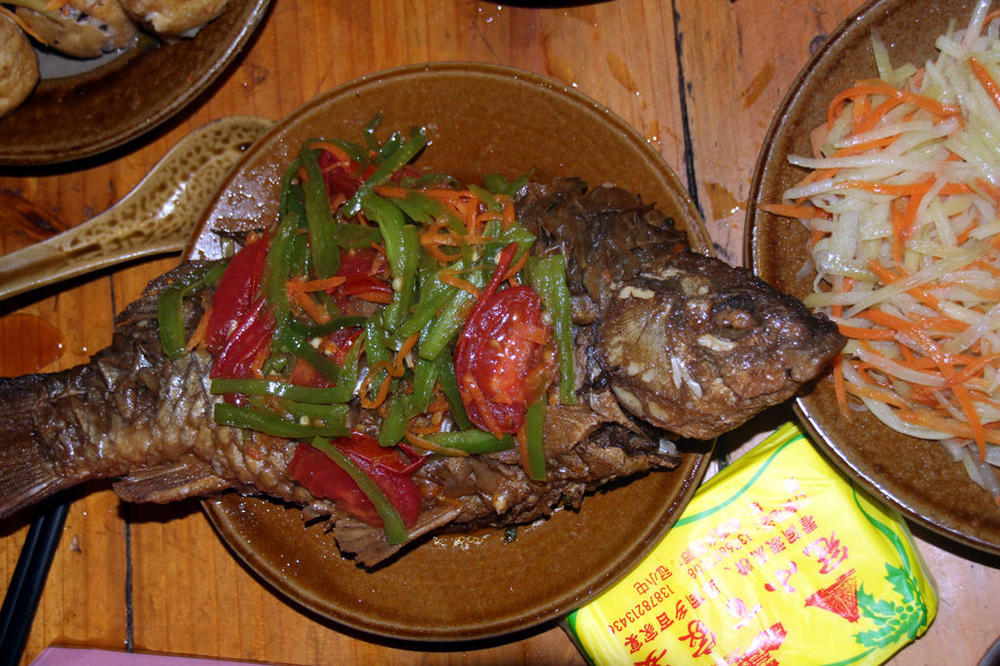 Fried carp(?) with tomato and chilli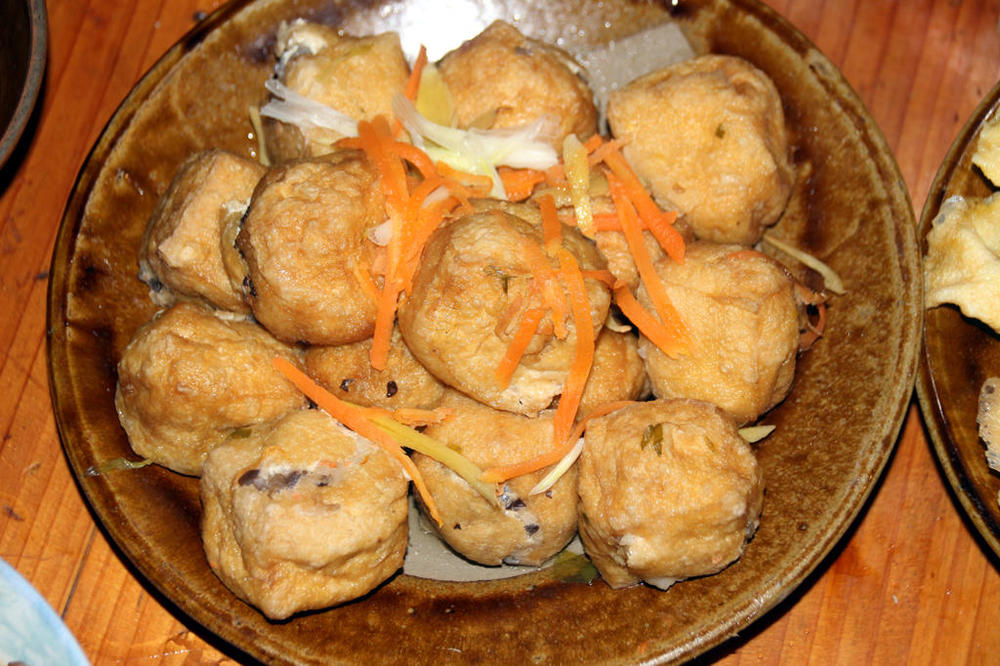 Tofu cubes stuffed with pork and cabbage
Cured pig fat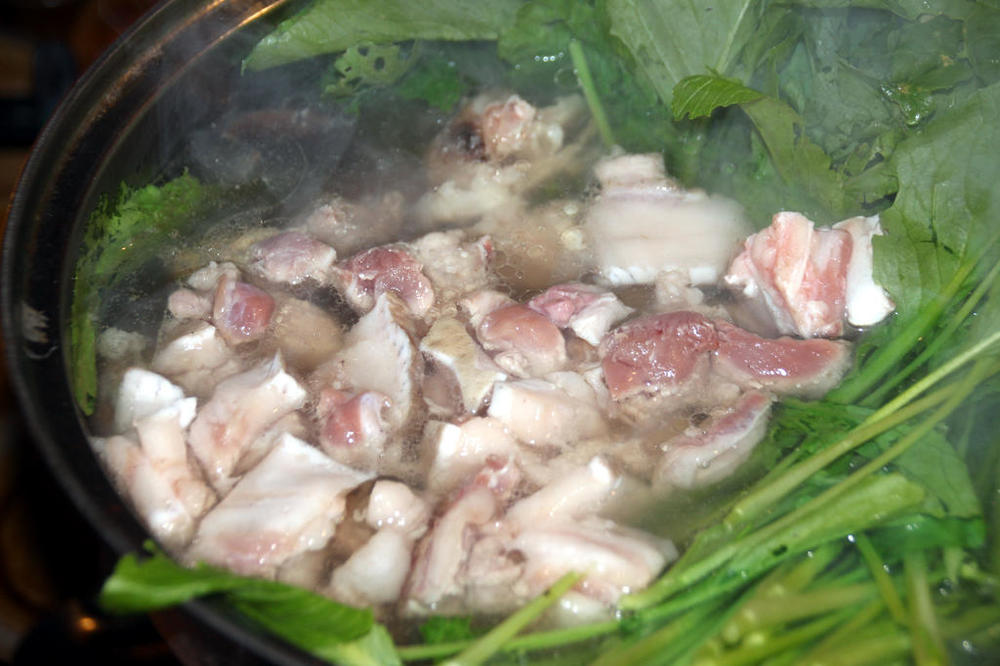 Mixed offal and greens in a hot pot.
Now, you might be thinking "I wonder what the other tables have that I might prefer." No problem. You can just get up with your bowl and chopsticks and wander around the other tables. If something takes your fancy, you just join whoever is there. They will most probably offer you a cup of home-made rice wine and encourage you to eat more. Then you can wander off again and search for another table which looks inviting (they all do!) This is not only acceptable behaviour, but expected.
Here are some things I found on other tables.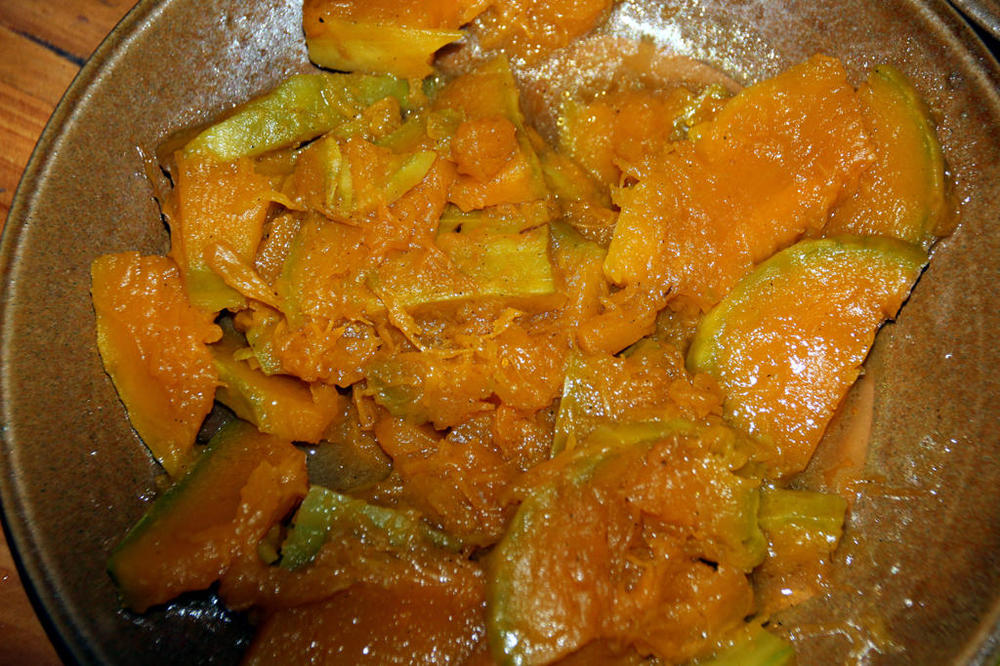 Some kind of steamed gourd.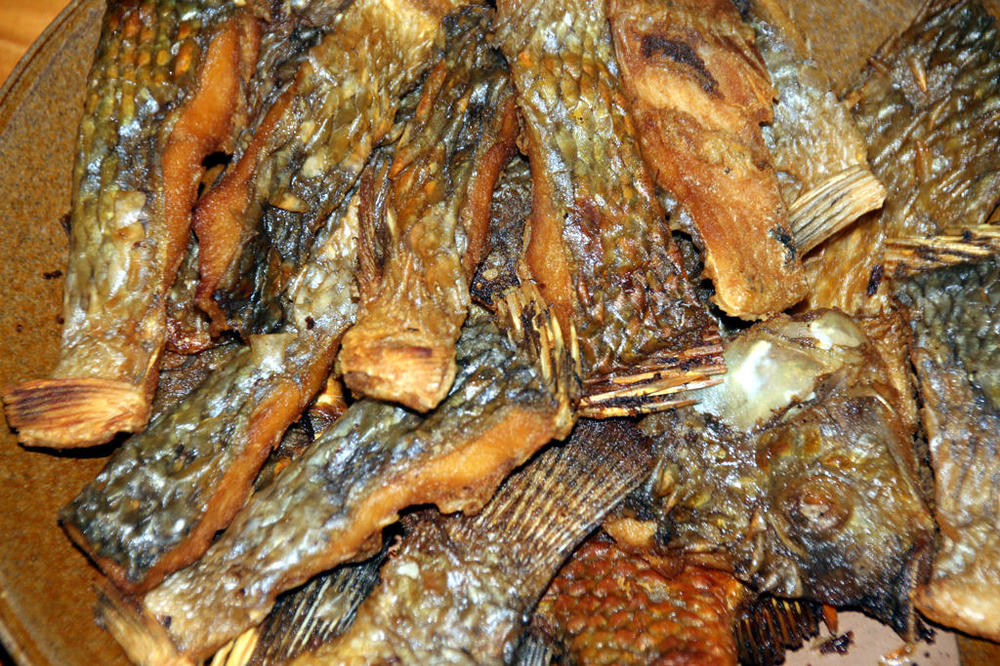 Smoked fish
Bean Sprouts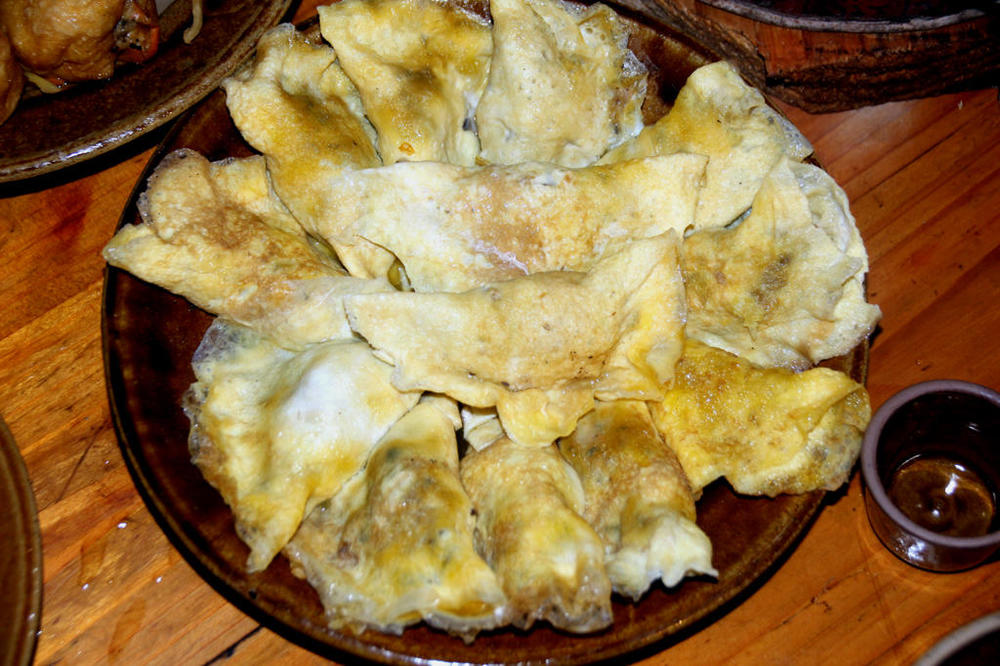 蛋饺. These are like jiaozi (potstickers) but the skin is egg rather than pasta. Mini-omelets.
and many more
The men take to walking around proposing toasts to all the women; while the women do the same to the men.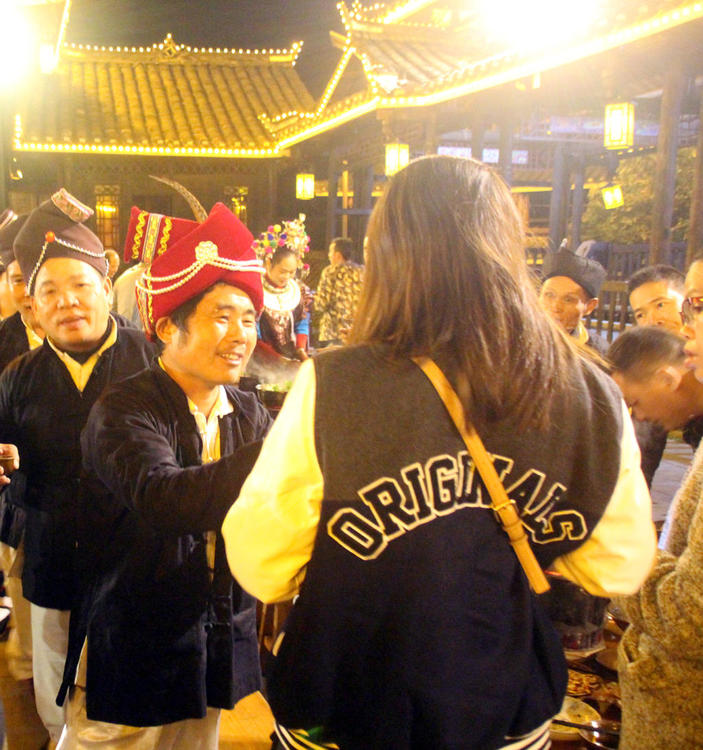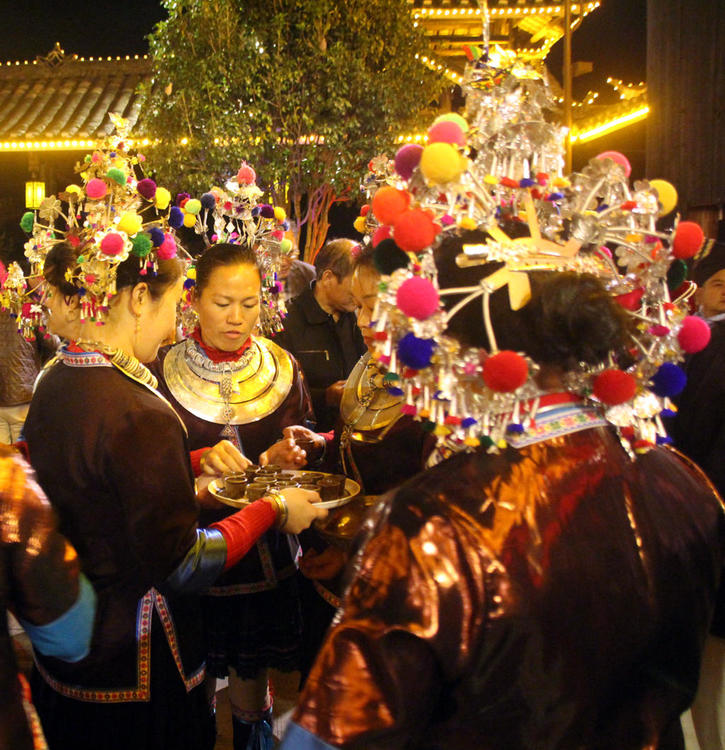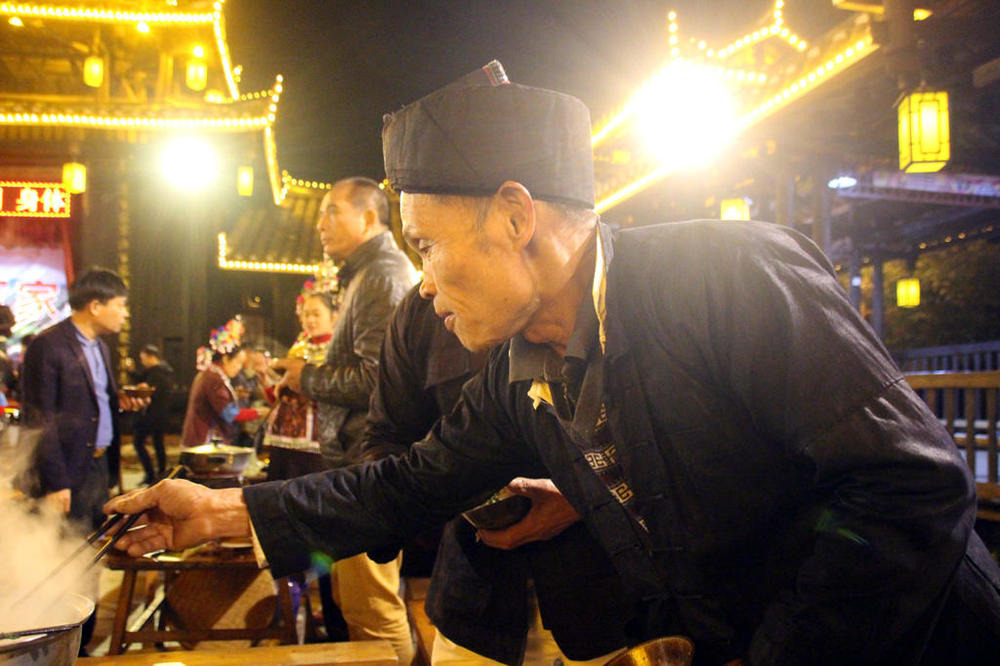 Most just continue eating.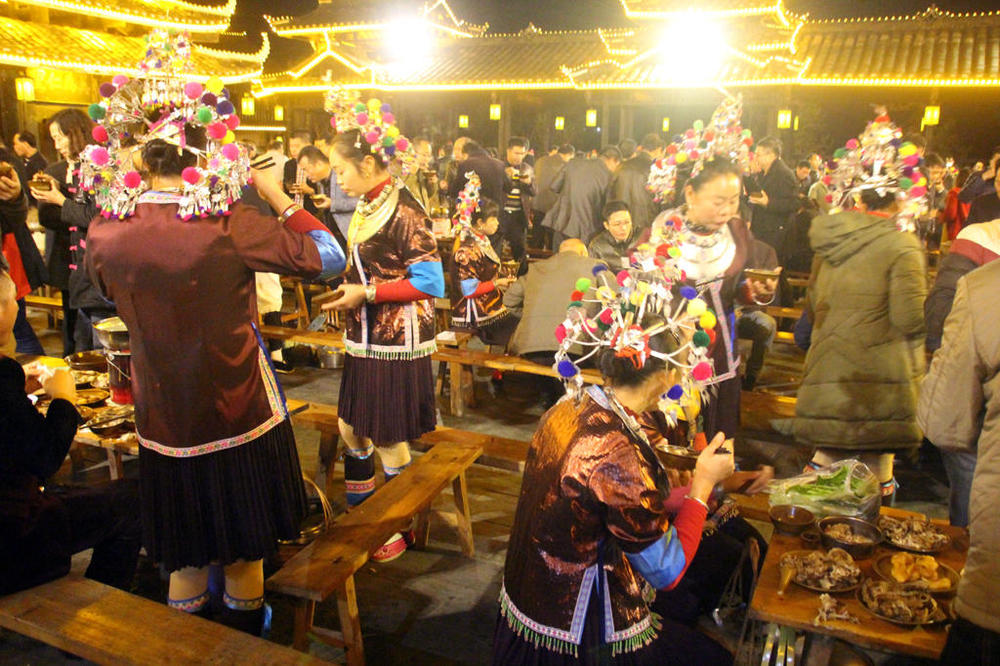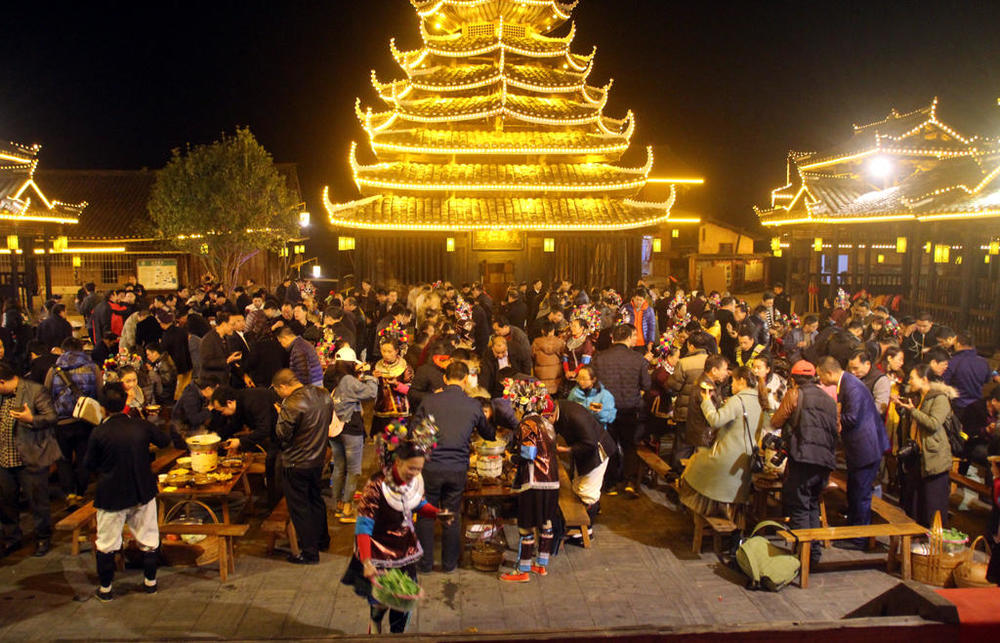 Finally, we are full and it is time to leave. This is the bit that tugs my heartstrings every time. As the guests leave, the entire village follows them to the village gate singing their farewell song.
I feel it's important to say that they are not doing this only for the benefit of tourists. No money changes hands. It is simple, pure hospitality to strangers. It's not a movie set. This is real life for these people. I feel overwhelmed every time I experience it. And so privileged to be able to share in it.
We head for the county town, Sanjiang. Where more adventure awaits us.