I am finding every excuse lately to be in the kitchen making sweets, but sadly forgetting to photograph and post anything. This weekend I managed to get my entire act together:
Not the best photo, but pretzel rods wrapped in thin strips of @Kerry Beal's recipe from the eG Confectionery Institute and then dipped in dark, milk, and caramelized white chocolate. The ones with sprinkles are wearing a layer of Greweling's peanut butter meltaway under the chocolate. I have to say that Kerry's caramel recipe is utter perfection - holds its shape pretty well, is decadently stretchy, and sticks only for a moment in the teeth before dissolving completely. Plus it tastes fantastic.
And of course I couldn't let the excess meltaway go to waste! Dipped in half dark/half milk. I realized that despite my cool tools - handmade dipping bowl, bespoke dipping fork and EZTemper - my hand dipping skills are abominable.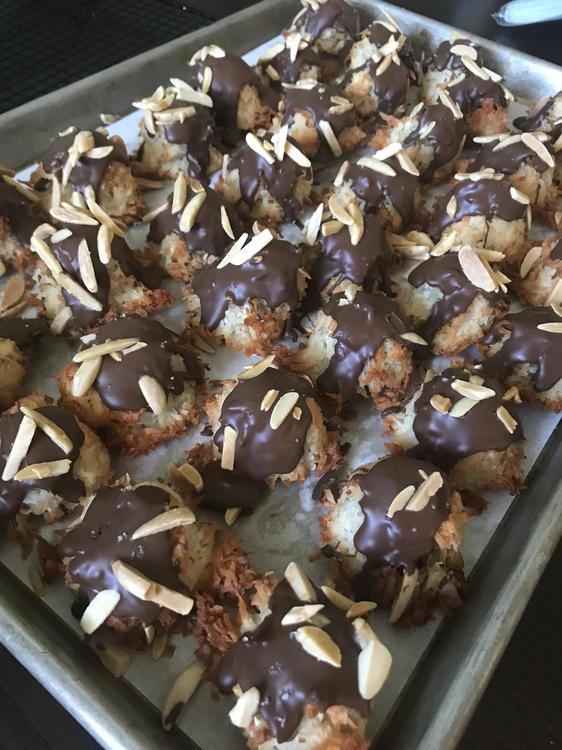 Last effort for the weekend was almond joy cookies from this recipe - a favorite recipe and far and away the best macaroons I have ever made. Some of these will go with me to the pottery studio on Tuesday as a pre-birthday treat for my pottery mentor and friend, and the rest will go to our monthly staff lunch along with some butterscotch blondies which I will get around to making as soon as I can find a good recipe.