For New Year's Eve, I made the Collard Dolmades with Sweet Potato Yogurt  (I previously posted about them here) from Deep Run Roots p 438.
I made these smaller, with ~ 1 T of filling and they were a hit.
This left me with leftover collard stems, collard leaf trimmings and half a roasted sweet potato so I made a small batch of Stewed Collards p 426 and used them in the Creamed Collards with Pickled Collard Stems p 429.  I also made a small pan of Mom's Cornpone p 28 which was a bust so I spread the creamed collards on toasted slices of pan de pueblo bread made a at local bakery from corn and wheat flour.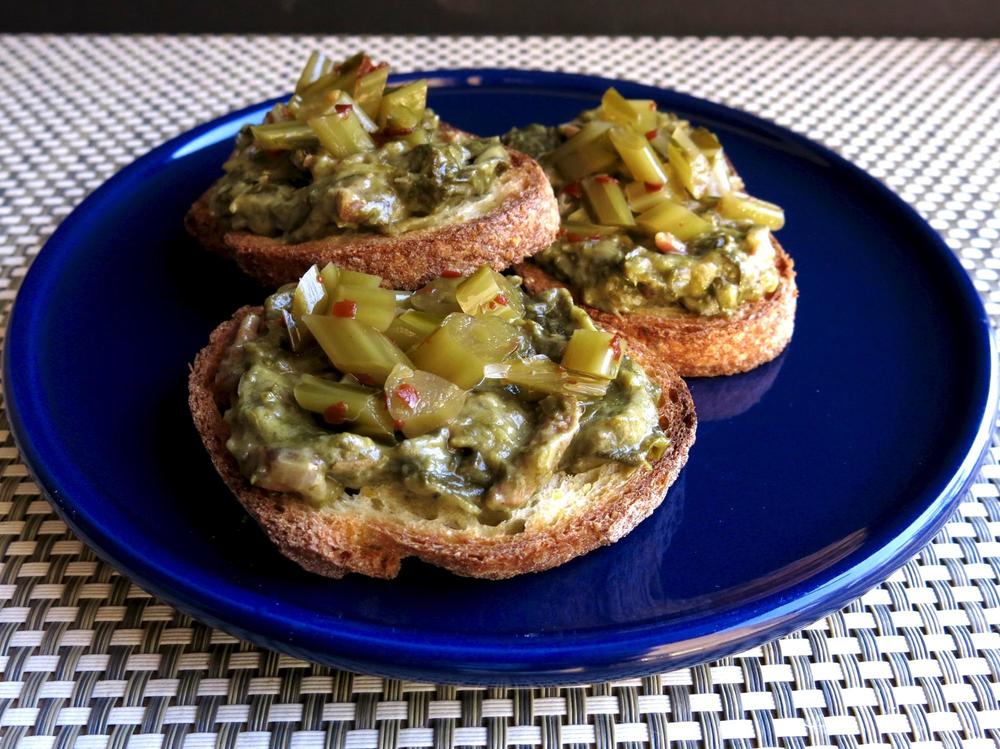 The creamed collards are very rich so the pickled stems are a perfect addition.  They were also good to perk up my bowl of black eyed peas.   I will never throw collard stems away again. 
I used the leftover roasted sweet potato to cook up a few slices of Grandma Hill's Candied Yams p 314 subbing in the Baharat spice mix from Shaya for the seasoning. The sweet potatoes were also very good and made me wonder why I don't keep them around more often. 
The cornpone batter is just cornmeal, water, salt and a touch of sugar and it's cooked in bacon fat in a  screaming hot cast iron skillet.   Mine came out dry in the middle although the edges were crisp and tasty. 
I could probably play around with the amount of water and thickness to make it better but not sure it's the kind of thing I should be eating a lot of.