Bought a lid and pan yesterday for a specific purpose. This is a 4 qt Reverware pan. I bought the pan in one thrift store for $2.54. I knew that I had seen the lid in another store and picked it up for $0.89. Less than $3.50 total. The pan needs a bit of TLC to restore the surfaces. I actually love that challenge.
Based upon some reading I have been doing and some videos I have watched recently I realized that the 6 qt stock pot I typically use for pasta is overkill. It is a tallish pot so when I put it on my 16K burner the flames are at the edge of the pot. Since I generally only cook about 7-8 oz of pasta at a time 2 to 2 1/2 qts of water should be more than enough instead of the 3 1/2 to 4 qts I have been doing. This pan will have the flame farther away from the edge of the base of the pan which should increase, albiet not a lot, the effeciency of heating the water.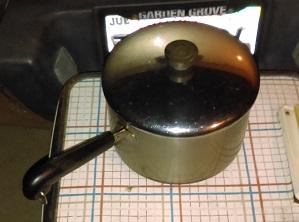 As an aside, 16 thrift shops in 2 days and besides this pan I picked up a cookbook and a plastic knife for a task in my ren faire kitchens. The pan, book and kinfe were still under $5.00 total.