Pumpkin is *really* not my favorite vegetable, but unlike most of the other winter squash, it is nice and low-carb, so: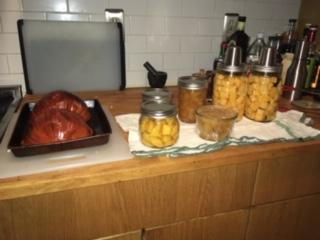 Pickle-palooza.  Plus one got roasted for ravioli.  Cause I definitely do like pumpkin ravioli.  [Really, I like any ravioli . . . .]  
One thing -- the first time I ever bought pumpkin for savory eating -- 1995 or so in Somerville, MA -- they were 25 cents apiece.  Now, at 1-2$/pound, I just can't think of them as a cheap vegetable anymore.