Resurrecting this old discussion to mention that Hostess survived after being bought out. 
I am only mentioning this to post about the "revival" of their Suzy Q's. They should have let them die a dignified death. Instead, they're passing off a terrible version of Suzy Q's as the real thing. 

Here's a picture of the original Suzy Q's compared to a picture of the new box of the revived Suzy Q's: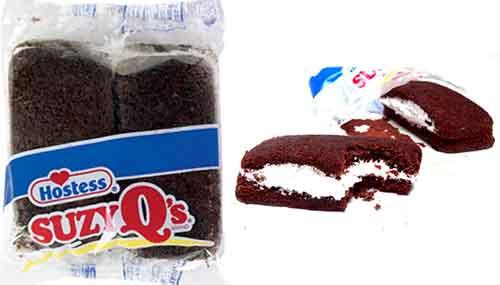 The original Suzy Q's were a denser cake with rounded corners. You could squish the cake top and bottom together and the filling would ooze out which could then be licked.
The new Suzy Q's, as you can see from the picture on the box, are just slices of some sort of chocolate cake with filling between them. Someone in the company thought a reinvention was due because it's obvious they are baking giant sheet cakes and then just cutting them to size and slapping the filling between the slices. It looks like a cost-savings move and it's pretty bad. And there's nowhere near that much filling (as pictured on the box cover) in the new Suzy Q's. Whatta con job.
The cake isn't dense. It's really kind of dry. It is a huge disappointment for anyone looking for a nostalgic kick from these snack cakes. They're nothing like the original version and Hostess should be ashamed that their logo is on the box.
I can't recommend these at all.