Last year
, we held a Member-Organized Event at Pao's Mandarin House but I didn't get everything organized in time to do that this year. So I PM'd a few members at the last minute and we rounded up a group of six this Sunday to celebrate the Year of the Boar.
In attendance were Luggage386, Yimay, MissAmy and her guest Josh, yours truly and my guest Kristin. Photos by yimay.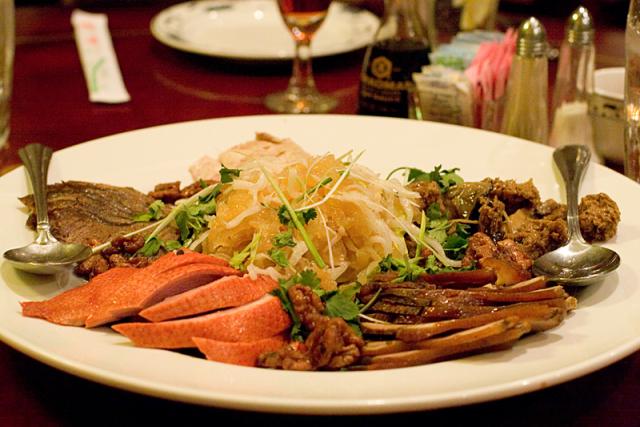 We couldn't decide on exactly which appetizers to start with so yimay asked that the chef put together a platter of cold dishes. It was so successful that they considered adding it to the menu. Upon hearing this Yimay insisted that they name the platter after her. There's the Lou Ann Platter so why not the Yimay Platter?
Center:
Jellyfish with radish
. Jellyfish is usually served by itself but the radish complemented the crispy texture of the jellyfish perfectly. Jellyfish itself is fairly mild, no fishy taste to it at all. Jellyfish can be a little intimidating so I was surprised at how everybody loved it.
Clockwise from 12 o'clock.
Drunken chicken
. This is mostly obscured by the jellyfish but the chicken was extremely moist. We're all pretty competent cooks but none of us could figure out how they managed to make it so juicy. The rice wine flavor was subtle with no off-flavors, as can often be the case when cheap wine is used.
Kao fu
. This is one of the most quintessential Shanghai dishes. Fermented tofu with a spongy texture so that it absorbs a lot of sauce, with shitake, woodear mushroom, soy sauce and, of course, for that Shanghai flavor, sugar.
Pressed pork
. The pork is roasted, sliced and pressed together with the addition of some gelatin and then re-sliced. The point of doing so is to redistribute the fatty parts around so that each slice will have multiple layers of fat cap evenly distributed.
Crispy walnuts
.
Roast duck
.
Braised beef
.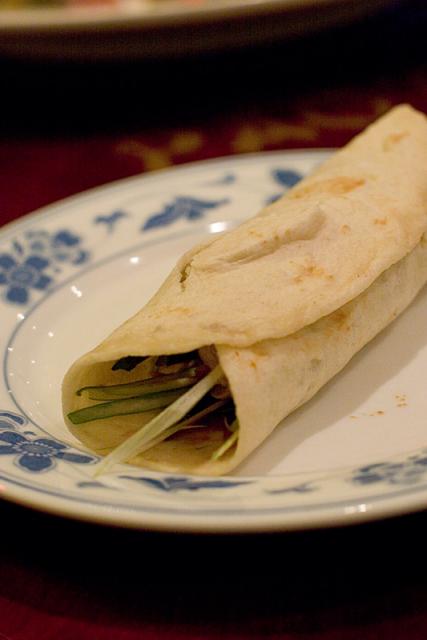 Peking duck
. They bring the sliced duck and pancakes to the table and roll up each one in front of you. I've never seen this anywhere else -- you usually roll your own -- but I have no complaints.
Dumplings
. It is traditional to have dumplings for Chinese New Year. These were made with hand-made skins.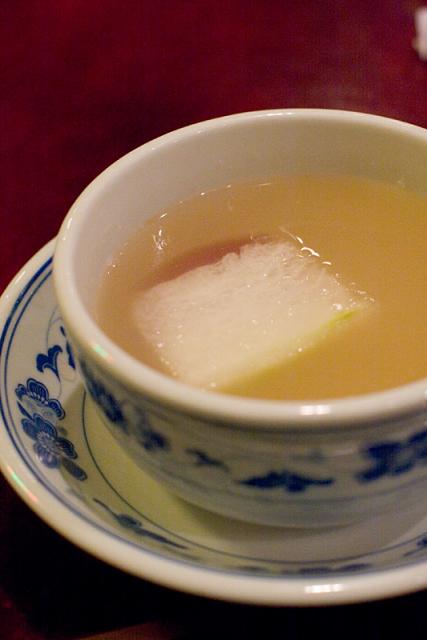 Winter melon soup
with a slice of cured ham. The chicken stock used was very rich and left the broth a thick, opaque color.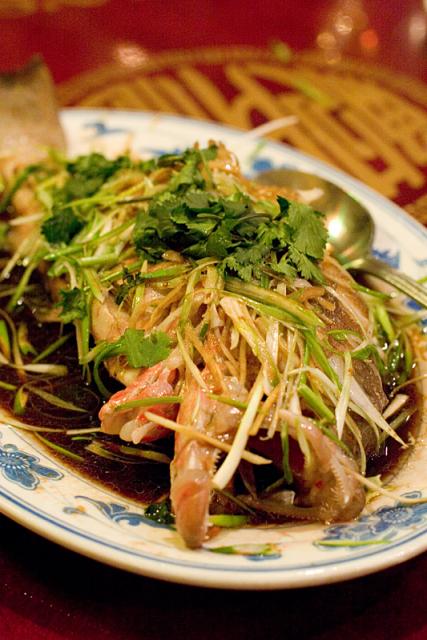 Steamed whole fish
with a soy sauce, ginger and scallion. This is the best way to enjoy a fish, with a light and simple sauce. I'm not sure what freshwater species it was but the flesh was very tender.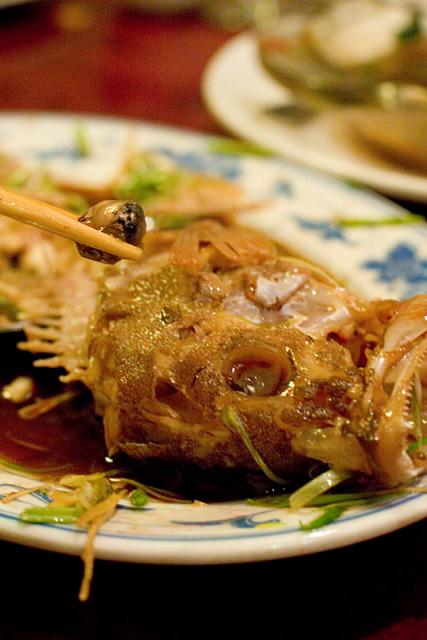 The eyes are traditionally offered to the guest of honor. As the organizer of this little shindig I was nominated that honor, which, after the ritual denials and displays of humility, I reluctantly accepted. The last time I had fish eye was a year ago in China, so this was quite the rare treat.
Our server, Billy, explaining some of the Chinese New Year traditions to everyone. He, and most of the staff, are from Beijing and speak with a Beijing accent.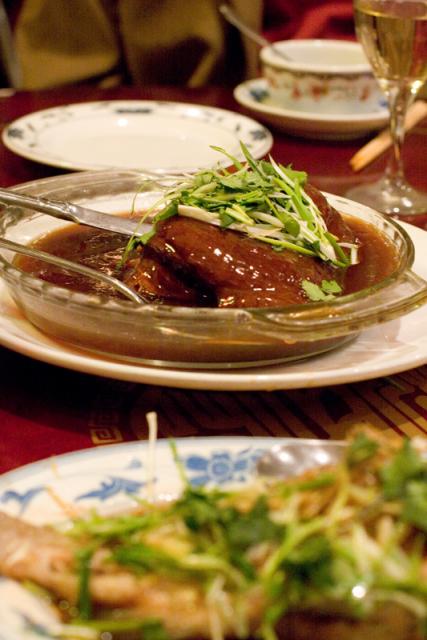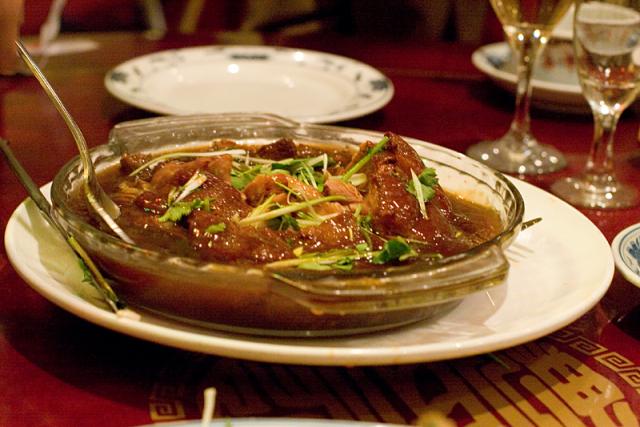 Ti pang
. Ham hock that was deep-fried, steamed and then braised for several hours with Cantonese rock candy, another banquet classic. We had to order this in advance as it takes nearly a day to make. Unfortunately, the sauce was too sweet, much more so than last year, and the meat was also a little tough.
Mustard greens
covered in "black hair" seaweed sauce. Black moss or black hair seaweed is actually an algae and is eaten on Chinese New Year because its chinese name "fa cai" (hair vegetable) is a play on words that means prosperity, as in "gong xi fa cai", which is a greeting exchanged during Chinese New Year meaning good luck and prosperity. The seaweed is mild in flavor but added a thick texture to the sauce.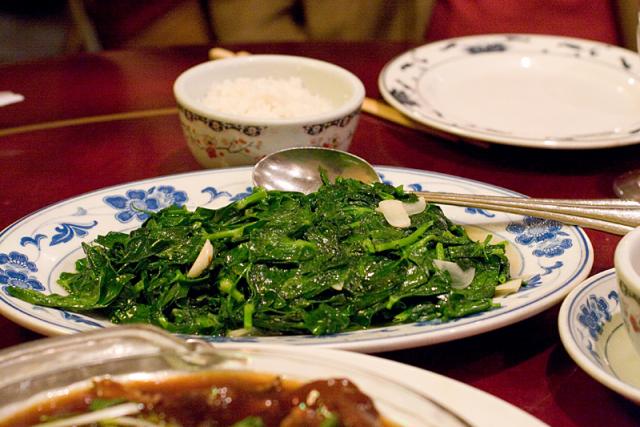 Snow pea leaves
. We decided to have a simple vegetable dish to balance out all the rich meat dishes.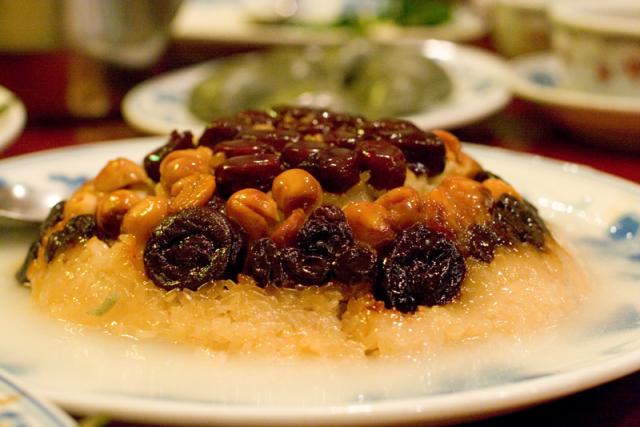 Eight treasure rice
. The most important Chinese New Year dish, composed of eight different "treasures" in sweet, glutinous rice, similar to a rice pudding. I can't remember all eight of the treasures but they included dates, raisins, gingko nuts, peanuts and prunes. Unfortunately, the rice was a little too moist and did not hold together as it should.
Nian gao
, compliments of the house. Nian is a homophone with the word meaning 'year' and so this is another common New Year dish. The sweet rice flour was stuffed with a sweet paste, which I believe is some rice product.
Dinner was fantastic. In terms of food alone, this is the best Chinese meal I've had since I was in China. There were a few disappointments such as the ti pang but overall, the quality of the food was very high. Pao's is simply a higher end establishment than Din Ho or Marco Polo, not just in terms of decor but also the very dishes they make.
I had a blast meeting fellow eGers and chatting about Chinese food. Some of us were very experienced with Chinese cuisine but the ones who were not were very open-minded and I'm delighted to have introduced some of the more exotic dishes to them. It was a lot of fun discussing Chinese traditions, even a few that I had forgotten about.
I look forward to more gatherings in this Year of the Boar. Gong xi fa cai!