Last night's dinner.
My partner says this is showing off, but so be it.
Multiple graphic intensive posts. I'm also a little hung-over, so there will be typos...
Please ask if you need any recipes or more details. Share and enjoy!
First: mise en scene
We are eating in the kitchen...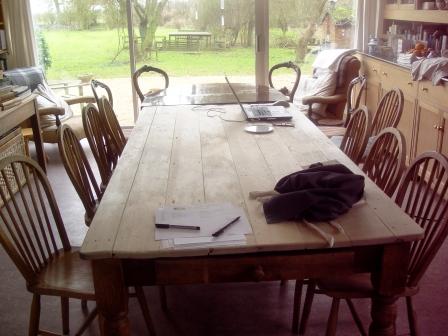 Interested onlooker, just outside the windows (no, we are not having pheasent)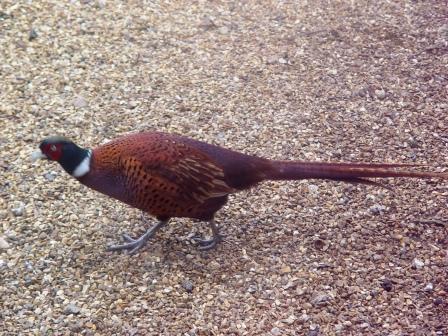 Ready...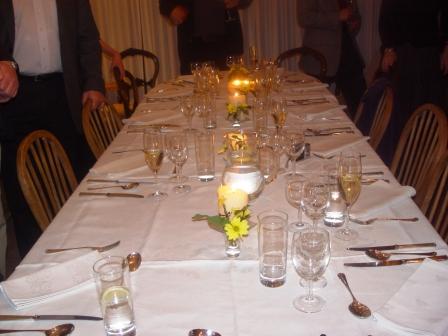 The wines: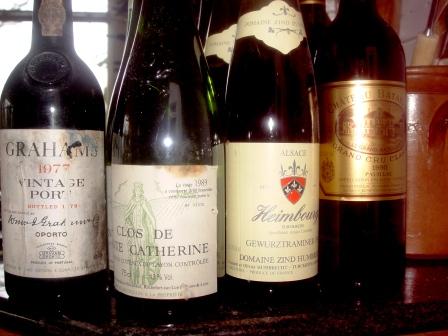 Not shown (chilling in the fridge):
1998 Champagne Jacquart Brut Mosaique Millesime
Brilliant straw-yellow hue with a lively mousse. Melon, pear and yeast aromas. Medium-full with good weight on the palate, this has ripe fruit, nice length in the finish and a lively streak of acidity. 94 points (Tastings.com)
1991 Domaine Zind Humbrecht Gewurztraminer Heimbourg
The Gewurztraminers are stunning in 1991..... It is spectacular, with full-bodied flavors, and a perfumed, intense aroma 93 points (Parker)
1990 Château Batailley Pauillac
Beautiful wine. Very dark ruby-red. Wonderful blackberry, mineral and violet aromas. Full-bodied, with round and velvety tannins and a long, beautifully fruity finish 92 points (Wine Spectator)
I laid down a case en primeur - now time to start drinking them.
1989 Clos de Ste Catherine Coteaux du Layon
I'm very fond of these old sweet Loire wines, now drying a little. Sweet, unctuous but not cloying 91 points (Parker)
1977 Grahams Port
Deep purple-ruby, with intense floral, cassis and prune aromas, full-bodied, with plenty of fruitand extremely hard tannins. (90 WS)
)
Edited by jackal10, 13 January 2007 - 07:13 AM.