Hello everyone
This past Friday I had the pleasure of eating at the restaurant Noma, located in Copenhagen. I am sure a lot of people already have heard of this place as it has gained a lot of attention for it's innovative and fresh take on Nordic/Scandinavian cuisine. I had searched for it here at eG before but only found some references to it and no actual reports. So since I took pictures of my whole meal I wanted to share it with everyone so they can get a visual idea of the incredible food being served here. I want to apologize in advance if some of the pictures are blurry, but I didn't want to use the flash inside the restaurant so I had to manage as best as I could with my crappy digital camera.
First off let me tell you a little about the restaurant's location and background. The restaurant is just over 3 years old, and in this time it has already earned it's first Michelin star and everything seems to point that a second is not far away. They also came in at #33 in the 2006 edition of Restaurant's magazine World's Top 50 restaurant ranking. So it's obvious that things will only get bigger and better in the future for chef Rene Redzepi and his team.
The restaurant is located on the ground floor of an old warehouse in the Christianshavn area which has been completly renovated, and is now home to not only the restaurant, but also art galleries and many administrative and tourist offices for Iceland, Greenland and the Faroe Islands. Which seems very appropiate since Noma's focus is in using a lot of products from this places. The building is then called the NorthAtlantic House. It has nice views of the harbor right in front and the Opera House to the side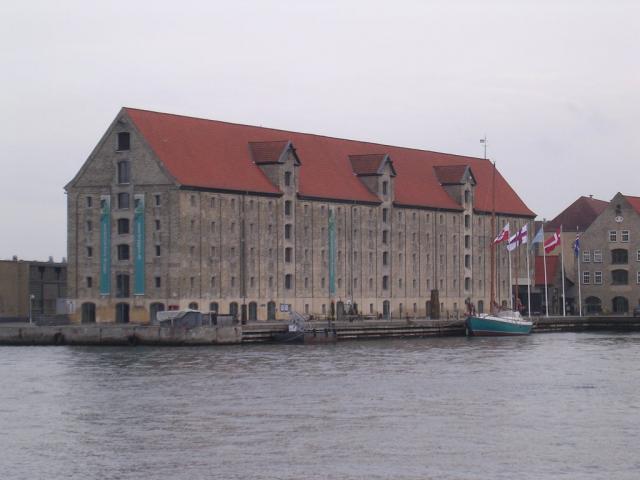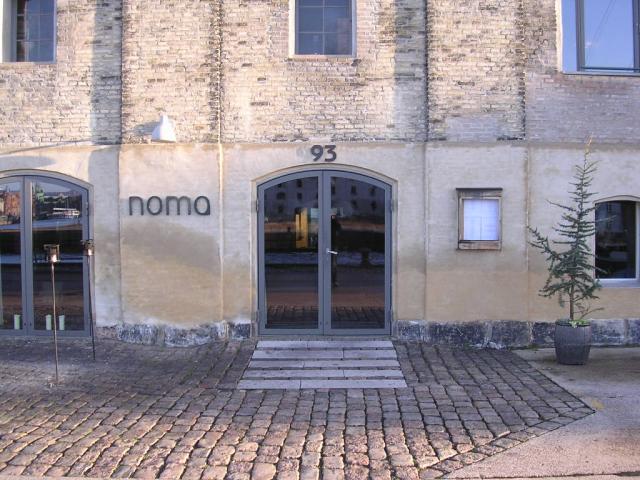 The restaurant interior is beautifull. Full of wood, candles and glass. It has that sort of nordic minimalist design that looks very natural yet modern and clean. The kitchen is separated from the dining area by 2 big glass panels, so you can see the chef and his team working in the background.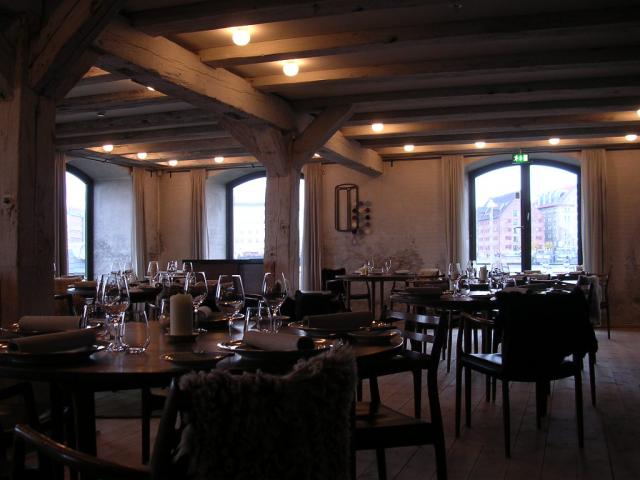 Now is time to talk about the food! I was eating by myself so when I arrived they took my coat and showed me off to a table with just one chair set up. The waiters were very attentative and friendly and it made me feel confortable from the get go. So here is everything that I ate in order:
1- Snacks. This is something every customer got first which is a selection of little bits of food to start off. It had fried fjord shrimps, potato chips, chicken skin, fish skin, and oat chips. It was presented with 2 sides for dipping which were a cep mayonnaise and a poached egg yolk with shaved hazelnut.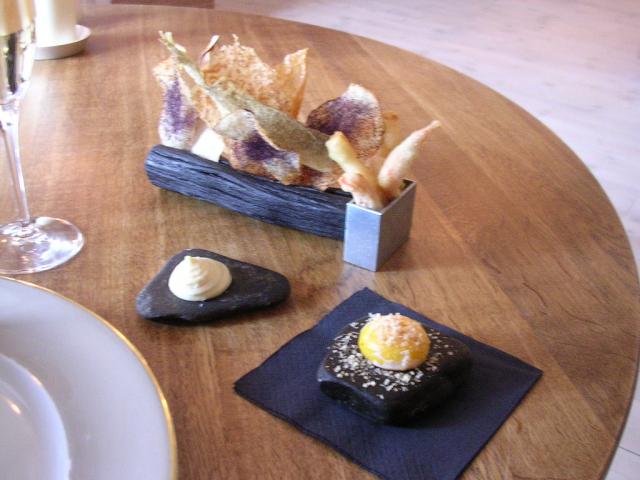 2- Aebleskiver. This is another course that was served to every table at the beggining. It is a traditional Danish holiday treat. It is basically a batter similar to pancake batter that is prepared in a special frying pan to give it it's ball shape. Normally I was told it is eaten with jam and has no filling. This version at Noma had a reindeer rillette ball inside and was served with a quince puree for dipping. It was very tasty and delicious.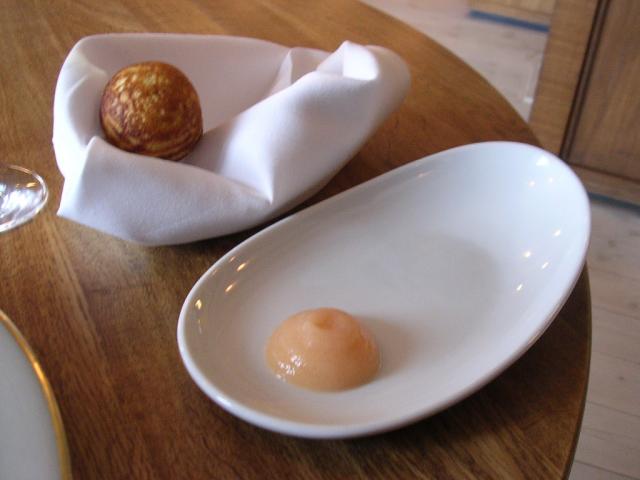 3- Next was an oyster appetizer. It had little pieces of raw oyster with dice of apple and celery, infused oil, and apple snow. You can't really appreciate it in the picture but there is also a gel at the center of the plate made with the oyster juices which is set and then all the other ingredients go on top of it. This was a very refreshing and light dish.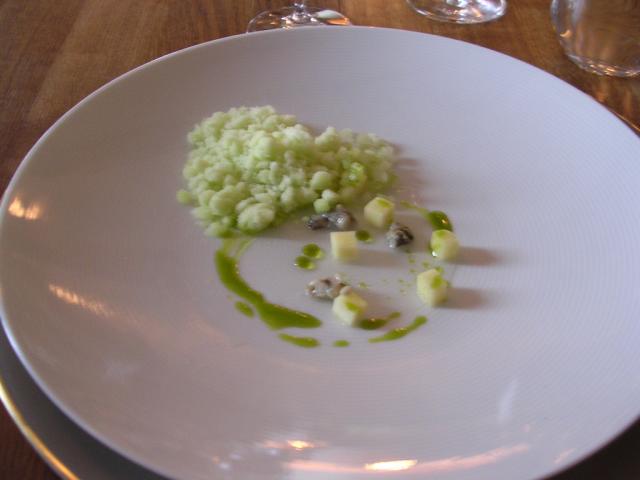 4- Bread came next inside this cool little pouch which you had to untie to get to the bread. There were 2 types of wheat bread. It came with 2 dips. One was a mix of butter with Icelandic Skyr. The other was pork fat that was made smooth and mixed with parsley and pumpkin seeds.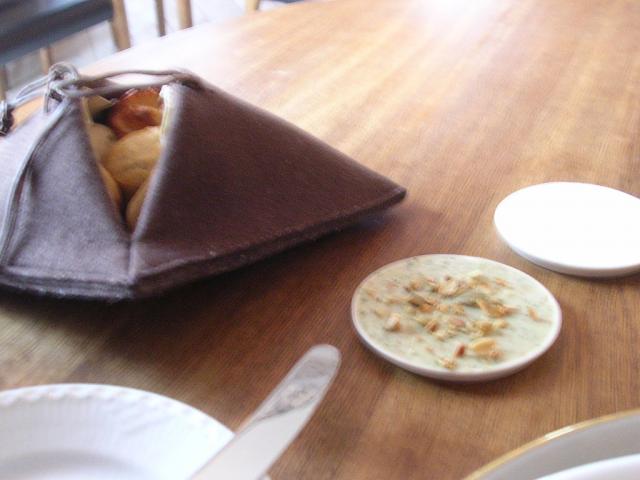 5- Musk Ox tartar. This was one of my favorite courses. It consisted of small thin strands of musk ox meat that was arranged on the plate as a little rectangle and on top it had some horseradish shhavings, fresh wood sorrel, and shallot rings. The waitress also brought a moist hand towel which I was instructed was to wipe my hands with since the dish was meant to be eaten with the hands. You grabbed some of the meat and toppings, then you passed it over some of the juniper poder and then put some of the tarragon emultion. It was so intense tasting and delicious.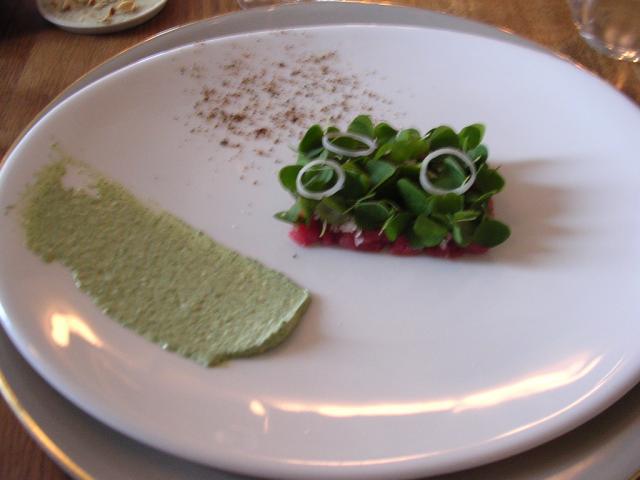 6- Raw marinated Greenlandic shrimp with herbs, horseradish snow, potatoe crumble, and cuucumber/dill juice. A very fresh tasting dish. They poured the potatoe crumble tableside.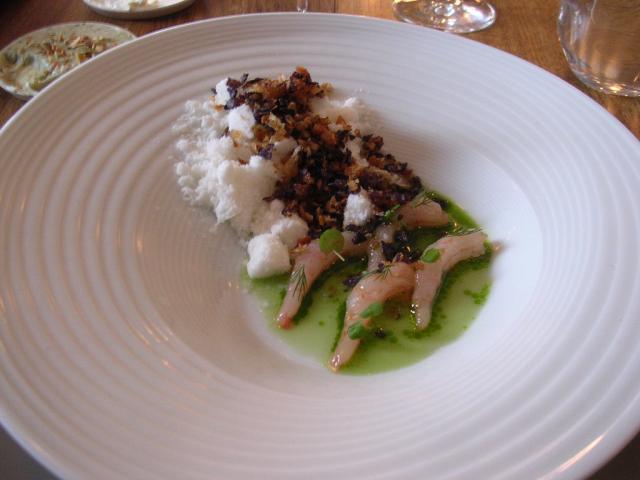 7- Glazed Norway scallop with vegetables, green strawberries, cranberries, walnuts and dill emultion. Scallop was just cooked and went very well with the vegetables/herbs.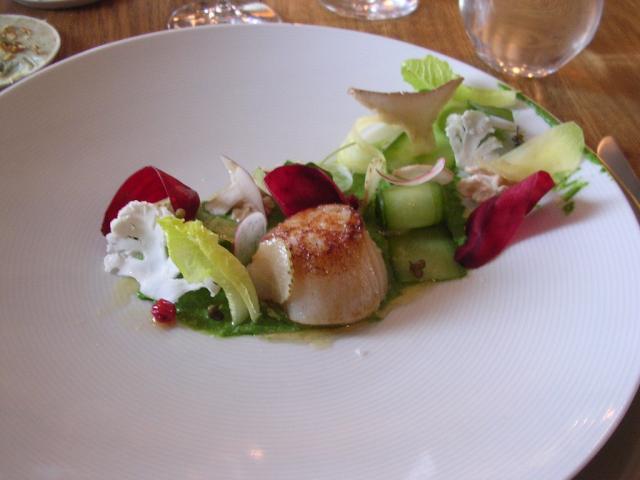 8- Klipfisk was next. They explained it was a traditional dish that consisted of pickeld cured fish. It is sort of hard to look in the picture but it is underneath the bread crouton. It also had pickled rose petals, rose buds, herbs, truffle air, and shaved truffle. This I think is were the flavors start turning more from green/fresh to a little more complex and earthy.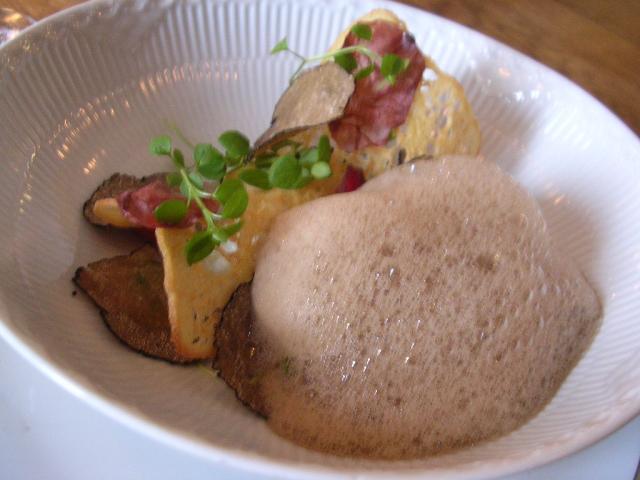 9- King crab, leeks rolled in hay ashes, breadcrumbs and mussel juice. This although one of the smallest courses was also one of my favorites. I really liked the unexpected dimension that the ashes added to the dish. They poured in the breadcrumbs and mussel juice tableside.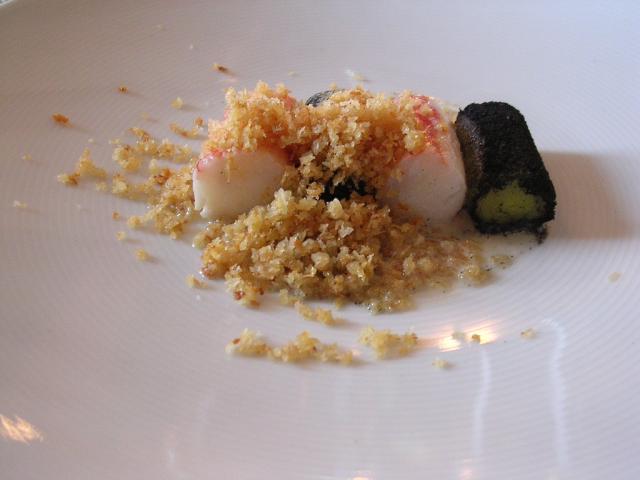 * Next was the main course. While I was waiting for the dish the waiter brought to the table a special knife meant for the meat dish. It is a really nice hand made knife from the Lapland region which came in it's own leather case. And just if you are wondering it was placed inside the case at the side of the table. I just took it out and put it on the plate for the picture!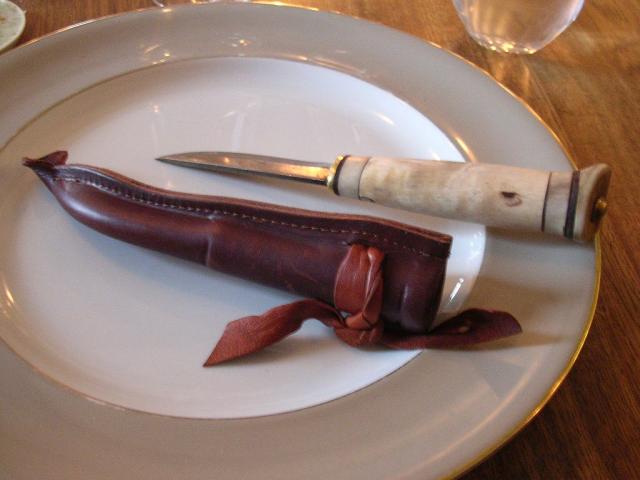 10- Main course of Musk Ox, glazed beets, bone marrow, croutons, nettle herb, beet sauce and apple puree. This dish had a lot of components but they were all tied up together well and made the combination very delicious. The beet taste was very intense and went well with the "gaminess" of the meat. A perfect closer for the savory dishes. The beet sauce was drizzled over tableside.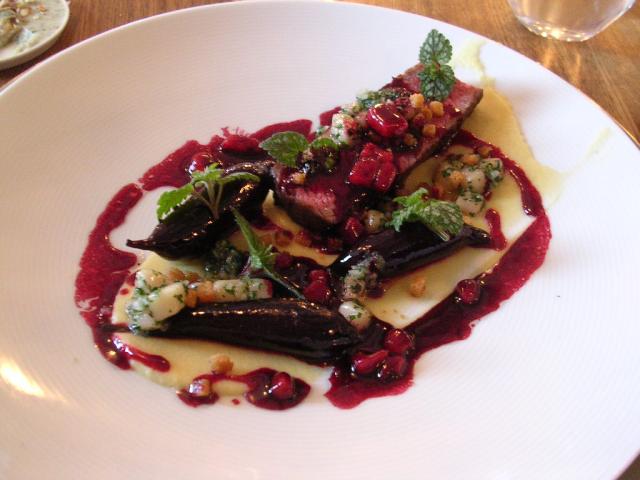 11- Sheep milk mousse, garden sorrel granite and sugar tuille. I loved this dessert. Very fresh and light. The sorrel taste in the granite was very deep and the slightly acidic note went well with the smoothness of the mousse and the sweetness of the tuille.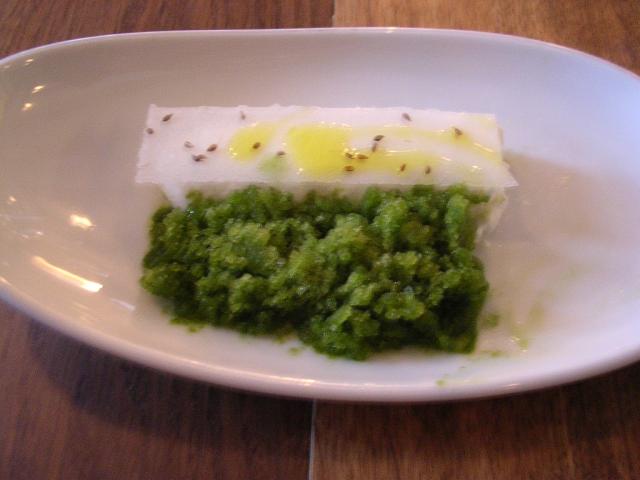 12- Carrot dessert. Consisted of carrot sorbet, dark syrup, mint oil/leaves, various carrots and fruits. At the tableside they poured in a hot sweet foamy sauce. This made a nice balance between the fruity/cold tase of the sorbet with the hot/creamy sauce.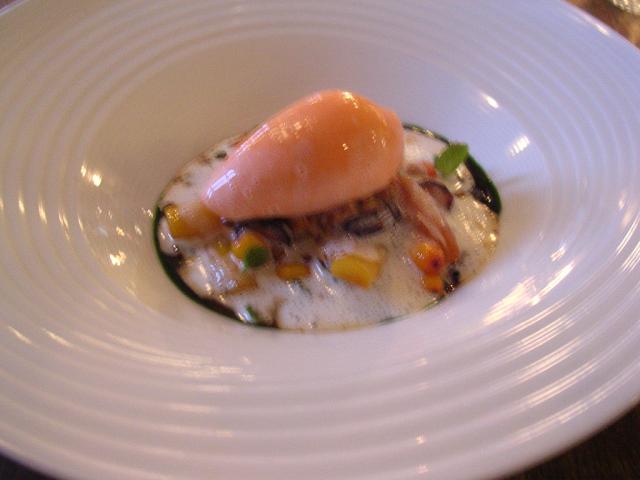 13- Small sweet bits. This was the last thing on my meal. By then I was very satisfied and this was a good closer. It had 5 things in which were marshmallow rolled in cranberry powder, chocolate ganache, caramelized bread pudding, beetroot gel rolled in malt powder, and a caramel.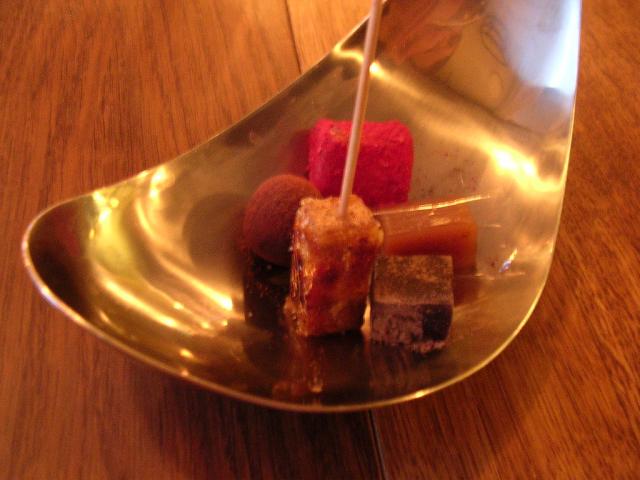 So that was my full eating experience at Noma. I hope you all enjoyed the pictures and highly recommend you go eat there if you get a chance. There is a very big future ahead for this restaurant.
www.noma.dk