Good morning folks!
The teaser photos were of my freezer full of big ice in preparation for shaking cocktails and the door to my building which seems to become more sketchy with graffiti every week. The door belies the spacious top floor, which is perfect for entertaining.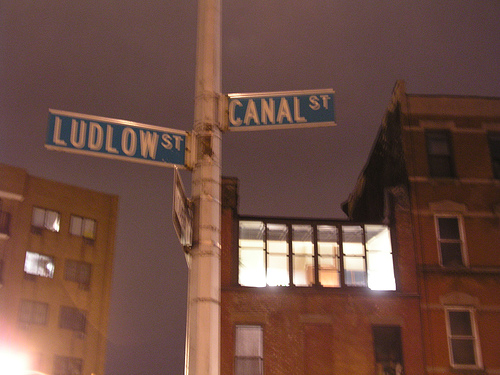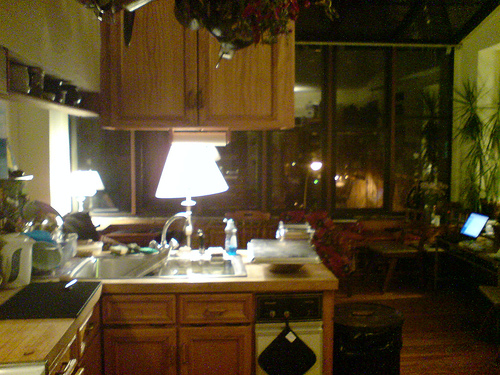 Since I don't post as often as many of the previous blogers you probably don't know as much about me. I'm second generation Korean from originally from Los Angeles but I've been residing in New York for past 8 years now. I never considered myself a foodie or even into food while I lived in Los Angeles because almost all the food I ate growing up were traditional Korean meals. Between my parents they both managed to juggle their careers while raising 2 boys and cooking practically everything from scratch. Even the simplest meal of left overs consisted of at least 3
ban-chan
(sides), a soup and a protein.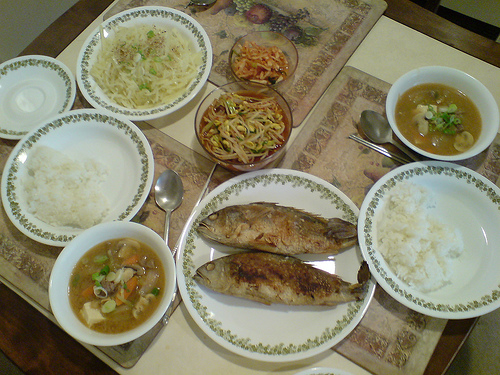 Moving to the east coast I was hit with the double blow of moving away from the fresh local produce of Southern California and the horror of institutional dorm food. For the first time I really began to think about not only the quality of what I was eating but also the economics behind it. How could my school charge between $9-$14 for each meal yet provide such sub-standard food when I can get Chinese delivered to my door for under $5? What can I salvage from the salad bar to bring back to the communal kitchen to cook?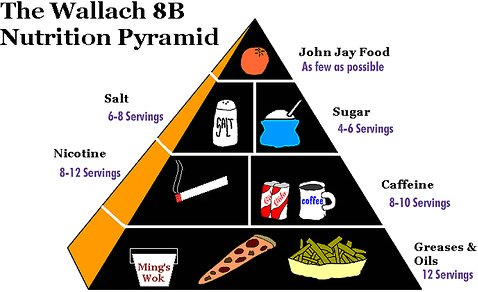 (cartoon food pyramid my dormmates and I made our freshman year, John Jay was the dining hall)
Now I live in the Lower East Side of Manhattan with two roommates. My day job is computer systems administration for a financial services company, which is sometimes too reminiscent of Office Space and Dilbert (hence don-bert). In my spare time I do a lot of cooking and eating out, but for the last year I have been most deeply into the "fine art of mixing drinks".
I discovered cocktails through the bars
Pegu Club
and
Milk and Honey
. I was instantly hooked. I needed to know why I never had a drink that good before and how I could make them myself. After drinking too many Manhattan variations with eGullet lurker TheManInWhite we decided that to truly learn all the classics and experiment new recipes we needed to spread out the liver damage and invite some victims... I mean friends... over to try some real cocktails. What started out as 3 whiskeys, 2 vermouths, and 3 kinds of bitters has snowballed to over 200 bottles of alcohol and a bi-weekly underground cocktail party at my place.
(old photo, the alcohol has since outgrown the cabinet)
This week I have a few interesting things happening for your viewing pleasure without straying from my average life:
Tuesday: Repeal Day! Going to celebrate the repeal of prohibition in style at Pegu.
Wednesday: A trip to NJ in search of the perfect ice cube tray.
Friday: Cocktails at my place.
Saturday: Bootlegging alcohol up to Boston to throw a cocktail party at a friend's place.