Sufganiyot
Every year, at some point between late November and late December, Jewish families celebrate
Chanukah
. In the most basic (and food related) way, this
holiday
celebrates a miracle - the
miracle of oil
. A small vessel of oil meant for a very important oil lamp, contained only enough oil to last one day. The miracle was that it lasted for eight days, enough time for more pure olive oil to be made.
To remember the miracle, Jewish homes stock up on oil for frying traditional foods throughout the eight nights. Perhaps the best known Chanukah treat is the
latke
(potato pancake). But there are other traditions - in Israel (and my hometown), sufganiyot are popular. Better known (in English) as jelly-doughnuts or jam-busters a
sufganiya
is a yeast doughnut (no hole), fried until golden brown, filled with sweet fillings and rolled in sugar (or iced).
Preparing the Dough
Click
here
for the recipe in RecipeGullet.
Ingredients: all-purpose flour, sugar, instant yeast, kosher salt, cinnamon, allspice, eggs, vegetable oil, warm water (missing from picture, oil for frying, jam or jelly for filling and extra sugar for rolling).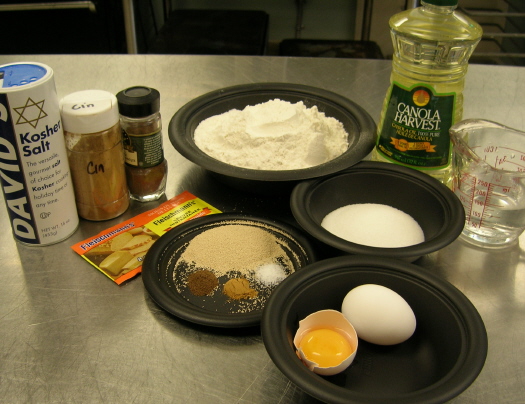 Place all of the dry ingredients into the bowl of a food-processor. (This may also be done by hand or using a stand mixer fitted with a dough hook, but I prefer the food-processor.)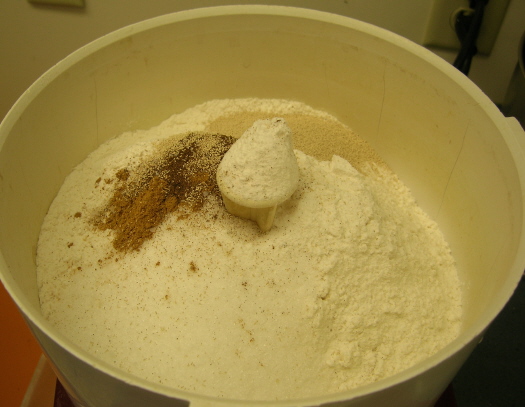 Buzz it for about 5 seconds, to mix everything together.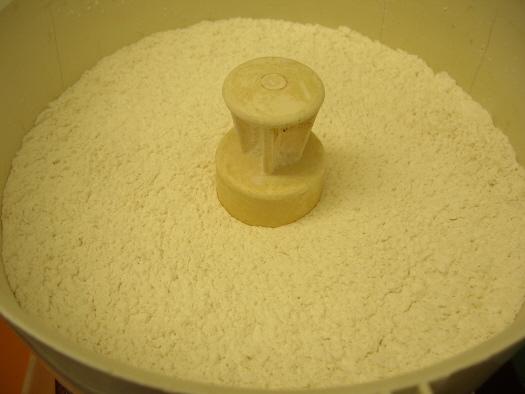 In a small bowl or measuring cup, whisk the egg, egg yolk, oil, and water together. The water should be just warm to the touch - not hot. With the food processor running, carefully pour the liquid into the machine.
Let the machine work for 1-2 minutes, or until you have a well-mixed, soft dough. You may need to hold onto the machine as it does it's work. If it's too dry, add a little water; too wet and sticky, add a little flour.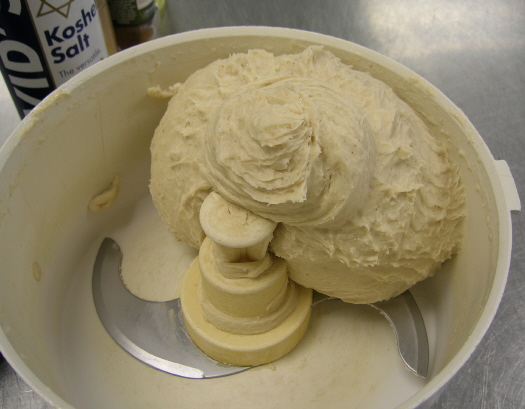 Turn the dough out onto a lightly floured work-surface.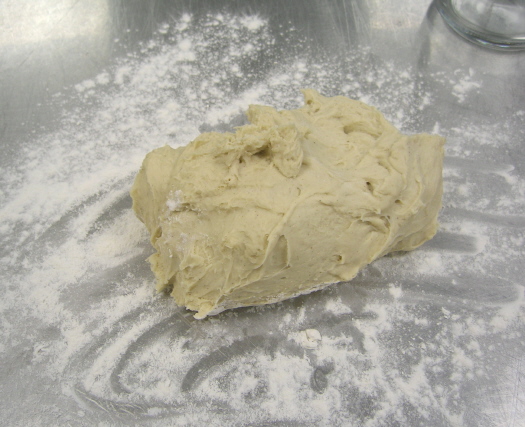 Knead until you have a smooth ball of dough. If the machine did enough of the work for you, it should only take a minute or so of kneading to get it to the proper state.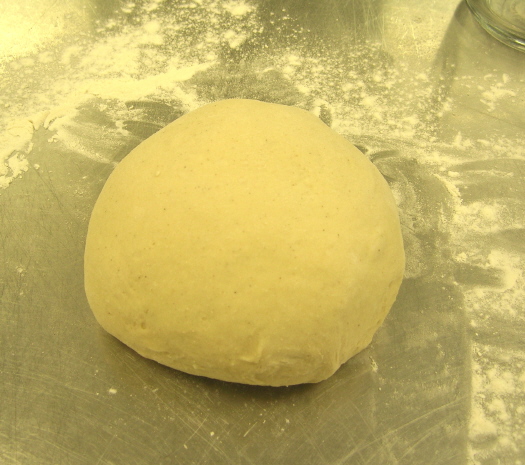 Oil a large bowl, turning the dough over in the bowl so it's lightly coated with oil.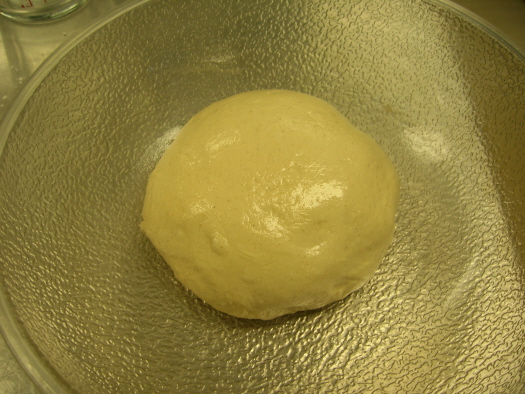 Cover with plastic wrap and set aside to rise for 1 to 1 ½ hours, or until doubled in volume.
Tested - it's at least doubled in volume and nicely relaxed. Ready to proceed.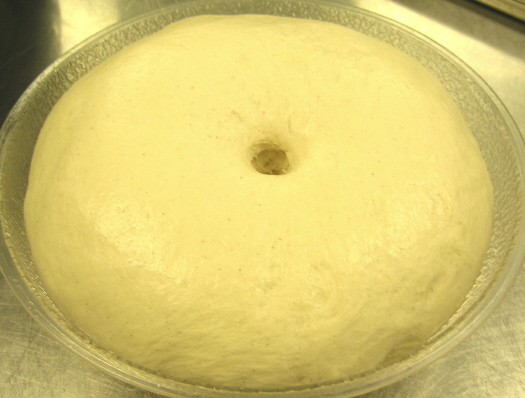 Cut the dough in half so it's easier to work with. Then choose one of the following techniques for making Sufganiyot.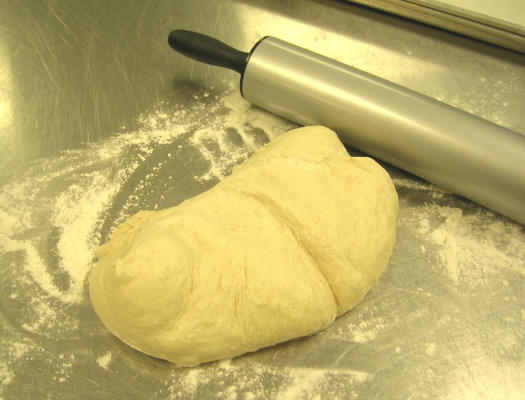 Technique #1 - Frying and THEN Filling
Lightly flour your work-surface and rolling pin. Roll the dough out so that it's approximately ½" thick. Use a round cookie cutter to cut the dough into circles. You can make these whatever size you like - I usually use a 2" round.
Place the rounds onto a baking sheet lined with parchment paper, cover with plastic wrap and let them rise for about 20 minutes, or until they've almost doubled in thickness.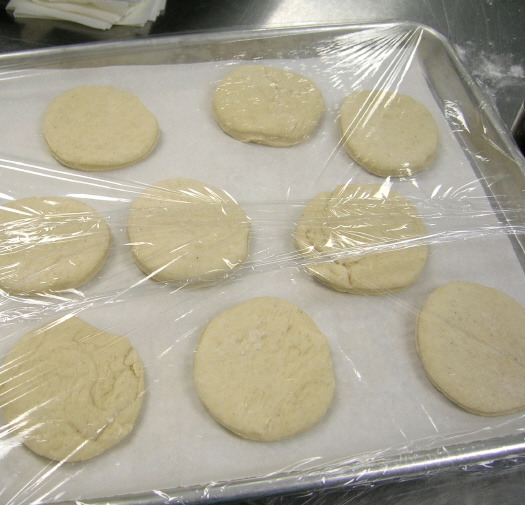 While the rounds are rising, heat about 1" of oil to 350 degrees for frying. I always make these in a large electric frying pan - there's a lot of surface area and I find that it keeps a constant temperature. If you don't have one, this can be done in a pot on the stove - just use a thermometer to make sure the oil is 350 and be very careful while frying.
When the oil is hot and the rounds have risen, carefully transfer a few of them to the oil. Don't overcrowd the pan - they should be in a single layer and have a little floating room around each one. Cook for 1-2 minutes , or until golden brown, and then carefully use two large spoons to turn them over.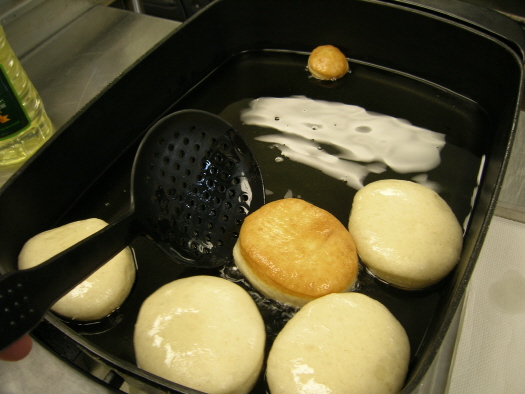 Fry the second side until golden brown.
Using a slotted spoon, remove the sufganiyot from the oil and place on a baking sheet lined with paper towel to drain. Cool just until you can handle them.
Fit a pastry bag with a 4 mm 30-5 Kaiser Pastry tip (this is a tip that has a long, narrow tube with an angled end that is easy to insert into the doughnut).
Fill the bag with a jam or jelly of your choice (you can use icings, pastry creams, Nutella - whatever you like).
Holding a sufganiya in one hand, and the pastry bag in another, insert the tip into the side of the doughnut. Gently squeeze the bag as you slowly pull the tip out of the sufganiya.
Immediately roll the sufganiya in icing or granulated sugar (place a layer of sugar onto a large plate for this step).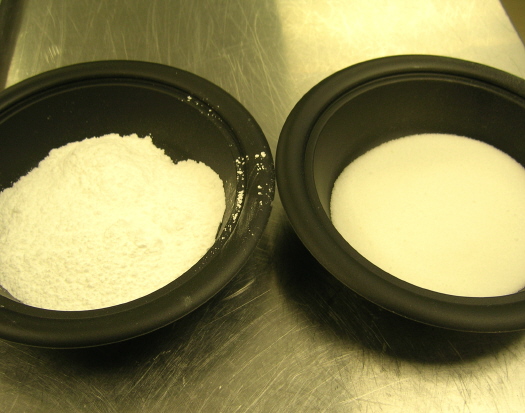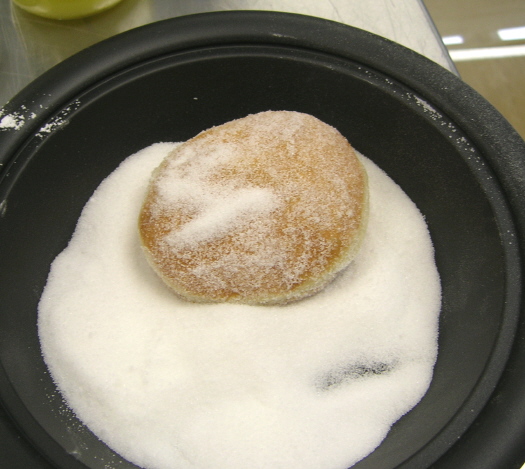 Do the same with the rest of the sufganiyot and serve as soon as possible. These are best eaten right away - or within the same day.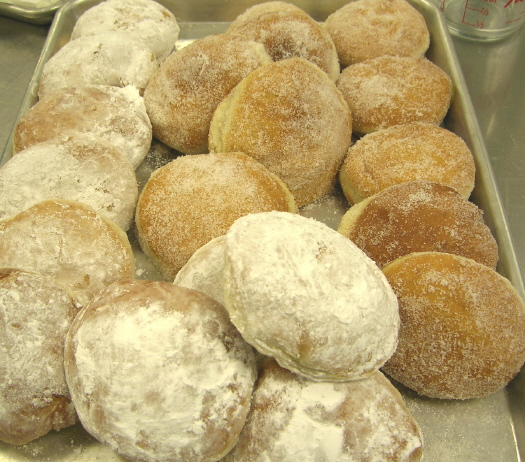 Technique #2 - Filling and THEN Frying
On a lightly floured work-surface, roll the dough out until it's approximately 1/4". Use a circular cutter to cut the dough into rounds (same as above, but the dough is half the thickness with this technique).
Brush the edges of ½ of the rounds with the egg white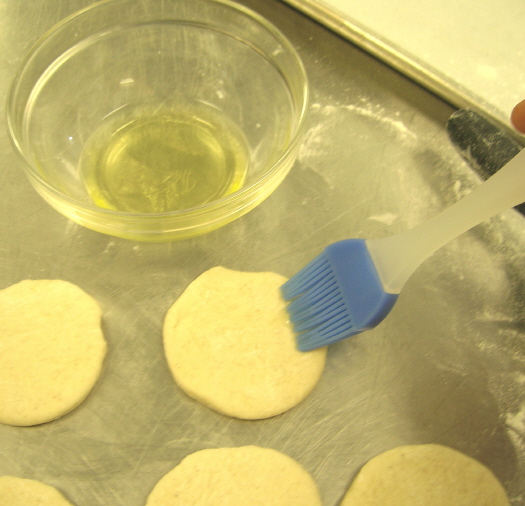 Then place about 1 tsp. of jam or jelly in the centre of each round that's been brushed.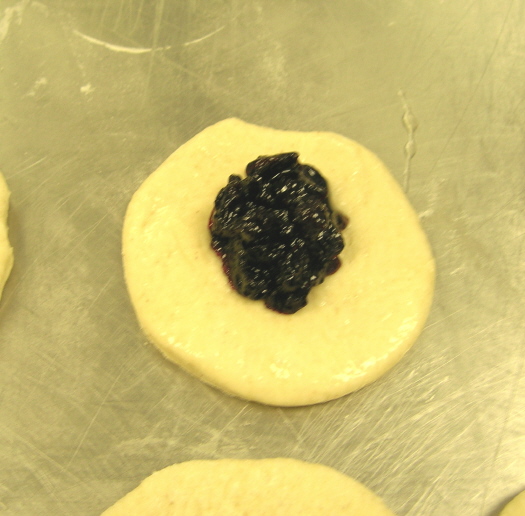 Place another round of dough on top of the filling.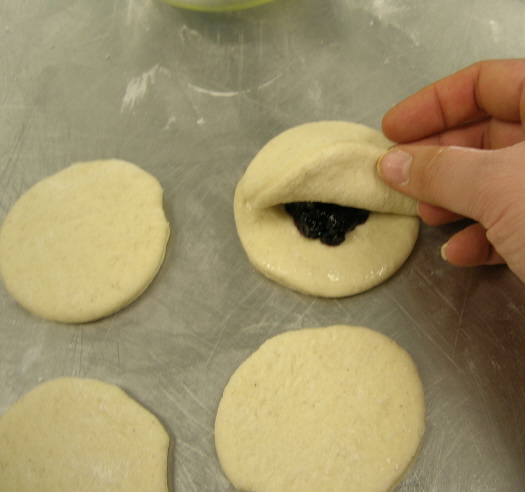 Then carefully pinch the two pieces together.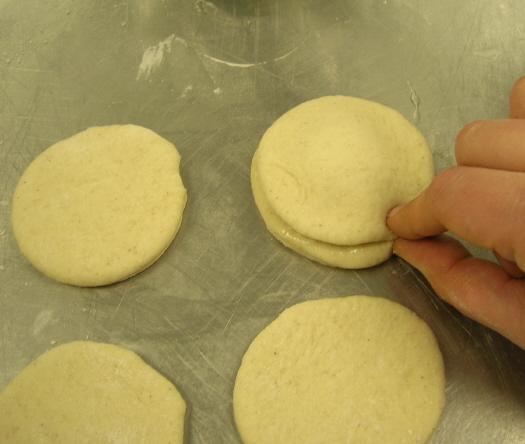 Make sure the two halves are completely sealed. Do the same thing with the rest of the rounds and then place them all on a baking sheet lined with parchment paper and cover with plastic wrap.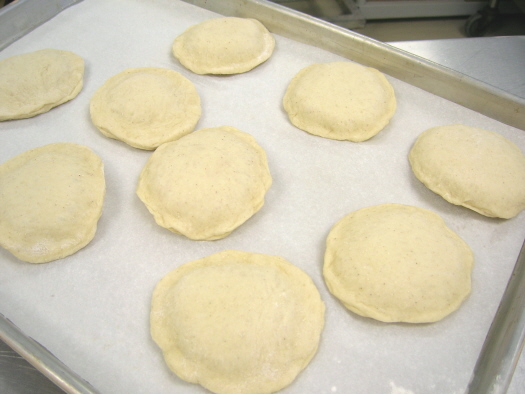 Let them rest for about 20 minutes, until they've risen again.
While the sufganiyot are resting and rising, heat the oil the same way you would for technique #1. Follow the instructions for frying them as well.
Once they've been fried and drained on paper towel, roll them in sugar, serve and enjoy.