Good Morning!!! And a happy holiday week to ALL!!
Sunny bread from Daughter's bakery should start everybody's day.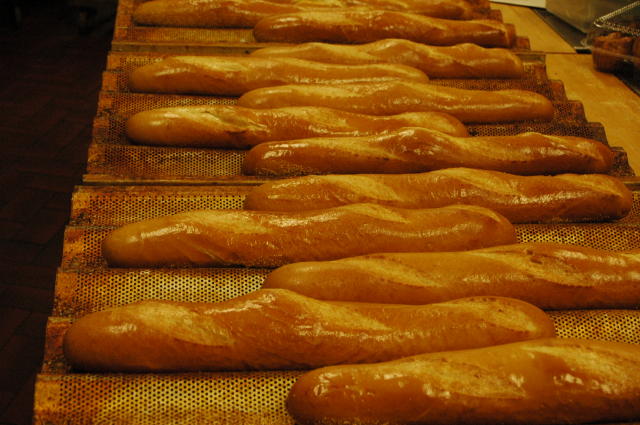 When Susan asked me to do a blog, she suggested Thanksgiving week, and I'm just so flattered and appreciative of the honor. I've read each and every one since the first, and some, I've returned to time after time, for the sheer beauty of the words, the imagery, the exciting life and dining and cooking of the writers. Some are jeweled with beautiful pictures, of food and travel and markets and dining. Others have a wonderful homey feel, of a family kitchen and the communal dining table, a togetherness that warms as it is shared on the page.
We're mostly home-folks, as well, and the recipes and meals are still South-centric, with pots of greens and beans set to simmer early in the day; pork chops and fried chicken are as often on our table as are pastas and steaks. Cornbread comes crusty from the oven in time to sit beside a big tureen of low-cooked snap beans with a hunk of falling-apart ham and some one-curl-peeled baby pink potatoes, and the favored accompaniment is a cool dish of just-from-the-garden tomatoes, with a few crisp slices of cold sweet onion. Desserts are rich and come from yellowed, hand-scripted recipes, written by my Mammaw, my Mother, an aunt with a "sure hand" for piecrust.
And always, we did the dainty things, the canapes and the pate and the terrines. We cooked game as often as market-meat, and in a greater variety of ways. Our family enjoyed all the frills and furbelows of baby vegetables, five minutes from the garden; Cuisinart-whirled pestos and salsas, mixer-whipped mousses and meringues, gently-stirred ganache and skillet-simmered caramel for the flan dish. Perhaps the names were a bit different; salsas were called chili sauce and green tomato relish, chow chow and pepper relish, all with different flavorings and spices in the mix.
We did hundreds of wedding receptions, parties, lawn teas, luncheons and dinners over the years, as apt to cater a fishfry as to make three gallons of chicken salad by the Secret Family Recipe and serve it on Mrs. Covington's Limoge. Food has just always been a great part of our life and livelihood, and it just comes naturally to me to actually prepare two gallons of something as easily as two cups.
This was prettier after we got the velvety golden apricots ranged all around. They sort of glowed like little round peachy lanterns.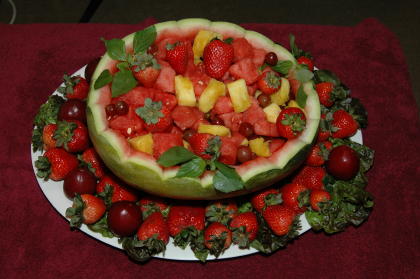 And now, we've been transplanted for some fifteen years to this Northernmost of Southern states. We love the climate, so different from the one of our raising; we love the city and all the delights it offers in the way of music and bookstores and libraries and entertainment. This week will hold a little bit of travel, a few local landmarks, some markets and bakeries we enjoy, a visit to Daughter's bakery (with photos taken by her late at night).
While we were sleeping: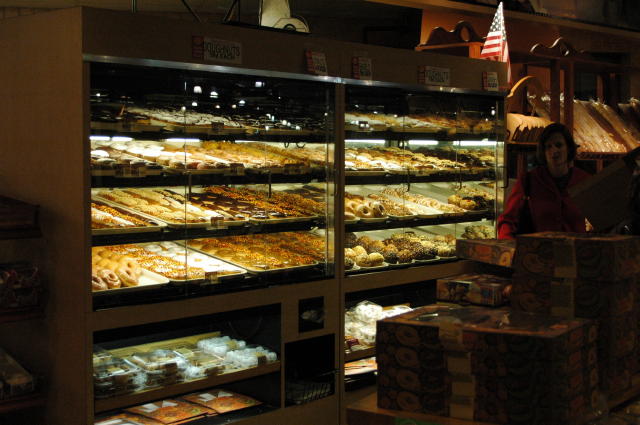 Cakes---carrot and strawberry and chocolate. The Tuxedo one is my favorite, like a Gucci version of Boston Cream Pie. Supporting cast: eclairs, cream puffs, lots of other goodies, including individual slices-for-sale of the cakes.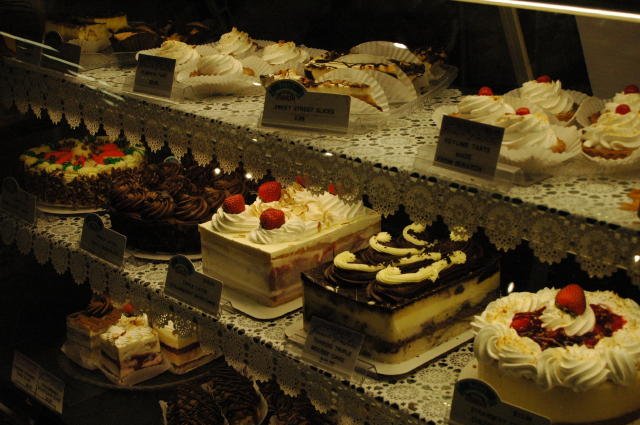 Closer look, if you can stand it: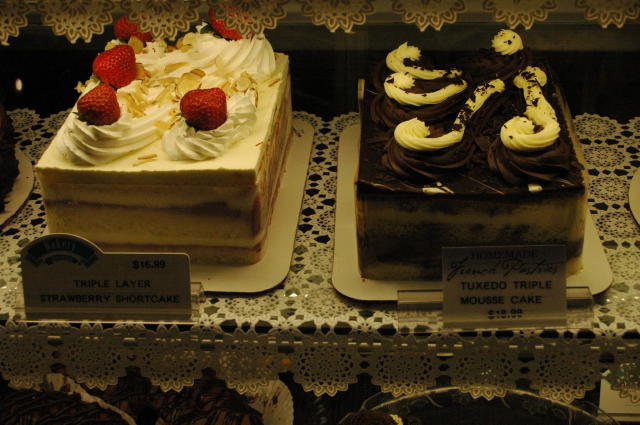 Apple fritters after the flip: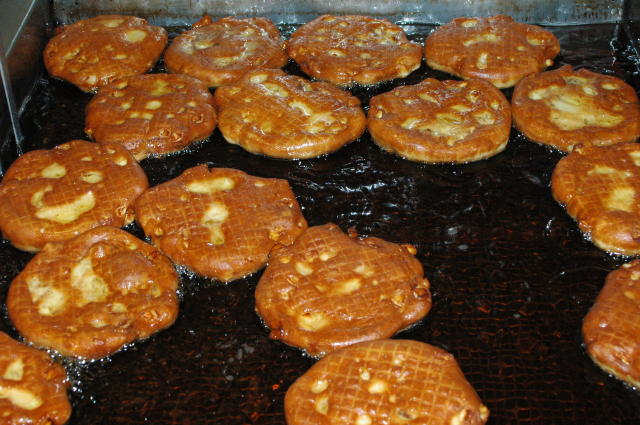 Donuts frying: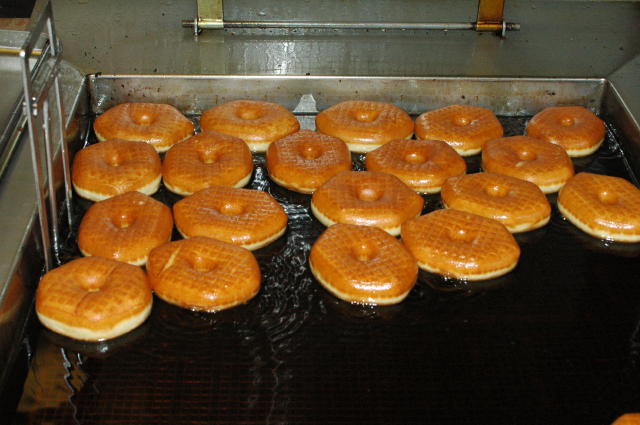 Glazing:
Glazed: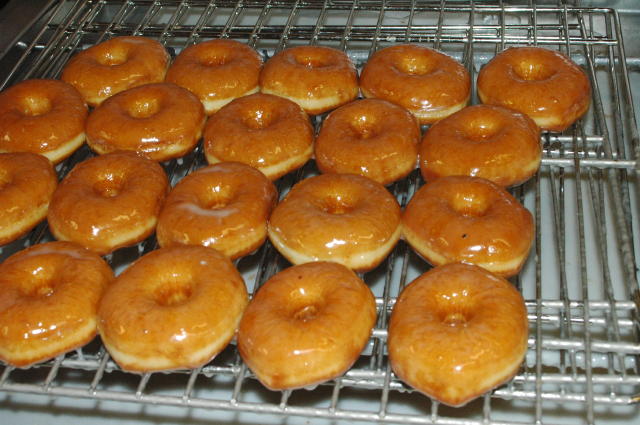 As much of a sweet tooth as I must confess, the deep-crusted, heavy-grained breads are my favorites.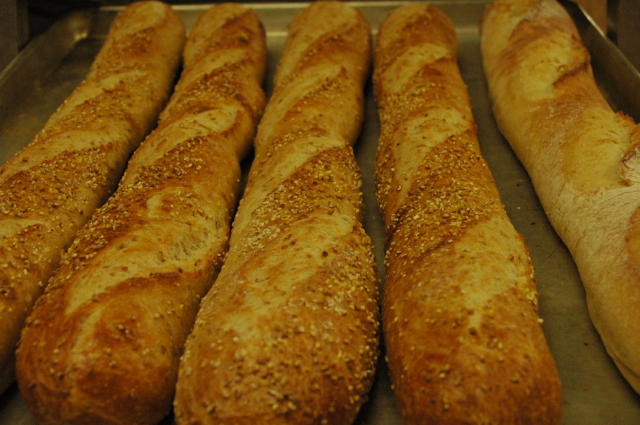 These peasanty, crusty boules are wonderful---I love the look of no-two-alike and their rugged countenances. I also love the slicing, with the lusty crackle of parting crust as the slices fall beneath the knife, and the little sawdusty sprinkle of crumbs left behind.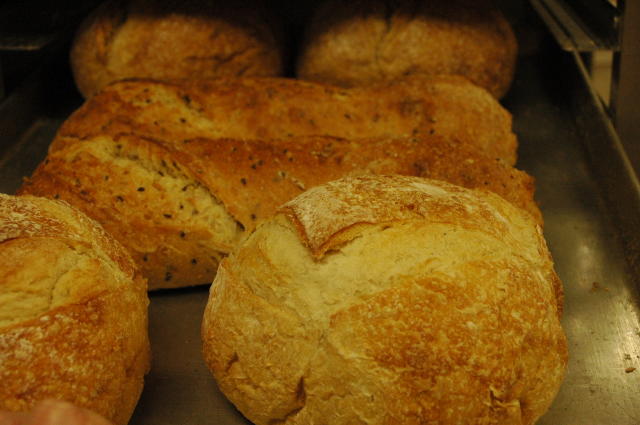 The softer side---croissant-shaped yeast rolls curled into little rosettes, which for some silly reason always remind me of a baby sucking its thumb: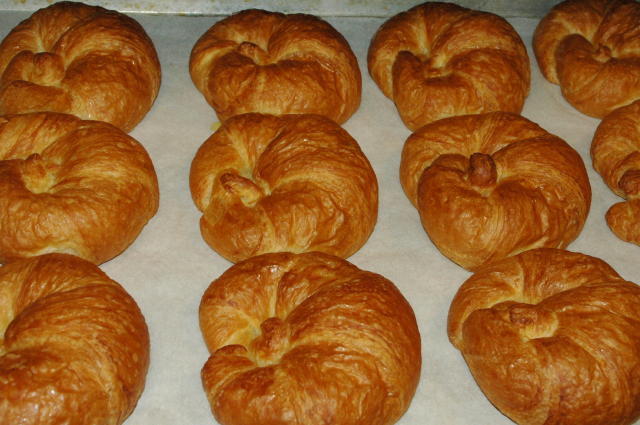 Challah:
And so goes the life of a baker, as we reap the sweet rewards.
We'll have people over to dinner other nights, friends who have their own family plans for this holiday; a get-out-the-propane-tank-and-black-pot fishfry on the patio, courtesy of Son#2, a salute to Daughter's Kitchen Idol as she prepares his Ma Po Tofu and fried rice.
Thursday will be our day of celebration and thanks, with the table laden with the exact dishes which have graced our family holidays for at least three generations. Mammaw's coconut cake, Aunt Glynda's cornbread dressing, Maw's canned green beans, with their little fillip of vinegar and sugar in the brine. All the dishes are named for whoever used to serve that particular recipe, and some families still serve Grandma Wilson's Rice Pudding, or Mammaw Thornton's Lemon Icebox Pie, even though those estimable ladies have been gone lo, these many years.
It's just a way of keeping our dear ones close for as long as we can, and in the kitchen, precious recipes are saved and kept as closely. The methods and motions of whoever taught you are replicated and repeated, as habit and homage, by a succession of cooks. We'll be cutting oranges for ambrosia, in that knife-peel, down-and-under motion only lately revealed to be a chef's method. Little sharp paring knives have been doing that for at least a century, when there were oranges to be had.
And Friday---lovely Friday. We've been invited to spend the day about two hours South of here, where our Georgia Granddaughters will be visiting their other grandparents for the holiday weekend. We'll be taking several dishes for that lunch, and will be passing a lovely winery; if it's not past closing time when we return, we'll stop in and report.
Susan said I could post one minute after midnight, and I think I may. I'm still learning all the ins and outs of albums and images and other parts of this posting thing, but I'm trying hard.
And a good night, or morning, or whichever time it is wherever all of you are. Sweet sleep or Happy Monday or whatever applies.
Moire non,
rachel