You say: "Permesso?"
I say: "Certo!"
In my area, it's polite to ask if you may enter someone's house, by asking, "Permesso?" For some reason, it's a lovely, endearing thing to hear, and even children will ask before entering.
I'm inviting you now, to join me in my house in Italy, in the region of Umbria, in the province of Perugia, in the town of Montone, on via Garibaldi.
Uhhmmm, it's a small town (about 800 people, just to give you some perspective on small), you may not find it on a map, but we do have a town
website!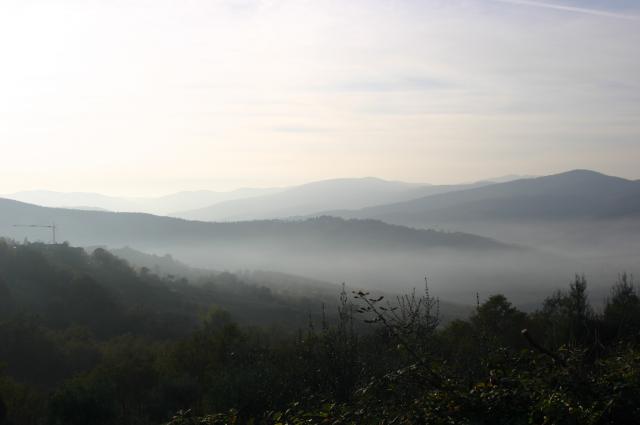 We live in Montone about six months out of the year, and the rest of the time we spend in New York City and thereabouts. But, this week we are in Umbria. Our neck of the woods is fairly rural, the terrain is steep and hilly. The primary industry is agriculture; right now the feed corn and tobacco are being harvested. Sheep farms are abundant, which means I have access to excellent cheeses. I'm hoping to introduce you to some of the people that produce the food we eat. "Eating local" isn't a politically correct choice here; it's just the way it is.
Why "Carpe Diem"? Yes, it does say Carpe Diem, tattooed on my son's leg. About 3 years ago, my husband and I decided to seize the moment. We closed up our business in New York and decided we wanted to spend more time in our house in Italy. We bought the house in 2001 and I'm going to guess you have the same question that everyone else asks us, "How did you find this place?" As a family, we have traveled a lot, and in his junior year in high school, our son Curtis took one of those class trips to Italy. He had been to Italy a few times before this, but this time he came home, and said, "You've have got to go to Assisi. I could live there." It was an unusually passionate response from him, which may have been influenced by the fact that he ate exceptionally good truffles while he was there. By now we knew we wanted a house in Italy, so we schedule an appointment with a realtor and we looked at everything from total ruins to finished villas with grapevines and tractors. The last place we looked at was described as a townhouse in a medieval village. We were goners before we even entered the front port of the town. Why live in the countryside where we don't speak the language, we don't know anyone, when we can live in town. Hey, we've lived in NYC for 150 years, we are city folk. It was a great move, I cannot begin to tell you how warm, inviting and welcoming the townspeople are, not to mention a tiny bit nutty. I hope you get to know some of my neighbors this week.
Last spring, I attended the Ital.cook school in Jesi. It's run by Slow Food and teaches students about regional Italian cooking. I'm in my early 50's, and I lived for 10 weeks in a dorm with a bunch of wacky, wonderful ragazzi (young people) and had the time of my life. These days, I write a little, and teach a little and cook a lot of Italian food. My husband is involved in the "Tower Project": Torre de Moravola. We are helping our friends restore a medieval watchtower that will eventually become a full service rentable villa or small hotel. It is a fantastic place!! We are up to the point we need to do some creative financing to finish the project, but hey, we knew there would be bumps in the road. If all goes well, I'll be the chef at the tower.