It is good to be in the right place at the right time. That happened to me this week, when I serendipitously found myself in position to cover the 1st annual
Star

chefs

.com

International

Chefs

Congress

: A Kitchen Without Boundaries
for the eGullet Society for Culinary Arts and Letters. I had the time and I had the interest so I leapt at the opportunity to attend this
Congress
.
Spain has
Madrid Fusion
. Italy has
Identita Golose
. The U.S. has some very noteworthy Conferences for food professionals like the
CIA's World of Flavors
and
IACP
amongst others, exist in the U.S., but they involve all sorts of food professionals and not just
chefs
. As such, I am not aware of anything quite like this in the U.S.
The line-up of presenters and attendees was quite impressive indeed. The demonstrations were held at The Covenant House in NYC, a location that had a good auditorium (other than air conditioning

) and that allowed the participants to cook back and on-stage. Over the course of time I will attempt to provide my photos and impressions of this amazing event and invite others who attended to add any comments and/or photos of their own. I will also attempt to any questions as best I can.
The
Congress
started with a welcome cocktail party in the downstairs bar area of Morimoto on Monday the 18th. It was a great affair with plenty of fine drinks including verrry dangerous cocktail with vodka (I believe) and Valrhona's Xocopili spicy chocolate and some excellent sushi from Morimoto including plenty of bluefin tuna. Following are some photos of that event.
A general view from the stairs.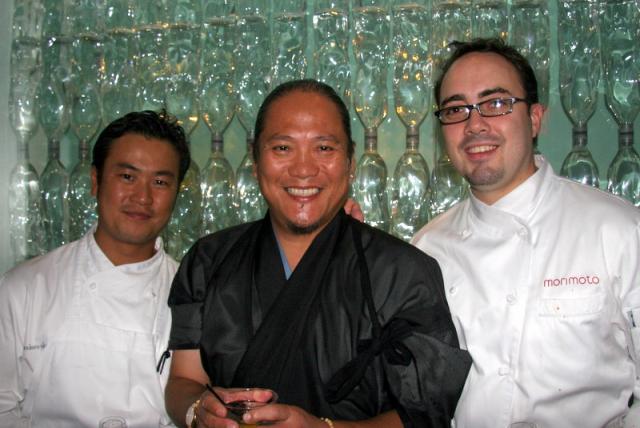 Makato Okuwa, Masahiro Morimoto and Mark Andelbradt of
Morimoto
. Okuwa and Andelbradt received New York Rising Star Awards from Star
chefs
.com.
Zak Pelaccio of
5 Ninth
and
Fatty Crab
, Will Goldfarb of
Room 4 Dessert
and Franklin Becker of
Brasserie
were also awardees.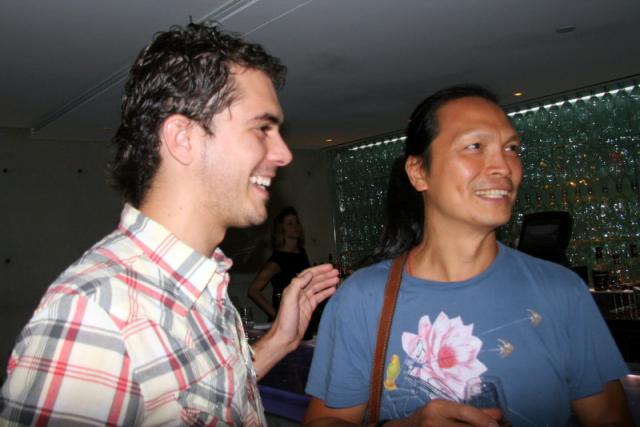 Ruben Garcia of
minibar
and Susur Lee of
Susur
and
Lee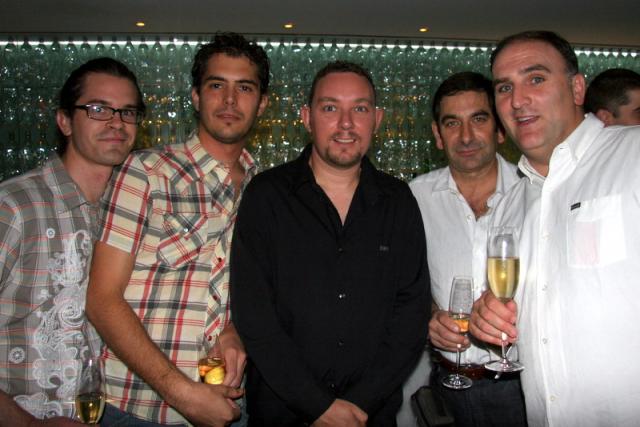 Michael Turner, Ruben Garcia and Jose Andres of minibar flanking Albert Adria of
El Bulli
and Juan Sole of
Sole Graells
, producer of the Adria's
Texturas
line of products amongst others.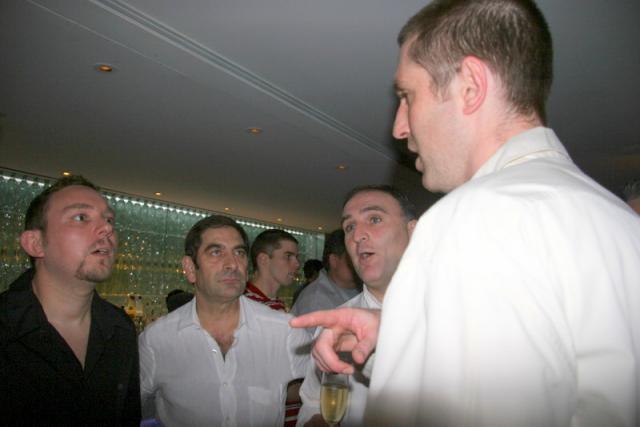 Adria, Sole, Andres and Goldfarb.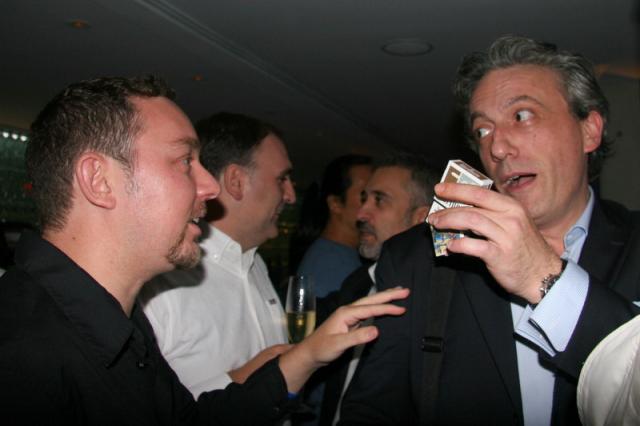 Adria and Davide Scabin of
Combal.0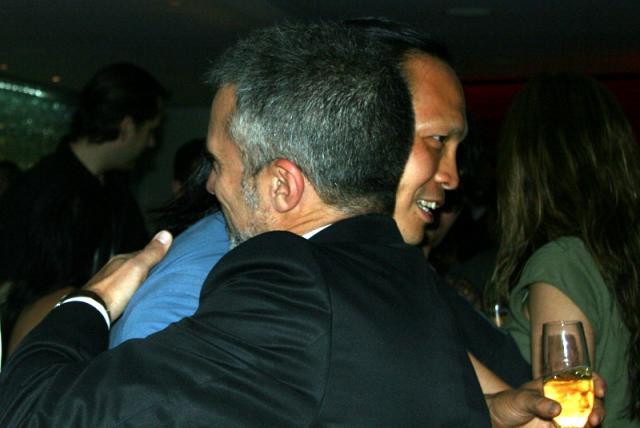 Susur Lee and Sergi Arola of
La Broche
.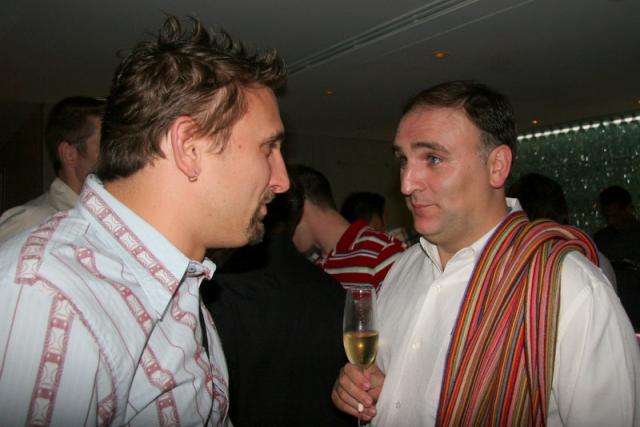 Chris Cosentino of
Incanto
and Andres.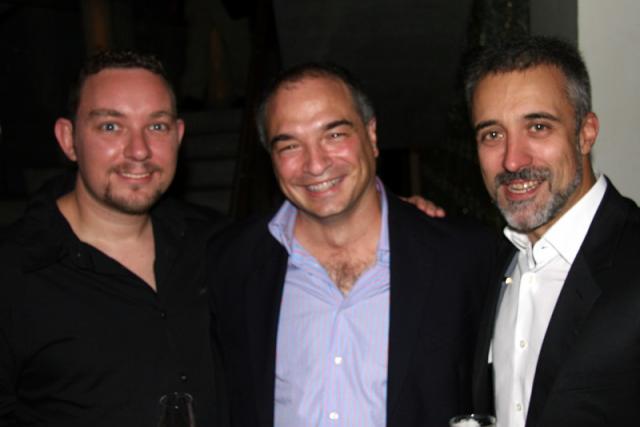 Me with Albert Adria and Sergi Arola.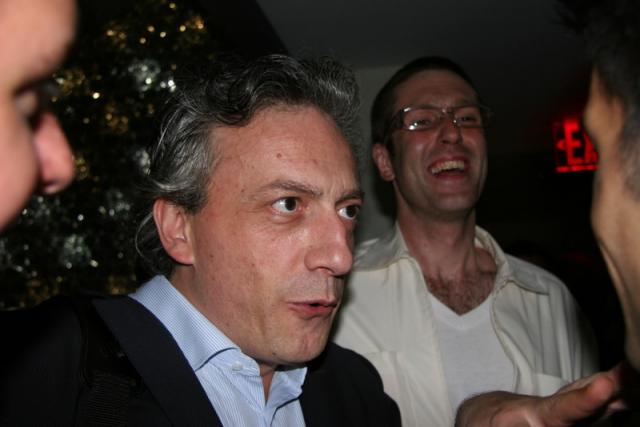 Scabin and Goldfarb.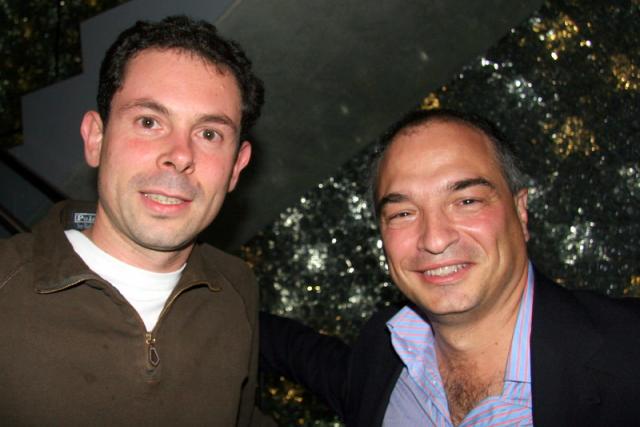 Myself with Pascal Barbot of
L'Astrance.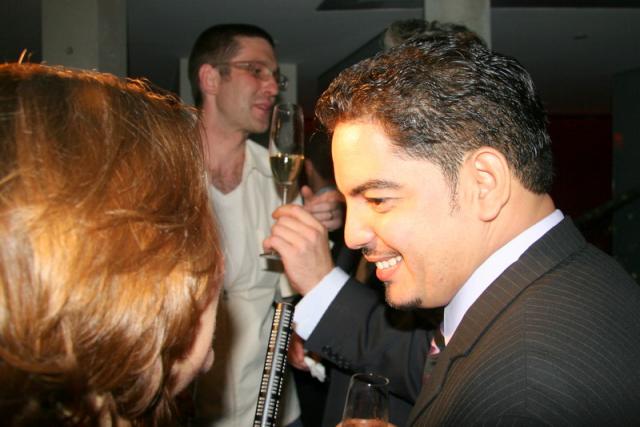 Alex Urena of
Urena.
Alex was also an awardee.
While most of these
chefs
and others went to a special dinner at the James Beard House I veered off to dinner at Perry St.
Much more to come...