I made a Southern Caramel Cake for a friend's birthday this weekend.
This version is from Bill Neal's
Biscuits, Spoonbread and Sweet Potato Pie
and has ground pecans in the cake layers which are also soaked with a bourbon syrup. It was very good, but even with the soaking the layers were a bit dry. Maybe the dryness would have been alleviated if I had soaked the layers while they were still warm and/or maybe I overbaked the layers. Well for this situation, a healthy spoonful of whipped cream helped ease any dryness and was also nice with the cake.

I've made another Bill Neal Pecan Caramel Cake several times from his first book. I can only compare this with faded memories since this was before I recorded more detailed notes, but I think I liked the cake layers better in the version from
Bill Neal's Southern Cooking
.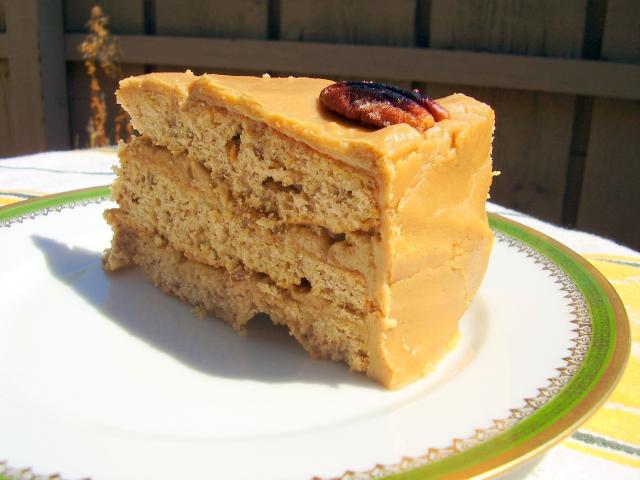 I like Bill Neal's versions with ground pecans in the cake layers. I like nut cakes and the astringency of the pecans adds a nice counterpioont to the sweet caramel frosting. As far as I can tell though, the classic Southern caramel cake is usually a plain white cake. (see Mayhaw Man's example below). I'd like to try that sometime as well.
Caramel cakes are so wonderful I thought we should dedicate a thread to them. Please share your stories, reminiscences, recipes or tips, experiences!