It wasn't going well. My first day in a left hand drive car, having negotiated the coast road from San Sebastian at a snail's pace, we set off from our final stop on the way to Axpe. The English guy I spoke to on the phone assured me that it was only 40mins from San Sebastian. So it could only have been half an hour from Orio. And surely just west of the point where our single road map ran out. But no. We drove and drove. And got lost. A lot. When we arrived nearly half an hour late, there didn't seem to be anybody there. Downstairs deserted. Upstairs, said Englishman was nowhere to be seen. Only two other tables occupied, and a CD player booming out operatic classics. We were worried.
But the concerns were misplaced. The English guy we spoke to on the phone was actually working in the kitchen and he came out to explain the degustation menu they were to put together. A glass of wine settled the post drive shakes, and the music grew on me. Most importantly, I was about to embark on the most incredible culinary journey of the trip, if not ever. The quality of the raw materials we were to experience was out of this world, and I had never fully understood why some people couldn't get enough of perfect ingredients perfectly cooked. The photos don't do justice to the flavour, due to the unadorned and unadulterated purity of the ingredient, but they at least give an insight.
Course 1: Chorizo on toast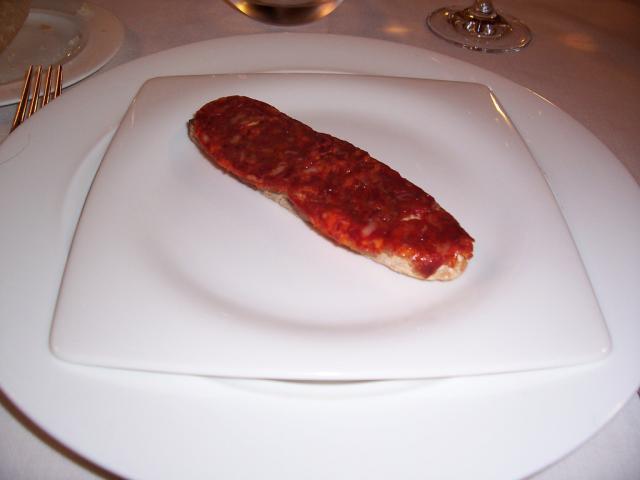 They make this about 50 yards up the hill. Incredibly supple and smooth, packed with subtle flavours. The best of its kind I have ever tasted.
Course 2: White Tuna (Tuna Belly) with garden tomato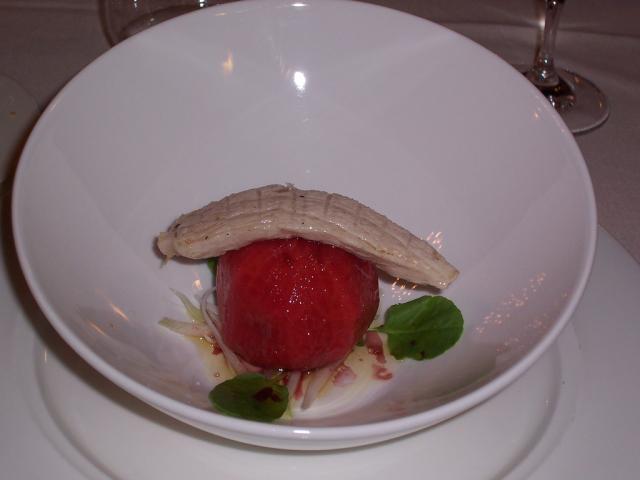 Perhaps it was because this was our first introduction to the seducitive subtle smokey notes of the etxebarri grill that the tuna tasted so good. Perhaps it was because our British tomatoes are so dire in comparison that the tomato tasted so rich and sweet. But this dish is wrestling with the Mugaritz vegetables for best of the trip. Combining them on the fork, you first get hit with the smokey notes of the grill, then the knock-your-socks-off sweetness of the tomato, and finally the lingering meaty taste of the fish with the simple olive oil dressing. This was absolutely spellbinding and I was grinning ear to ear with every mouthful.
Course 3: Gambas Palamos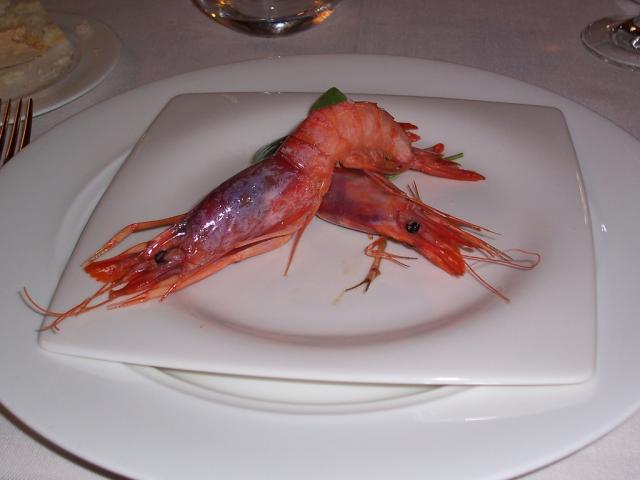 These are caught below the sea at depths of up to 300ft. The chef took great pleasure in telling us that their heads exploded on the way to the surface, so it was imperative that we suck them clean. The meat was richer and sweeter than any I have tasted, dressed in nothing more than a crystal or two of sea salt. The heads were enormous, and full of things I didn't realise featured in a prawn's anatomy. You can see the colour through the translucent shell. I had a good crack at wolfing it all down, which rewarded me with an even richer, slightly saltier experience. Again, I have never tasted prawns like it.
Course 4: Lightly grilled oysters with seaweed
For some reason I forgot to snap these, but there is a photo on chez pim. They were great. I don't love oysters in the same way as I love other kinds of shellfish, but these were undoubtedly superb specimens. We had three each, and they tasted simply of the sea, with a faint smokey undertone, imparted by a gentle moment on the grill.
Course 5: Sea Cucumber with Cannellini Beans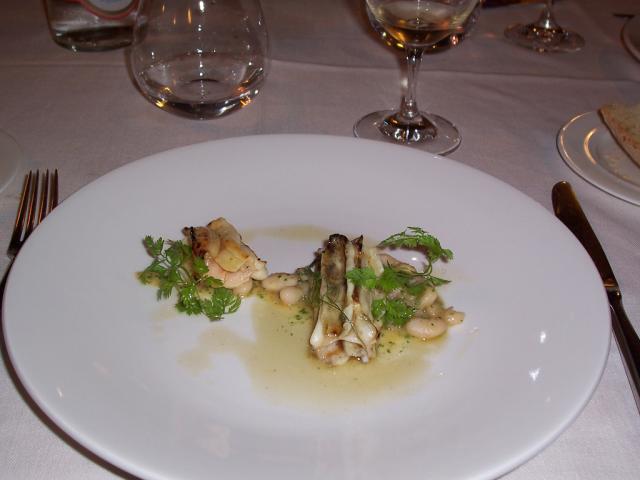 I had never had this before, and fear I may never taste a better example again. Similar texture and flavour to squid, but slightly richer and superior in my opinion. The beans were meltingly soft, enriched with a little ham stock, and partnered the charred cucumber perfectly. Wonderful.
Course 6: Mussels with Tomato Broth
The mussels adopted a smokier flavour than any of the other preparations, but the mussels were sweeter than any I have tasted, and handled the influence of the grill without being overpowered. The tomato broth was magical. How could it be anything else, when using those tomatoes?
Course 7: Bacalao with grilled peppers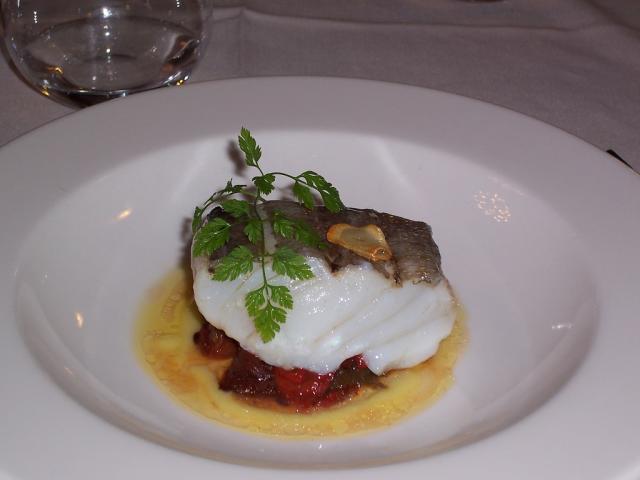 This was the other standout dish in the company of stellar performers. As you can see, it was an enormous piece of fish. It was cooked to perfection. You needed only to press the top with your fork, and the flakes would fall away, yielding moist, translucent and surprisingly gelatinous flesh. There was a hint of garlic imparted, and the peppers had reached an exquisite smokey sweetness, which provided a superb accompaniment to the fish.
Course 8: Grilled Beef Chop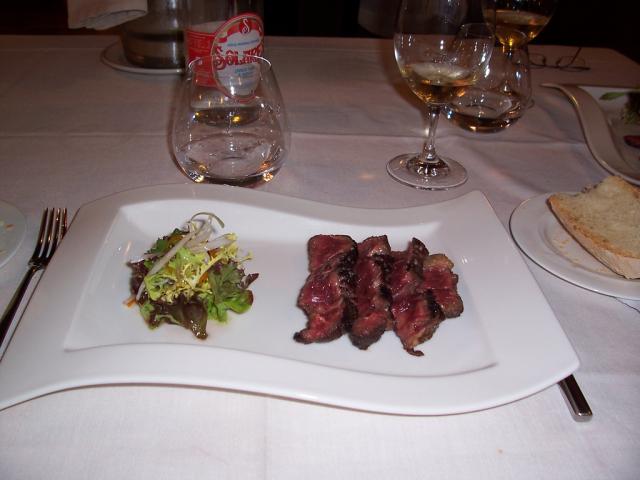 The aroma of the beef as it sat beneath me was intoxicating. Cooked black and blue, this was the finest piece of beef I have ever tasted. Again, a simple salad and a couple of grains of rock salt were all that was required. Incredible.
Course 9: Apple pastry with ice cream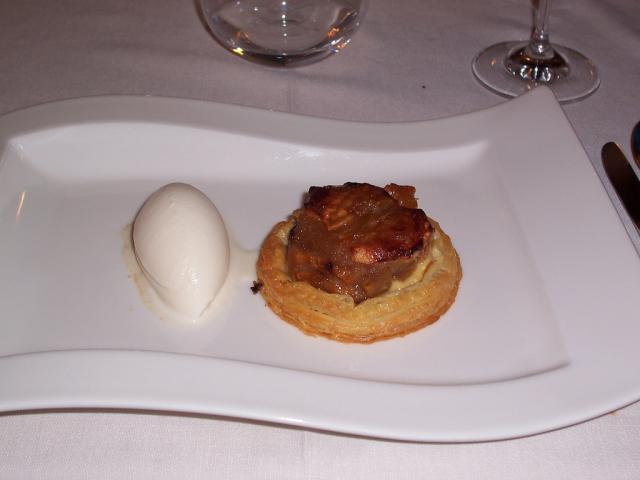 Not grilled, but still lovely. Excellent quality filo. The ice cream tasted a bit of bacon, which I liked. But I was assured that there was no swine in there. Bizarre. Think my senses had taken a pounding by this point, so I forgave myself. But it was a very good dessert.
This was a truly fantastic meal. The only potential downside, is that ingredients everywhere else will disappoint. The next evening, at Arzak, I had crayfish, white tuna and beef. They didn't touch the quality I experienced at Etxebarri. Why don't the top places use ingredients like these?
So yes, it is worth the hype it gets on the foodie boards. Simple food it may be, but it takes a master to get the best out of these ingredients, and the results were spellbinding. Michelin's loss.