October 8 – Michael Ginor, Hudson Valley Foie Gras, New York
If you ask me about my favourite things to eat and drink, I'd probably go on for quite some time. But, in that first flurry of enthusiasm, you're going to hear the words "foie", "gras", and "champagne" somewhere in there.
Is it little wonder that Michael's dinners are something I look forward to every year?
We opened with Piper-Heidsieck's Brut N.V. as our initial champagne. A good, standing around and gossiping bubbly. A bit of a bite to it, some toast, and butterscotch (according to M), and an acceptable finish.
And there was a bit of standing about to do, as there'd been such demand on this dinner that they'd moved us over to one of the function rooms to accommodate the crowd.
Yoonhi, M, E, and myself took up part of a table, the rest filled out with a group of mainly Scandinavian origin.
If you're planning on eating and drinking well, this is a good crowd to be part of. You'll regret it the next morning, but you'll have a great time while it's happening.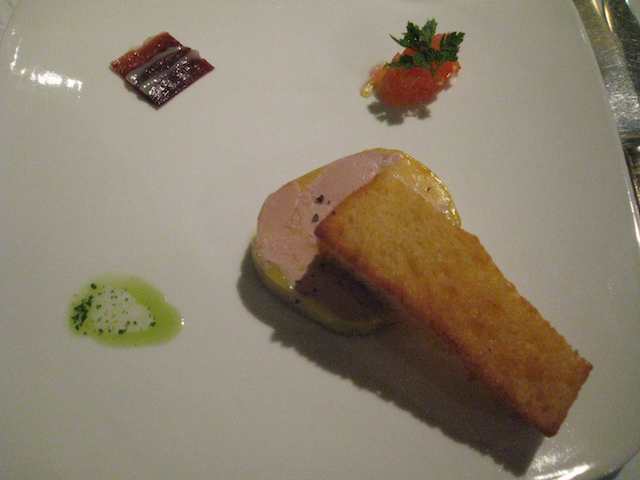 Torchon of Hudson Valley Foie Gras
With Duck Prosciutto and Mostarda di Cremona
This is a traditional terrine, full of fat and buttery on the palate, the mostarda giving a contrast with its sharp fruits. I love that feeling of sumptiousness (is that a word?) in the mouth, the crunch of the brioche, the tang of the fruit, and a nibble of the cured duck breast to bring some smoke and salt.
As you can tell, it's a good start. If I contrast this with last year's opener, it's a much more conservative approach, similar in philosophy to the layout at
The Latymer dinner
we'd eaten a couple of weeks before. Discrete elements laid out for tasting.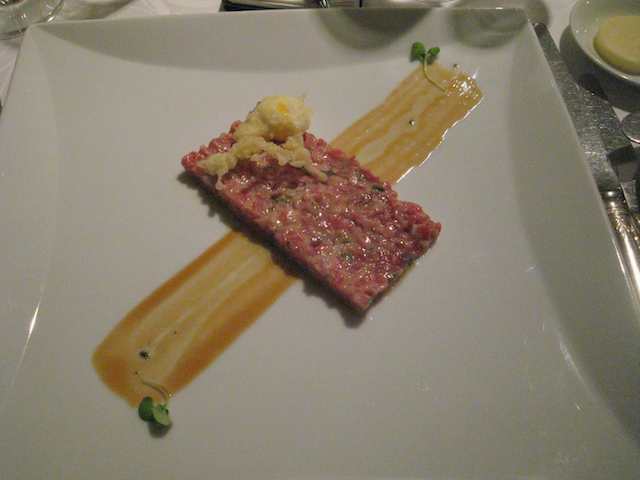 Truffled Kobe Beef Tartar
With Shaved Foie Gras and Quail Egg Tempura
Michael's truffled Kobe beef
last year
was one of my favourite dishes, and I was salivating at the mere mention of it. Last year it had been a fetching lump of tartare on top of a carpaccio-thin layer of the same, but this year it arrived as one slab, the crispy quail egg (also from last year) now perched in one corner, rather than as a crown.
Both were fine approaches, but where this excelled over the previous year was in the theatre.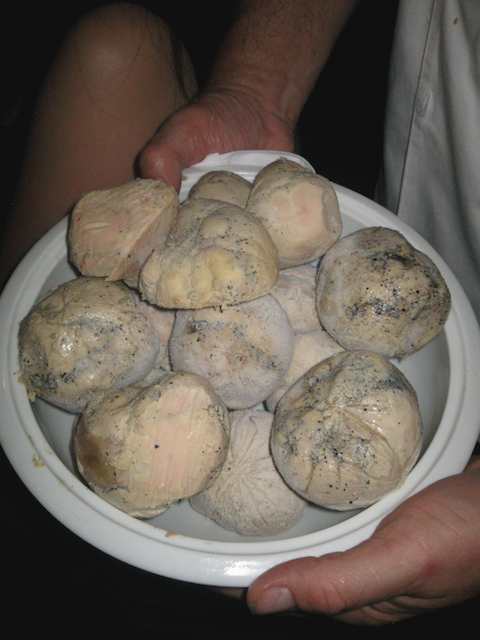 Last year, the cured foie gras had been shaved over the tartar in the kitchen as part of the plating, and we never had the opportunity to see it in its pristine state.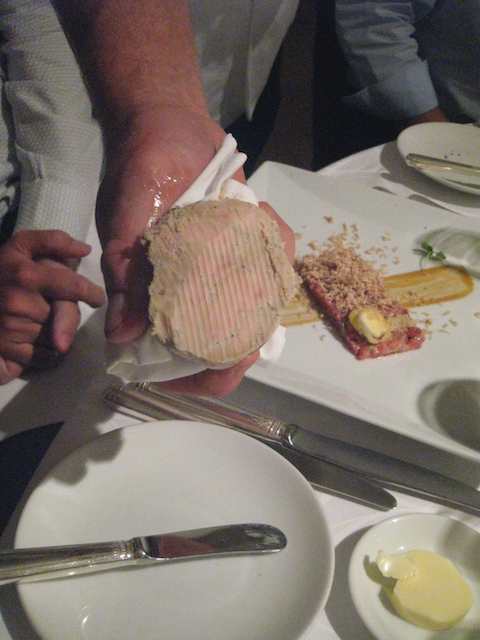 This year Michael had brought David Britton back with him, and Itay Skoropa, who's with David at Lola. The three of them, for this course, were busy about the tables shaving foie gras onto the servings, moving table to table with their baskets like aggressive Easter bunnies.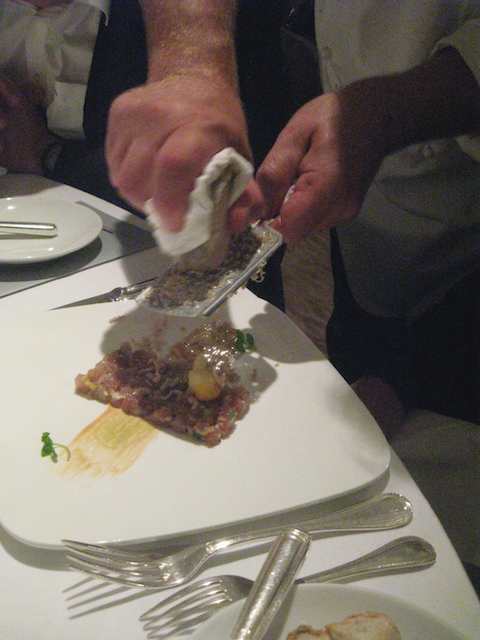 Microplaned butter is almost what it was.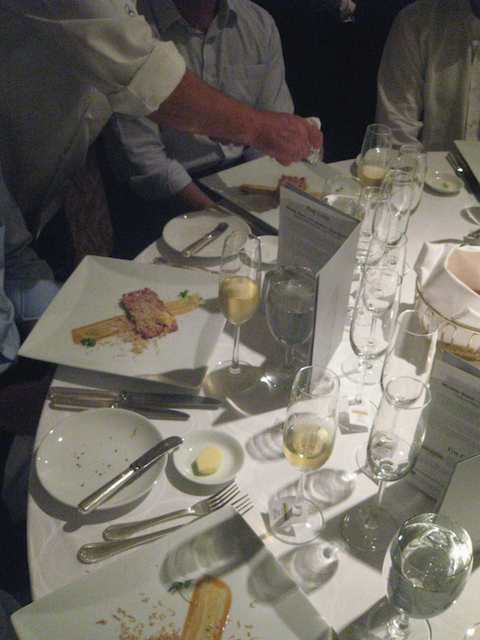 Freshly dropped, with no time to congeal, this had a beautifully light, lifting feel to the dish (if you can imagine that in conjunction with what is almost total fat).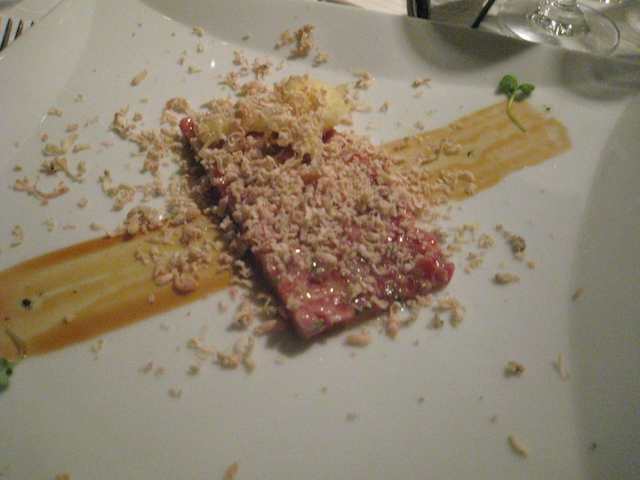 Yeah, I could eat this most any day.
Our next champagne arrived (we'd continued to punish the brut throughout all of this). This was the Brut Reserve.
Finer bubbles, a little bit softer on the palate with more fruit discernable. I could be very good friends with a bottle like this, as could Yoonhi.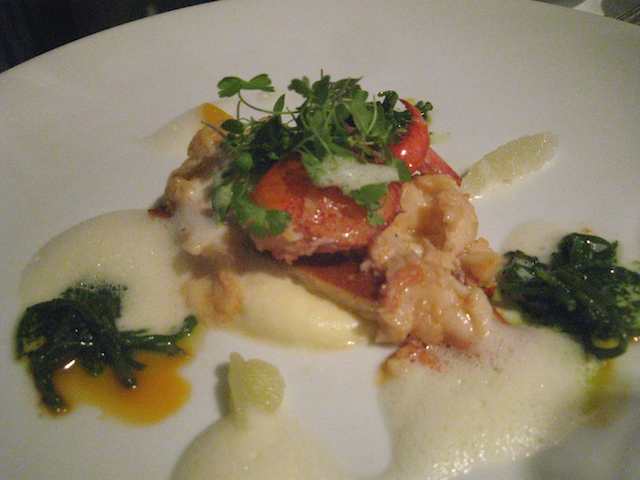 Citrus Butter Poached Lobster
With Sea Beans and Potato Cream
Charles Heidsieck Brut Reserve
Butter poached lobster was once more on the menu, this time presented on a backdrop of foam, rather than last year's solid green puree.
This was one of the courses that Michael did in his class this year. The lobster was initially boiled, then cracked and the meat cooked in citrus butter for 10 minutes at 170F. The citrus butter was a mix of butter, white wine, cream, butter, orange, and lime.
The potato cream underneath is an ultra-smooth blend of potatoes, stock, butter, and some more butter.
The greens (the sea beans) were prepared with a warm vinaigrette to give a sea tang to the lobster.
And there's a hint of foie gras under there, just to bring the fat content up.
As we worked through the lobster, the rose came out.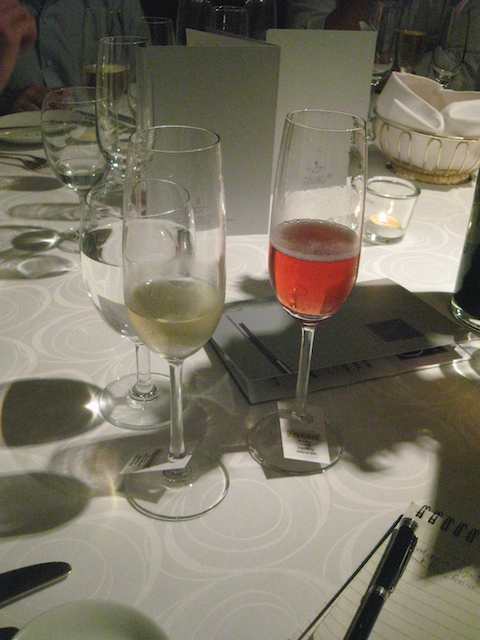 I enjoy a rose. They just look so….festive. This one is clear on the palate, with a cheerfulness about it that's hard to ignore. ( I asked for more of the Reserve. The rose was to cheerful to be lonely).
Roasted Squab and Foie Gras
With Celeriac Mousseline and Rhubarb Tarte Tatin
Piper Heidsieck Rose Sauvage Brut N.V.
Last year it was roast squab and parsnip mousseline. This year we've kept the squab and brought in celeriac to replace the parsnips. I guess its just a matter of rooting about for the right combinations (both of these are very traditional European vegetables, whose light has dimmed since the advent of the mighty spud).
The handling of the foie gras is much different, though, as last year it was present as a sabayon, whereas now there's a very satisfying bit of roast foie gras.
(
Aside: my favourite, still, of Michael's various treatments of foie gras was his roast foie, a lovely, meat like thing served at the opening party
)
The rhubarb is, of course, perfect with the foie gras. That biting, bitter stalk from my youth, stewed and served with a mound of sugar.
A good bird, done a bit beyond the point of bloody, in deference for the mainly Thai audience here tonight.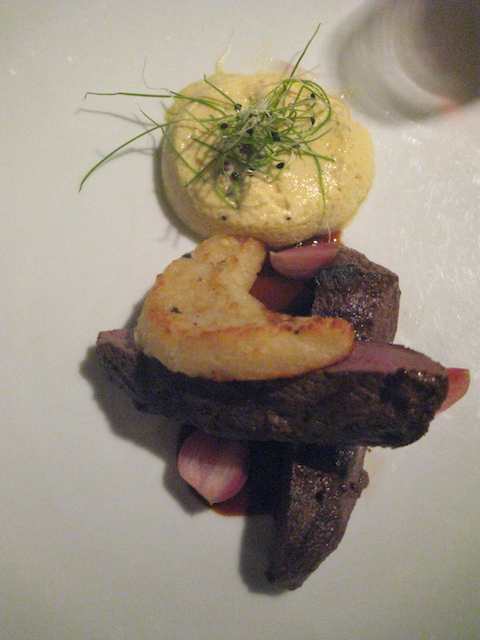 Roasted Venison Loin Bordelaise
With Truffled Foie Gras Flan
This went both ways. Yoonhi had a beautiful piece of venison, just off of rare, with a muted flavour of game. Perfect.
But mine was not quite right, and came away with a strong tang of iron, as if this particular beast hadn't been bled out properly.
In any case, the flan was a good match, the soft richness going with the vibrant game element. (I just wish mine hadn't had that liver-flavour).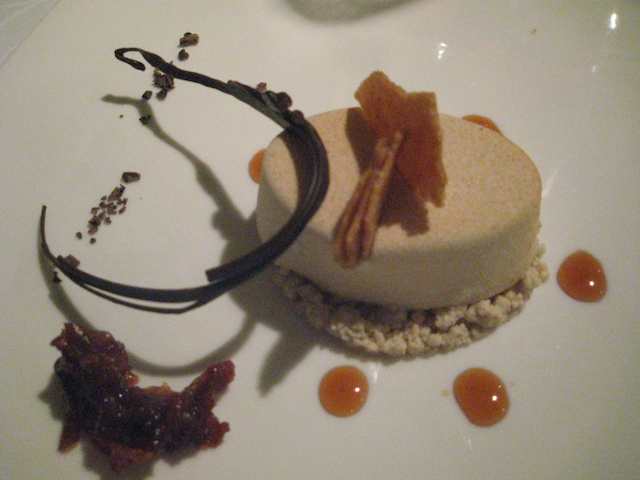 Halva Parfait
With Silan Date Honey and Sesame Croquant
Remy Martin, VSOP
Cointreau
For dessert, a touch of the Middle East. A parfait flavoured with bits of halvah – the sesame based favourite of the Levant. Underneath, to anchor its tehina biography, a croquant of sesame seeds.
We strayed from champagne to cognac to finish up. I would dearly love to have a Remy Martin Iceboxx for my home when I grow up. I'd not paid attention when I arrived, and had thought this was a stand for the champagne.
As an aside, I'd met up with David and Itay in the pool earlier in the trip. Hudson Valley foie gras continues to do well, and, as David says "that's good, as it pays for the other stuff". But he's having a lot of fun with his restaurants -Tel Aviv and Lola, in Great Neck - where he's cooking what he feels like cooking.
"We can probably only get away with it for a while longer, but it's a lot of fun for now."
And he's doing poutine, but with foie gras and black truffle. Man, that is something I'd like to see here next year.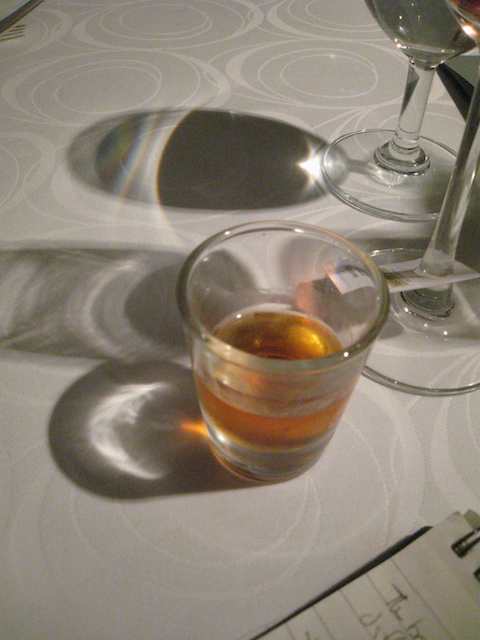 Chillled cognac made for a fair enough finish. If there was anything to complain about, it was that the glasses were so small. Still, it just means that you grab a lot of them, and, given the demographics of our table, we were soon weighed down with little shot glasses.
The conversation, I must say, was captivating. One of our comrades had worked both sides of the Korean border for several years, and it's not often that you get to break bread with someone with that sort of experience.
It became apparent at some point that the staff were hoping to get home this evening. We repaired to the lobby, and continued our discussions, comparing the two Koreas.
I looked down to my left, and, magically, a near-full bottle of champagne was there. That just helps the conversation even more. Miraculously, bottles of champagne and cognac continued to appear, until, finally, we parted company and we made our way back to our room.
A good meal. It would be a bad headache, but a good meal.
But I've really got to try that poutine of his some day.
Next – The Mourning After