And a gracious good morning to you.
We had a little discussion here chez Fabby about what to call the blog. My firstborn (18 year old son) said, "aren't you a little, well, old to be doing this?" My secondborn (16 year old son) thought "a week in the life of an underachiever" would be fitting. My husband said, "how about 'my husband really is not such a picky eater'!" Smartasses, all of 'em.

I've raised them well.
Our home now is in Chappaqua, New York; we've been here since July, 2001. Prior to that we lived in Atlanta, North Jersey, Columbus OH, Modesto CA, and Cincinnati. It's been a wild ride and a good one; makes for an interesting life but not a brief resume! (How many times you think I've said that over the years ...)
I'll give bits of my past life this week as you want 'em.
And for all of you, because you are special, I will do my darnedest to get a real-time photo of President Clinton, who is our most famous Chappaquan. I know all his pre-heart attack haunts and will haunt them, as well. I was going to stalk Megan Blocker, but she guessed it was me as this week's blogger, and invited me to trek into the city and hang with her, so I guess that's out!
Ask me anything! I'll try not to ramble on. And yeah, it's good to be queen.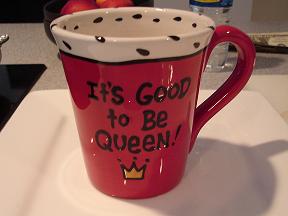 Edited by FabulousFoodBabe, 03 September 2006 - 07:36 AM.