PJ decided to do us the favor of getting up extra-early this morning, so we figured we'd go to the beach and try to tire him out. This was his first experience of actually crawling in sand, as opposed to being carried in the backpack.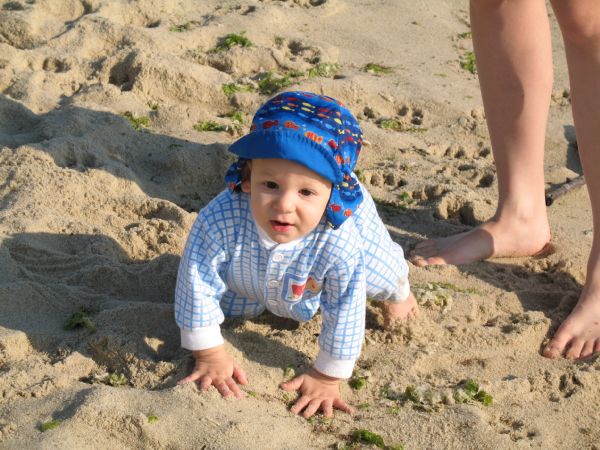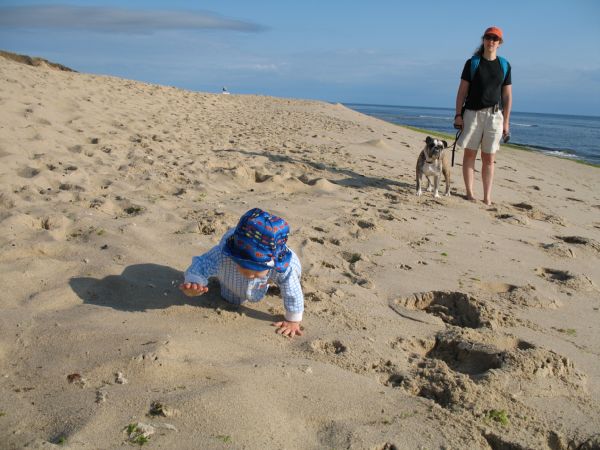 There was a loose plan in place to make lobster bisque for lunch, using the leftover carcasses from our lobster dinner the other night, however my sister and I decided we couldn't wait any longer. So she made us "lobster scrambled eggs" for breakfast. We were lucky in that the guests the other night were not particularly resourceful or motivated lobster eaters, so there was a total of maybe a pound of meat still left on the lobsters.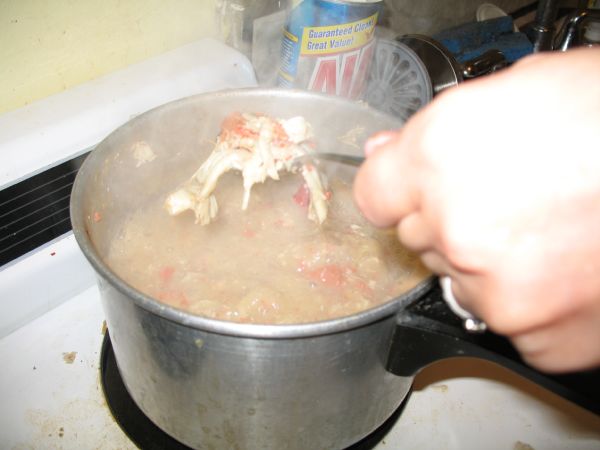 Basically, the improvised lobster scrambled eggs started as heavily reduced lobster bisque. Then my sister cooled the bisque and added some eggs. I was an observer, rather than a participant in the cooking, though I was occasionally consulted. I made the mistake of telling my sister I planned to be an observer, so of course she kept addressing me as "Mr. UN Observer" and may never stop
Then she added butter that she cleverly kept from last night's dinner to a skillet and poured in the bisque and egg mixture.
She let them set a bit, then gently stirred.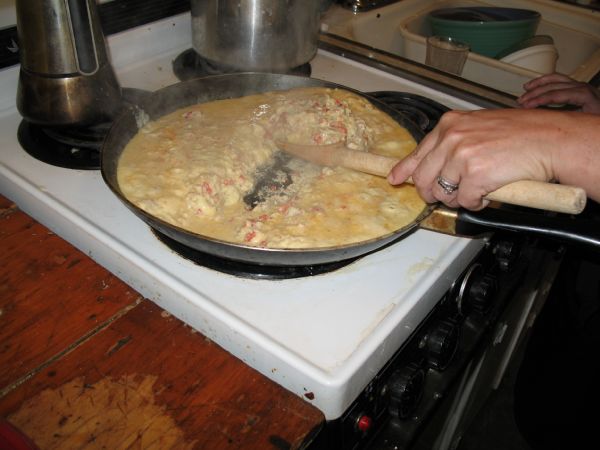 There wasn't any good bread in the house, but there was a big box of Saltines, so the lobster scrambled eggs were served with Saltines and, on the side, a little cup of lobster bisque that functioned as sort of a sauce. This was probably the best thing I've eaten on this vacation, if not in my entire life.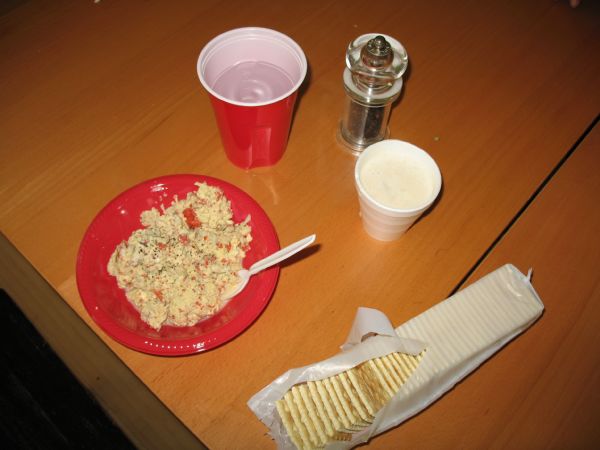 For lunch we went to Mac's down on the pier. The place was seriously crowded but, surprisingly, the prices were lower than what seems to be the Cape average, the ingredients were super-high quality (the Mac's people also own a seafood market), and the atmosphere felt very genuine old-school Cape. There was all sorts of fried stuff served, and we decided Mac's onion rings were arguably better even than the ones at Arnold's. I had a fried cod sandwich, in addition to tasting other stuff. Ellen had a grilled tuna filet sandwich, which was really nice. We ate outside at the picnic tables, which of all the picnic tables we've encountered on the Cape are by far the most uncomfortable.
My cod sandwich.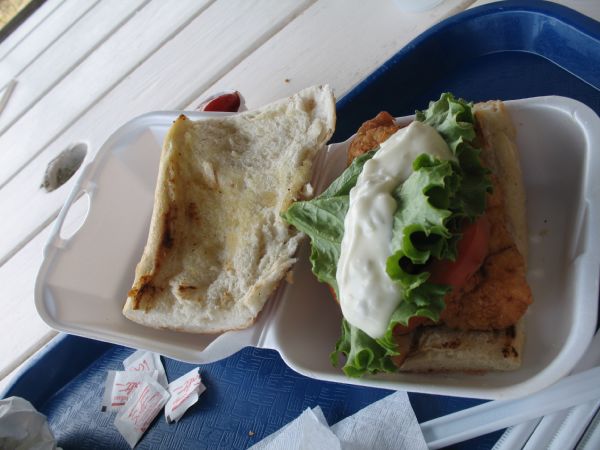 We also ran into some of my sister's friends, who shared our uncomfortable picnic table with us. They had baked a loaf of banana bread, but I guess their kitchen was as poorly provisioned as ours because they didn't have enough bananas for the recipe so they supplemented with plums and nectarines. The bread was described to us as "plummy nectarine-y banana bread," and a discussion of how to spell "nectarine-y" ensued (my sister and brother-in-law are both newspaper editors). It was great. Later we gave them three nearly rotten bananas from our kitchen so they could make another loaf of banana bread, this time with just bananas and no plums or nectarines – though I can't imagine that would represent an improvement.
For dinner, we returned to Bob's Sub & Cone. Please don't tell Bob, but Bob's Sub & Cone was not our first choice. First, we went to the Beachcomber restaurant, which as the name suggests is at the beach, but I assigned no credibility to the claim that our wait for a table would only be "25 to 35 minutes." There were a zillion people there and the hostess who gave us the information didn't seem to have a clue. So, we decided instead to go to Moby Dick's out on Route 6, pretty near to PJ's. Mind you, at each step of the expedition, my nephews were saying, "Why aren't we going to Bob's Sub & Cone? It's the best restaurant," and singing the Bob's Sub & Cone song. When we saw the parking lot at Moby Dick's, which was totally overpopulated, we drove right on by and headed down Route 6 to Bob's Sub & Cone.
The amazing thing is that the food at Bob's Sub & Cone is just as good as at the other good places on Route 6, but because it's a couple of miles farther out from Wellfleet it doesn't get nearly as busy as Moby Dick's, PJ's, et al. We had virtually no wait (one family ahead of us on line at the ordering window) and were able to claim two picnic tables and a high chair.
In addition to having all the same fried seafood stuff as all the other places on Route 6, Bob's Sub & Cone has an extensive subs menu. I felt I should try one, since last night I'd had a cone – shouldn't I have a sub tonight? So I got a sausage sub, and it was pretty damn good. Also excellent were the onion rings. The broiled cod sandwich was a surprise highlight – it's not actually listed as such on the menu board but we got the 411 that it was available. Cape Cod has got to be the best place in the world for onion rings. I mean, maybe there's one place somewhere that serves better onion rings, but surely there is no region that has more examples of excellent onion rings.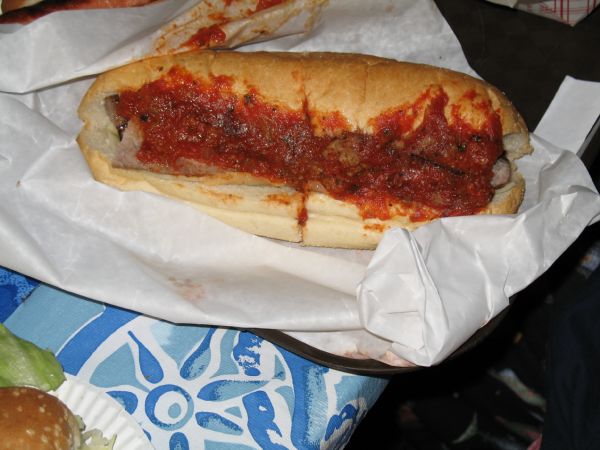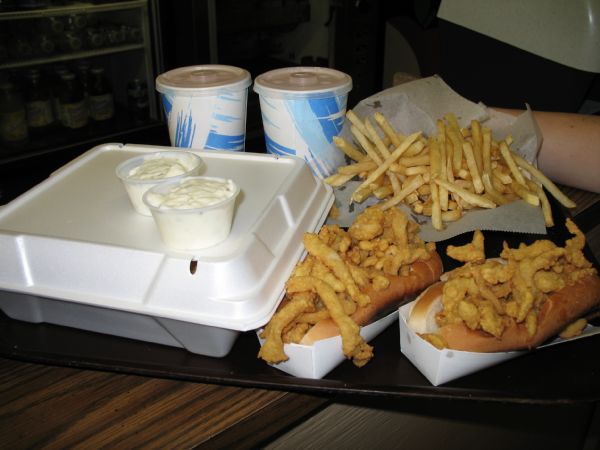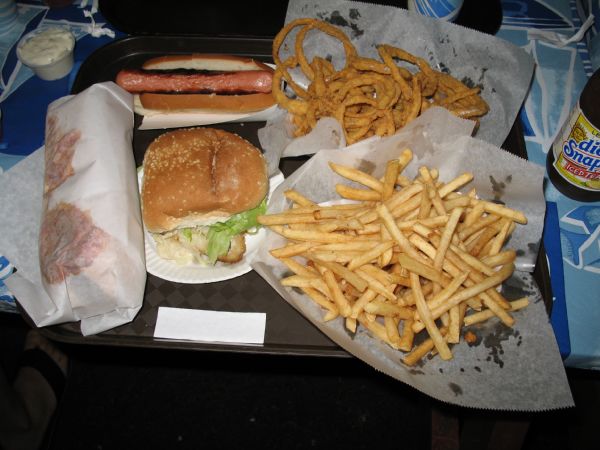 At Bob's Sub & Cone, you order cones (and other ice cream items) from the outside windows, but you order savory food from a counter indoors. Behind the counter, we noticed a pass-through to the kitchen, and a guy toiling at the stoves. "Is that Bob?" I asked the young lady at the cash register. "Yes, it is," she replied. My nephews were very excited about this piece of information. I later mentioned to her that my nephews really worship Bob, and she said, "Oh, you better tell Bob." So I yelled the information back to Bob in the kitchen and he kind of nodded. Luckily, I went to college in New England, so I understand about the whole "man of few words" New England non-speaking style (kind of like how Japanese people understand the subtleties of bowing) and can interpret these nods properly. I could tell Bob was pleased with the information.
Because I made so many trips back to the counter to get trays, condiments, etc. (apparently nobody else in my family was available to help with these tasks), I had several opportunities to communicate with Bob. At one point, when the cashier was off doing something, I approached and Bob came out. "What're you missing?" he asked. We needed a large lemonade, so he poured it and walked away. My nephew was particularly excited to learn that his lemonade had been poured by Bob's own hand. He wouldn't let anyone else touch it, and expressed regret that Bob hadn't signed the cup or at least the lid.
At the end of the meal, I saw Bob inside at a table talking to what must have been his family. He waved. We decided there was no way we were leaving without a photo of Bob. There was some question whether Bob would stand for it, but Bob totally exceeded our expectations and turned out to be a real ham. He even posed with PJ.