Over the years, I've tried various sorts of infusions, with vodka and other liquors. Fruit and herb-infused are the best known, and are often wonderful. But what I like is
meat.
Where's the infusion for people like me? I felt disenfranchised, and alone, especially after some research on the interwebs revealed a real lack of meat-based liqueurs. It would be up to me to blaze the trail.
I decided that a hot dog based infusion would work best. Not as assertive as chorizo, but bolder than pork chops or steak; in addition, the preservatives in the dogs would lend themselves to prolonged infusion. With that in mind, I began with fine all-beef franks:
Added them to 100-proof Smirnoff vodka and let them infuse in a large jar for five weeks. The hot dogs haven't colored the vodka in the way that lemon zest or berries do, just a slight discoloration:
After infusion, I made sure to squeeze the dogs well and strain them through a cheesecloth, to release all the essential oils and lipids. The resulting weeniecello is delicious served straight up, whether ice-cold from the freezer or slightly warm. It has a fine beefy taste, with a hint of salt and gentle spiciness that lends itself to pairings with nachos or buffalo wings.
I've also come up with a couple of cocktail recipes.
The Weenie-Tini
3 oz weeniecello
1 oz dry vermouth
splash of sauerkraut brine
Garnish with a slice of frankfurter.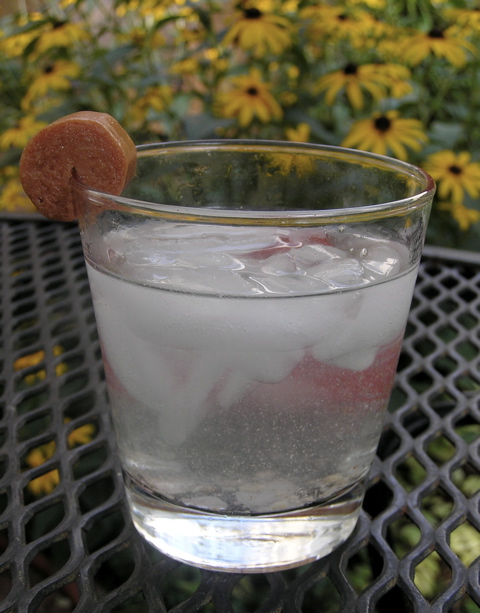 Because of an irrational fear of cone-shaped things, I've served the Weenie-Tini on the rocks rather than strained. Others could of course serve it straight up in a stemmed glass. Either way, the Weenie-Tini has a richness and subtle beefiness not to be found in traditional vegetarian cocktails.
VARIATION: serve in a shot glass. This is the
Eenie-Weenie-Tini.
Here's another cocktail.
Take Me Out To The Ballgame
2.5 oz weeniecello
1.0 oz peanut liqueur
Dust the rim with dry mustard and garnish with boiled peanuts. (An experiment with Cracker Jacks led to sogginess and tears that not even the free prize could cure.)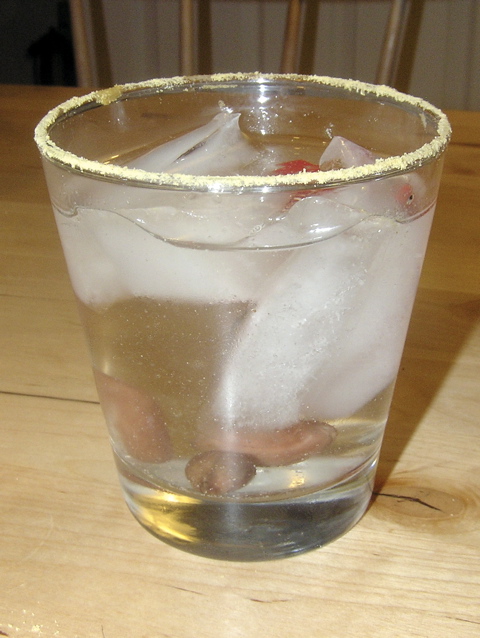 This is a good cocktail to drink while relaxing in front of the TV while watching wrestling, reality TV, or (of course) baseball. It's a drink with wide appeal:
As you can see, the meatiness of the weeniecello drove my cats wild! It makes good cocktails for pets; for example, I added a few spoonfuls to their kibble to make a rich gravy. They seemed to appreciate it.
Next up, I'm interested in experimenting with cheese infusions... Velveetinis, anybody?