Pictorial Recipe

Fried Rice Noodles with Beef (Dry Style) (乾炒牛河)
Frying noodles, rice noodles, and rice are Cantonese specialties. This pictorial illustrates one of the bests Cantonese style has to offer: frying rice noodles with beef and soy sauce. This dish is called "Dry style" because it doesn't offer gravy. It is quite easy to make at home.
Note: This dish is also known as "Beef Chow Fun" in many Chinese restaurants.
Picture of the finished dish: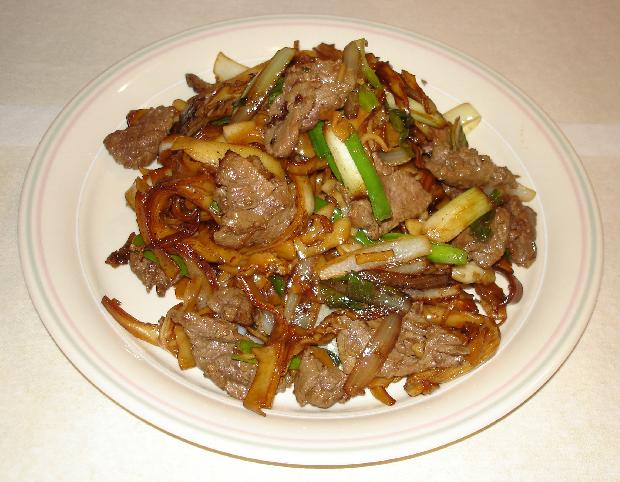 Serving Suggestion: 2-3Preparations: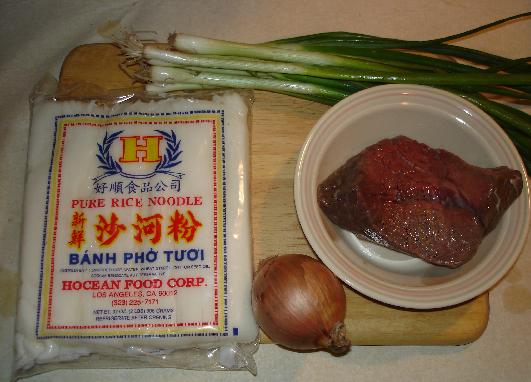 Main ingredients (middle right, clockwise):
- Beef (chuck), about 3/4 lb
- 1 small onion
- 1 pack of fresh rich noodles, 2 lb
- 5 stalks of green onions
(Optional, use either)
- 1/4 lb bean sprouts (mung bean sprouts)
- 1/8 lb yellow chive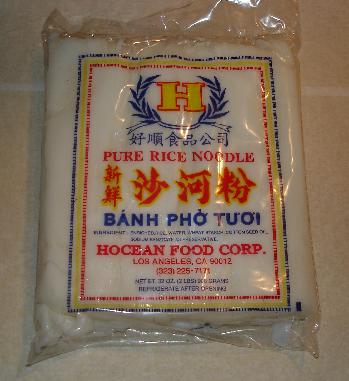 This is the feature of this dish: one pack of freshly made rich noodles. The rice noodle sheets are already perforated into 1/2 inch wide, length-wise.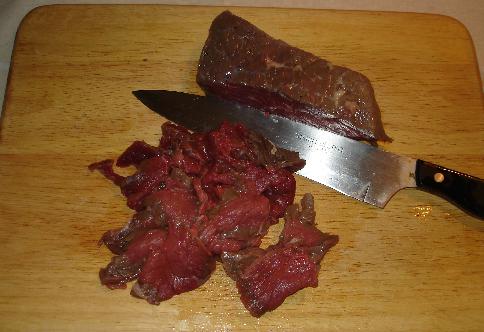 Cut the beef into 1/8 inch slices.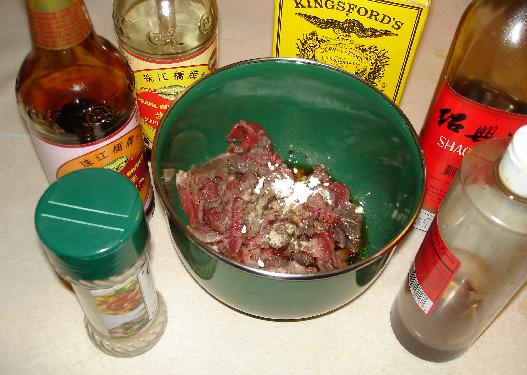 To marinate the beef: Add beef slices in a small mixing bowl. Add 1 tsp sesame oil, 1 tsp of ShaoHsing wine, 1 tsp of corn starch, 1 tsp of light soy sauce, 1 tsp of dark soy sauce, and 1 tsp of ground white pepper.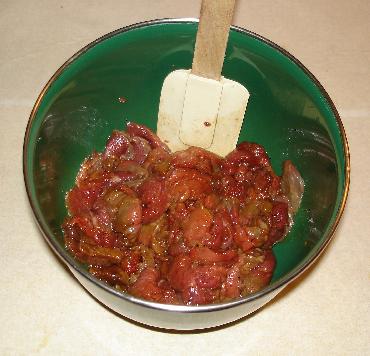 Mix well. Set aside for about 30 minutes before cooking.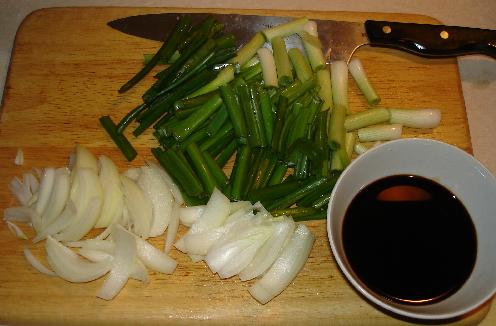 Peel, trim and cut the onion into small wedges. Trim and cut the green onions into 1 to 2 inch pieces. Use a small bowl, add 3 tsp of light soy sauce and 3 tsp of dark soy sauce. Mix well.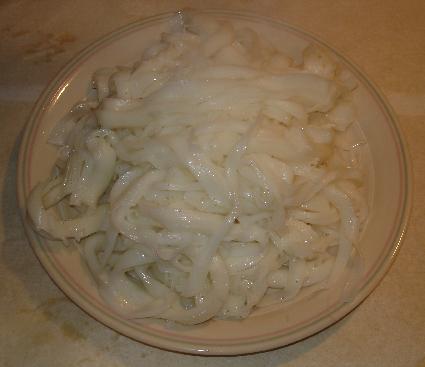 Take the rice noodles out of the plastic package. Use your fingers to separate the noodle shreds and fluff them up the best you can.
Cooking Instructions: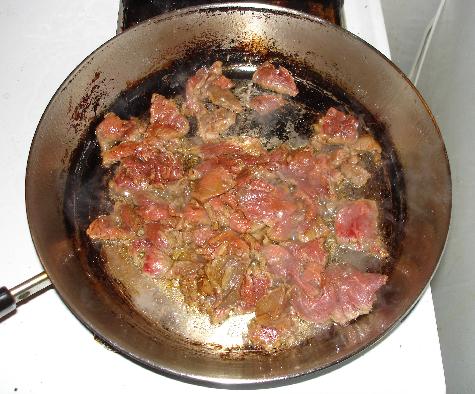 Use a pan/wok, set stove to high. Add 3 tblsp of cooking oil. Wait until oil is hot. Add marinated beef slices to velvet for a few minutes. Remove and drain the excess oil.
Clean and dry pan. Heat it over stove. Set stove to high. Add 4-5 tblsp of cooking oil. Wait until oil start fuming. (Note: this is an important point. Must wait until oil temperature is high.)
The following steps must be completed very quickly: Add the wedged onions and 1/2 portion of the green onions. Dash in 2 tsp of ShaoHsing wine. This may induce a flame especially if you cook with a high power wok burner. Immediately add the small bowl of light/dark soy sauce mix.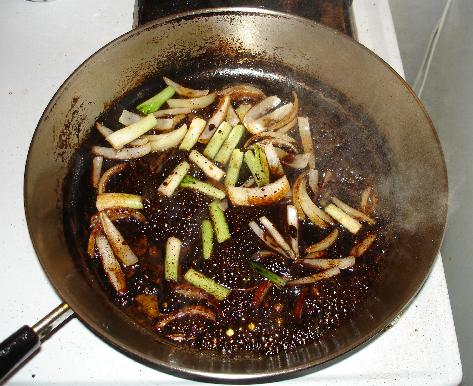 Like this. The soy sauce will boil immediately.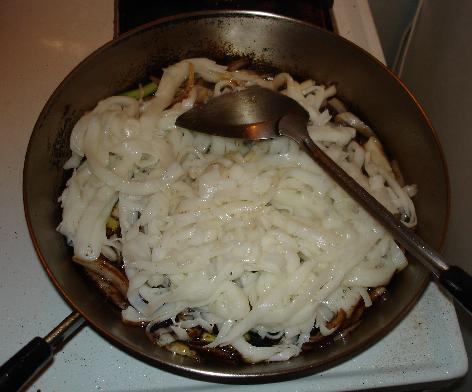 Immediately add the rice noodles. (Note: When cooking at home, it is easier to use a microwave oven to pre-heat the rice noodles for about 3-5 minutes. This will reduce the cooking time over the pan/wok.)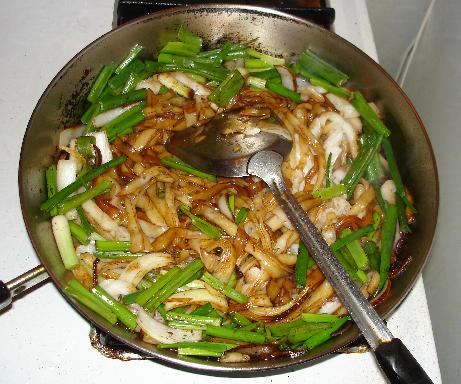 Mix well and add the rest portion of the green onions.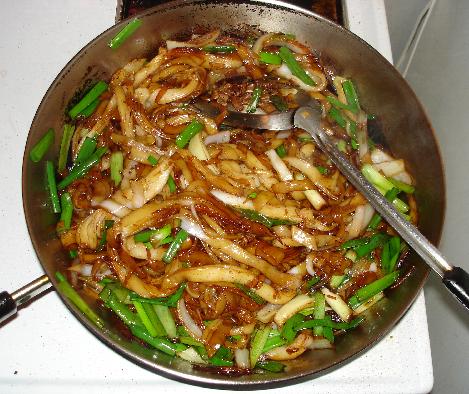 Mix well until the soy sauce spreads evenly over the rice noodles.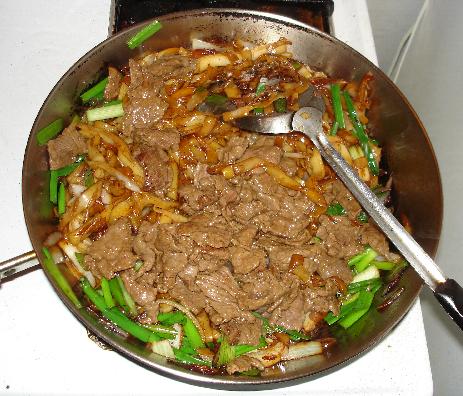 Return the velveted beef slices. Continue to mix well. Stir-fry for another minute or so, completed. Transfer the rice noodles to a serving plate.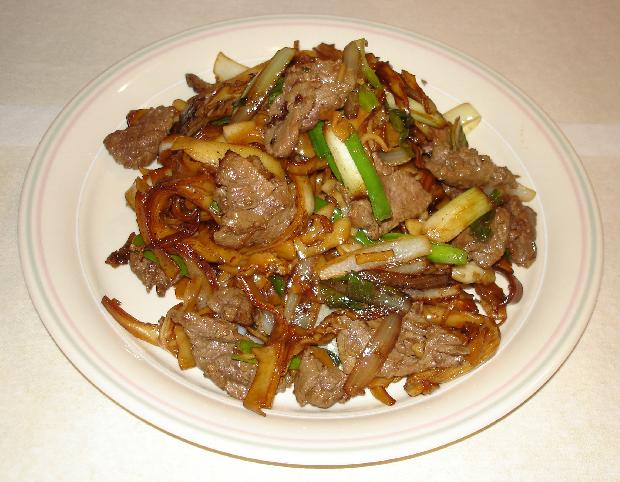 Picture of the finished dish.
(Note: The quantity of food made in this recipe is about twice to three times the portion shown in this picture.)
Variations
It is also popular to use BBQ pork slices or chicken to make this rice noodle dish.
Edited by hzrt8w, 31 July 2006 - 08:47 PM.