I never imagined that my first post in my first eGullet foodblog would be so difficult to begin. With so much to share over the next week, I hardly know where to start. I want to make these next several days engagingly fun, witty, and intimately personal so that anyone so inclined may easily immerse themselves into my food-obsessed world. My goal is to bring enough of my (hopefully) unique personality and perspective to make this blog as interesting as possible. And, of course, I welcome any questions, comments, feedback, or musings that you all may have. Together, I think we can make this a really fun week.
With that said, let's begin.
First, a little on my background for those who may be unfamiliar. As you may have surmised, my name is Bryan. I'm currently living in northern central New Jersey and am 19 years old. During the school year, I attend Duke University in Durham, NC and am actively involved in the food community both on campus and in the surrounding area. At home, I cook a lot and work a little, much to the chagrin of my bank account. I'm half-Japanese, in case you're wondering, and this identity has played a relatively significant role in my culinary philosophy. By the way, I turn 20 on the 15th of July, in the midst of this foodblog. This scares me to no end; my childhood is but over. I'm more than willing to talk further about my background, culinary or otherwise, if anyone is interested. Just ask.
Now let's introduce some of this week's crew.
First, the Girlfriend.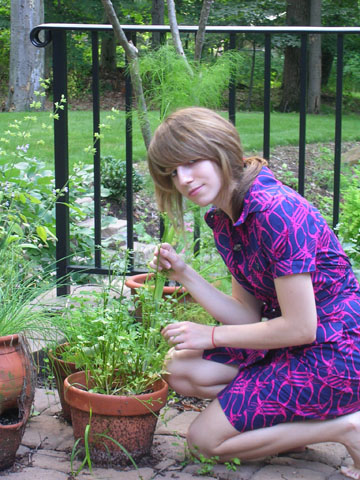 Offical taste-tester and capable of eating her own body weight of, well, just about anything. You know the stereotypical jock boyfriend (usually a football player in those TV family sitcoms) who eats his girlfriend's family out of house and home, my situation is eerily similar. She also apparently picks herbs while looking mysterious and deep in thought.
Next, the Mother.
Pays for groceries and other toys. Provides general financial and moral support. Drinks a lot of wine, as seen here.
Finally, the Sister.
Takes care of the pastry stuff that I'm too lazy to do. Baking, ice creams, sorbets, all that jazz.
I must confess to not being on eG much in the prior week or so. Just a couple of days ago I returned from a trip to Anguilla and French St. Martin, two Caribbean islands known for having very good food. Perhaps fittingly, in Anguilla we stayed at the
Cuisinart Resort and Spa
, a great luxury resort owned by the Cuisinart kitchen appliance people. I'm not sure if this is directly relevant to food per se, but I'm more than willing to reflect on the meals of my recent travels if anyone is interested.
Bringing us to the here and now, this week marks the beginning of New York City's Summer Restaurant Week 2006. While Restaurant Week has it haters and admirers--I'm of the latter camp--it does offer the opportunity to eat at many of the city's top restaurants on the cheap. Today, Monday, I have two lunches and a dinner planned as part of Restaurant Week. After that, I swing downtown to see a concert at the Bowey Ballroom and perhaps stop by at Room 4 Dessert, Will Goldfarb's (akwa on eG) hypermodern dessert bar.
On Wednesday I have two more lunches and another dinner.
On Friday the family is off to California for a weekend trip. We're driving from LA to San Francisco up the coast with an overnight stop in Carmel. Then on Sunday I've got meals at Bouchon and Gary Danko. Then, this blog must unfortunately come to an end.
Of course, I'll be cooking a good deal, too. Some of the things I'll be playing with this week include carbonated fruit, a recently purchased commerical induction burner, my new mini-water bath, and trying to figure how to make alginated butter orbs (the plight of many a molecular-inclined cook). Much more on all this in the coming days.
Finally, I'm working on a long-term project of opening up an underground restaurant in my apartment/dorm next semester, similar to the late and great StudioKitchen in Philadelphia. If people are interested in this or have advice to give (or legal counsel) please post. My concept is called
Z Kitchen
. The site is up and running but still in beta development. My
Z Kitchen e-Lab
, HEAVILY influenced by the brilliant people at ideasinfood (twodogs on eG), is also in its infancy.
So, yeah, a lot to do and only a week to do it in. I hope you all continue to tune in and participate and ask questions and all that fun stuff.
ETA: My mother requested I add a picture of myself. So, Hi.
Edited by BryanZ, 09 July 2006 - 11:03 PM.