Meat Kreplach
Like the
knish
, a kreple (singular of kreplach) is a product of a peasant people trying to stretch ingredients they had on hand.
Older chickens (mature/soup/stewing) provide more flavour to chicken soup but once boiled are drier and tougher than young chickens. So after the chicken has been used to flavour the broth, it made sense to find another use for the meat. My grandmother would have never considered throwing out the meat. To make this dry, taste-reduced meat into something that was tasty and filling, the solution was to mix in some flavour and moisture, wrap it in a dough and add it to the broth. Adding boiled potato to the ground up chicken works as a stretcher - but also adds some moistness and binding properties.
As is often the case with peasant foods, kreplach were first made to save money and use what was on hand and available. Now they are made for those reasons and because they are so well-loved. There is no question that it takes some time to prepare these - but they are worth it.
The dough recipe creates an almost silky mouth-feel in the end-product. Cut into a kreple and you expose an oniony, meaty filling. The finished product far out-weighs the time it takes to make these - and they freeze beautifully, so you can make a large batch and enjoy it over a couple of months.
You should make two dough recipes for one batch of filling.
Dough
This is a simple dough. You'll need:
3 C. flour
2 tsp. salt
1 tsp. baking powder
1/3 C. canola/vegetable oil
1 1/4 C. warm water
Place the flour, salt and baking powder into a stand mixer or a food processor: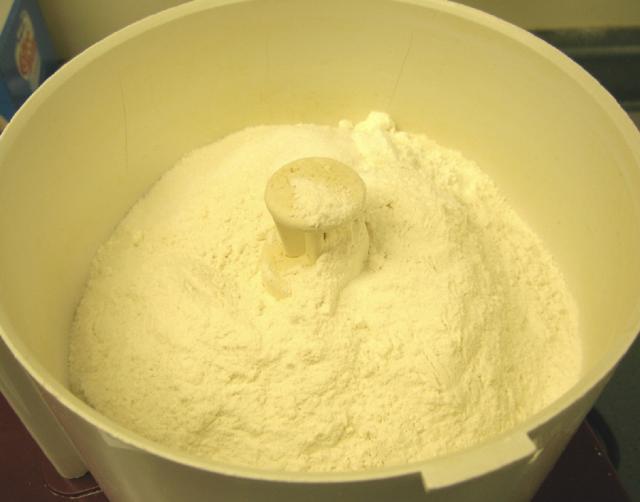 Place the lid on and turn the machine on, combining all of the dry ingredients.
With the machine running, slowly add the oil: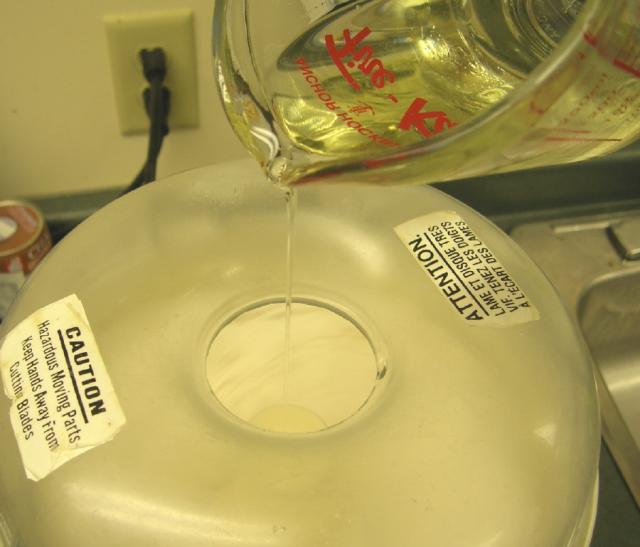 And then the water: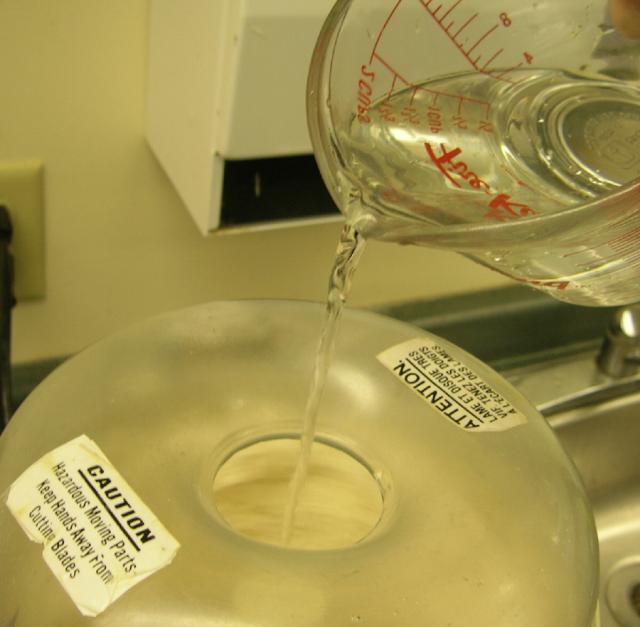 At this point the dough was a little too wet and sticky, so I added about 3 Tbsp. of flour (which is sprinkled on top of the dough in this photo):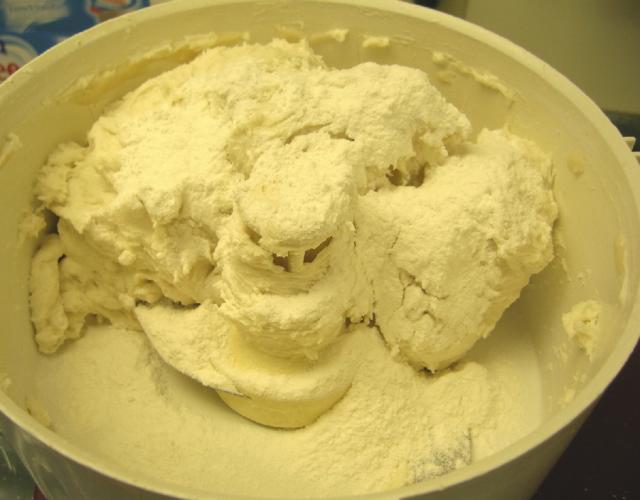 After adding the flour, I let the machine work until the dough formed a ball. The final dough should be moist, but not wet or sticky.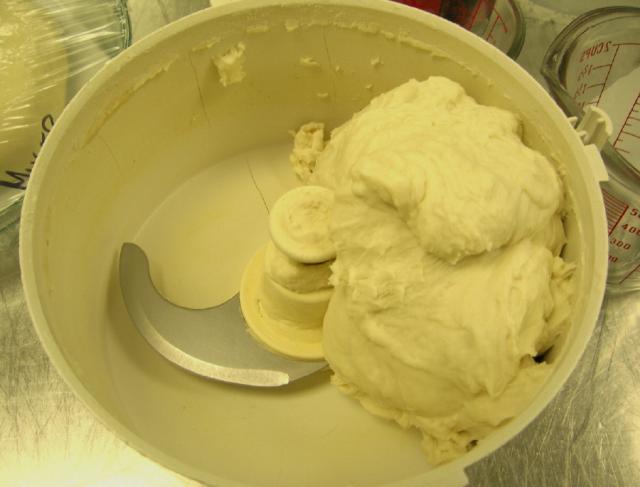 I also made a batch in my stand-mixer with a dough hook:
Both doughs - place each one on a piece of parchment and cover with plastic wrap. The dough should relax for at least an hour. These doughs rested for about 2 hours on the counter before I used them. There was no discernible difference between the two doughs: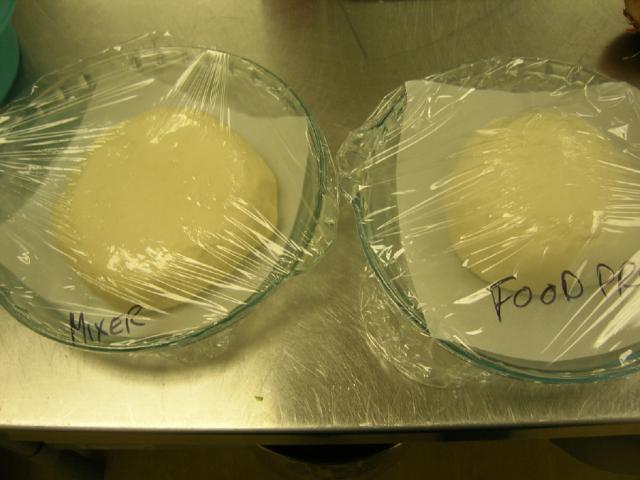 Filling
Ingredients:
1 lb. boiled chicken - mixture of white and dark
2 small or 1 large red potato, peeled and cut into chunks
1 large yellow onion, peeled and chopped
3 Tbsp. schmaltz
1 1/2 tsp. salt
1/2 tsp. black pepper
3/4 to 1 C. chicken stock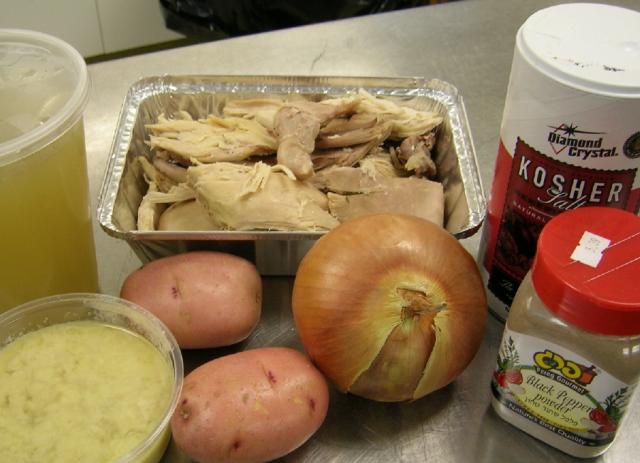 First thing to do is cook the onions. The best thing to cook the onions in is the schmaltz that I reserved from making the chicken soup (though you can use a mild vegetable or canola oil). Melt the schmaltz in a frying pan: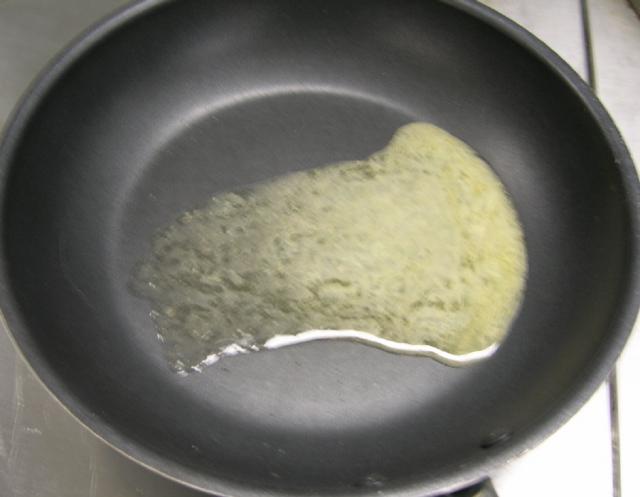 Add the onions and sweat over medium-high heat:
This process can take a little while (25-30 minutes). If you find that they're browning too quickly, lower the heat. They should cook long and slow. In a couple of minutes these onions will be done: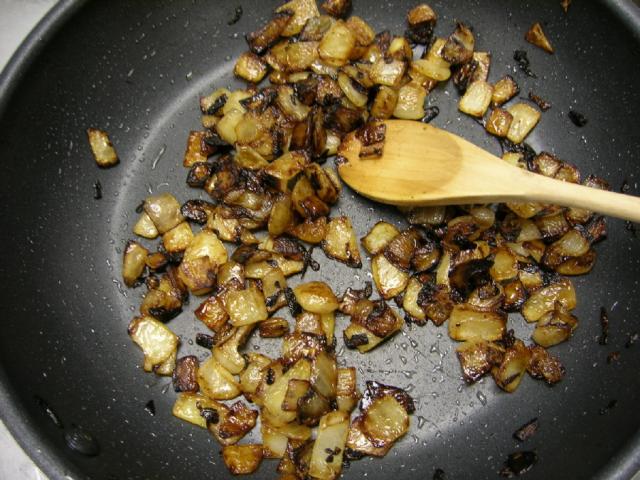 The ingredients are ready to be put through the grinder. The potatoes were placed in a pot, covered with cold water and placed over high heat. They simmered until they were fork-tender then drained and set aside.
Use a grinder (with coarse blade) to grind the chicken, potato and fried onions. You can do this in the food processor, but I prefer the texture achieved by the grinder.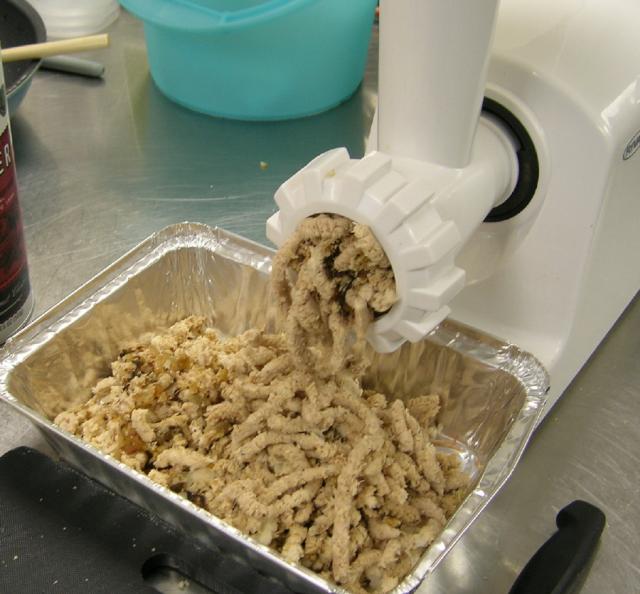 Ground up and ready for some moisture and seasoning: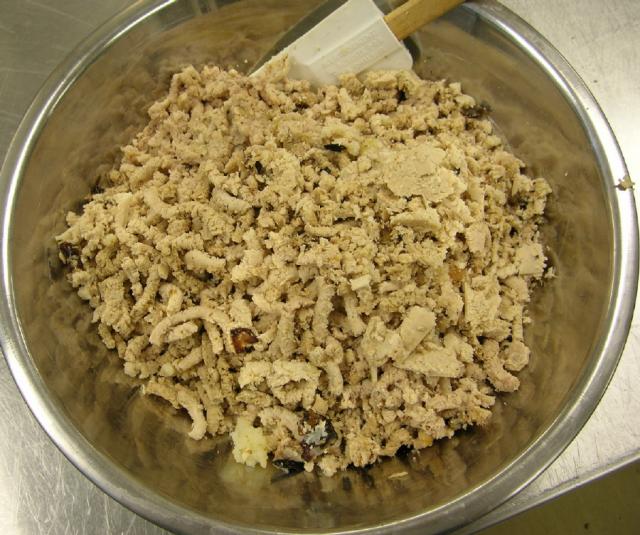 Add the salt, pepper and chicken stock and mix together. At this point I generally abandon the spatula and knead the filling with my hands. It should stick together and be moist, but not wet. Taste and check for seasoning.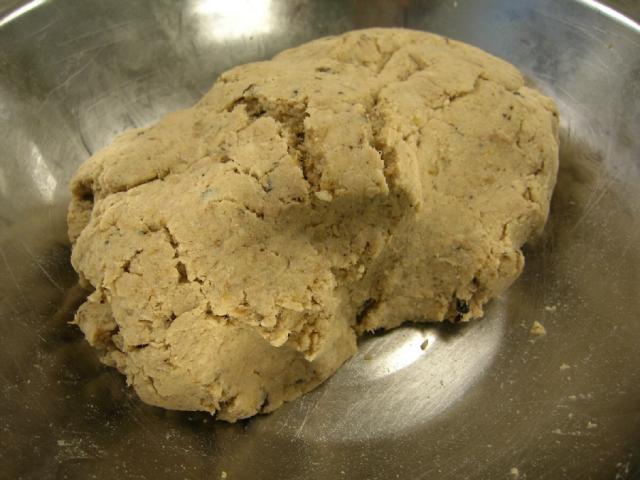 When the filling is ready, I use a small ice-cream scoop to form equal size balls of filling. The scoop is approximately 1 Tbsp.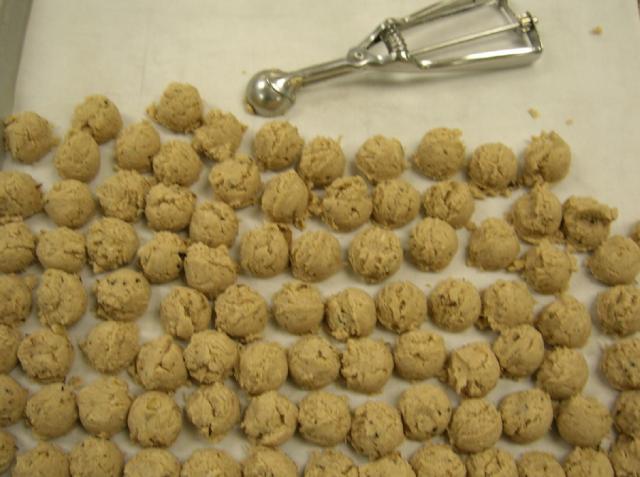 Assembly
:
Dough
A very relaxed dough, ready to be rolled on a floured table with a floured rolling pin: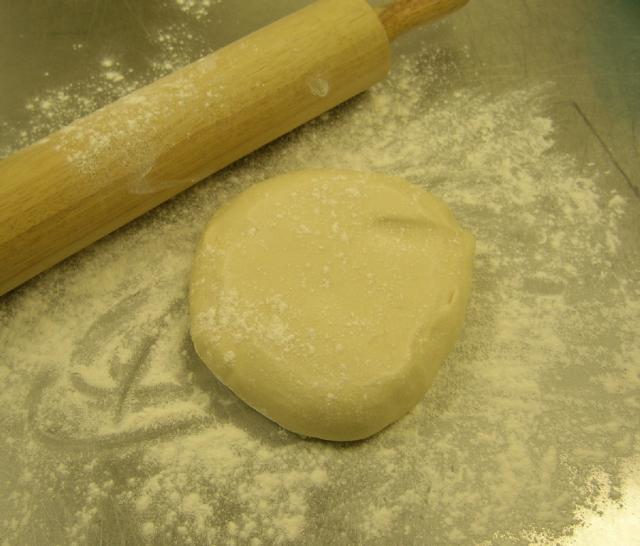 Rolled out to approximately 1/8 to 1/4 -inch.
Cut with a 2" round cutter:
The scraps can be used again. Gather the scraps together, wrap them in plastic wrap and let them rest a minimum of a 1/2 hour before using.
Place one ball of filling on each circle of dough: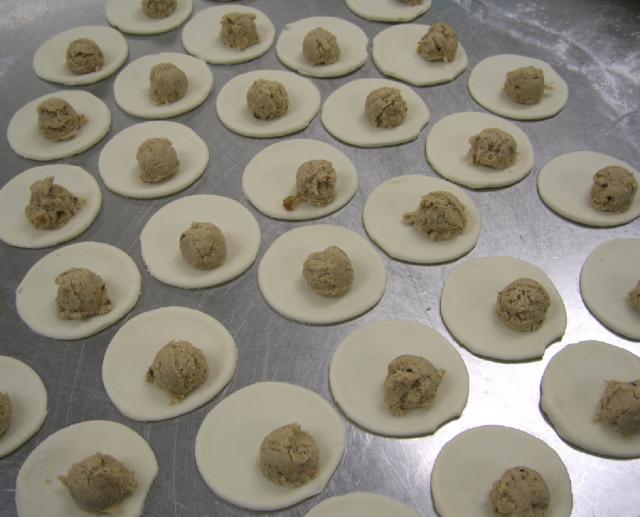 Pick up one piece of dough with the filling and fold it in half: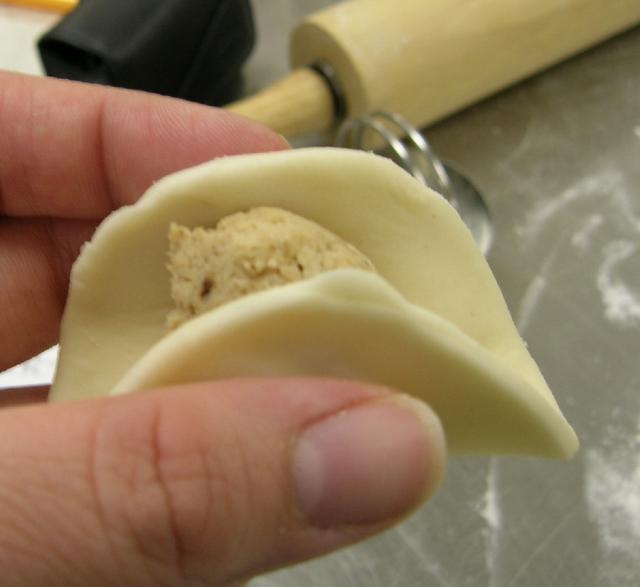 Pinch the dough all the way around the edge. If the dough doesn't stick together you can try one of two things. Either flour your fingers before you pinch, or brush the inside of the dough with some water (or both).
Once pinched it should look like this: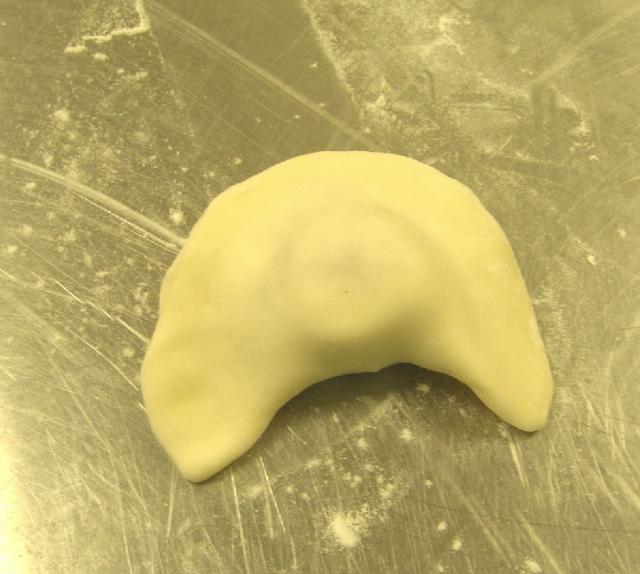 Then bring the two ends together, forming a circle and pinch them together:
Continue with the rest of the dough and filling until all have been assembled. Place them on a well-floured baking sheet as you go: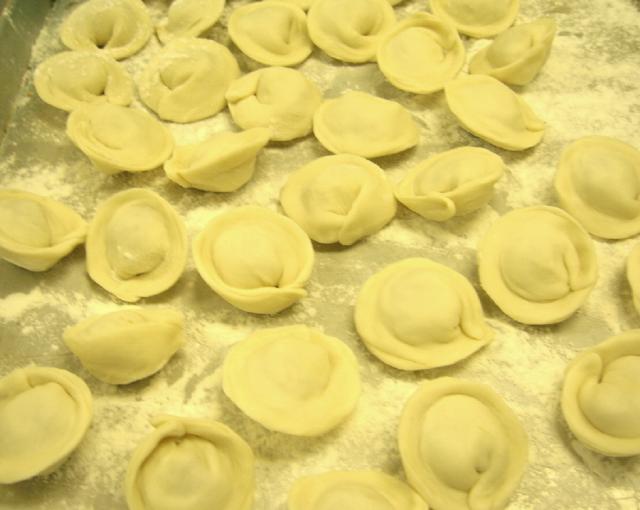 Cooking
:
Bring plenty of water to boil with some salt and a splash of oil: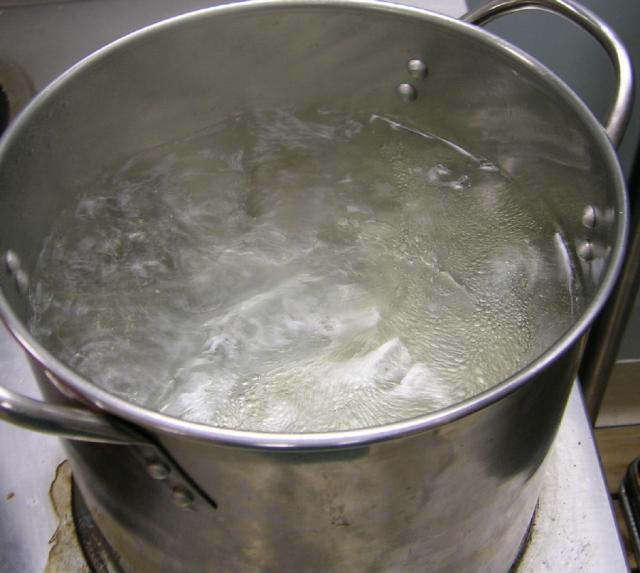 Before you start cooking the kreplach, get a bowl, colander/strainer and a slotted spoon ready: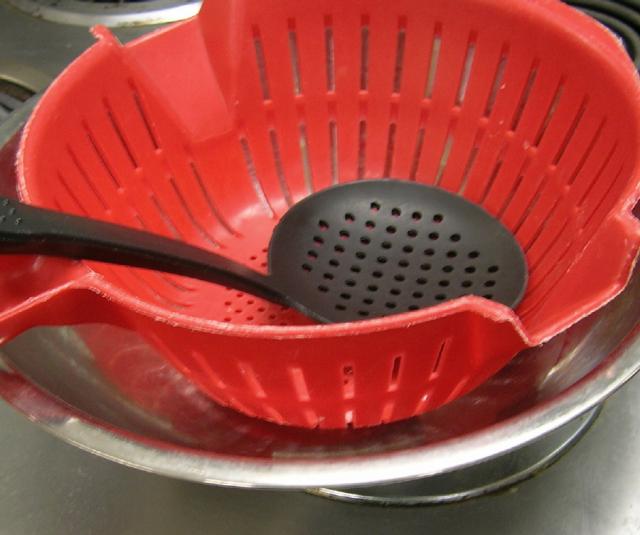 Once you've added them, the kreplach will float to the top of the pot almost immediately. After they have all floated to the top, simmer another (1) minute: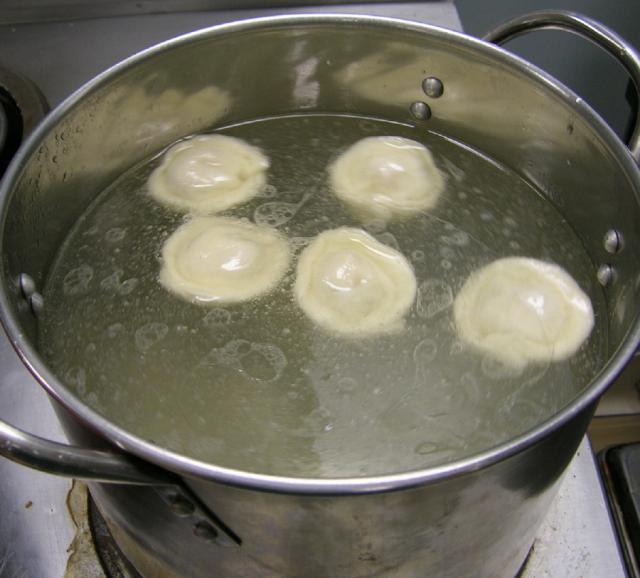 Use a slotted spoon to pull the kreplach out of the water, and place them in the colander. If you are eating them right away, add to chicken soup and serve.
Because the batch makes so many, you'll probably want to freeze at least some of the kreplach. Rinse them in cold water and toss with a little oil. Place them in a single layer on a baking sheet lined with parchment and freeze. Once frozen you can transfer them to freezer bags.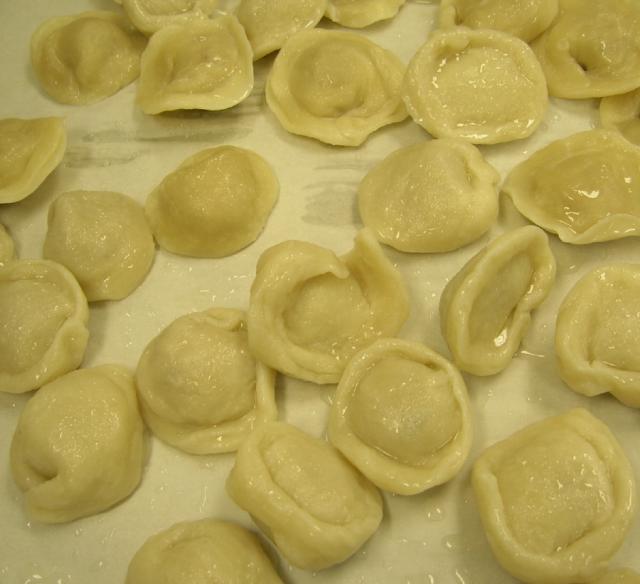 If you've frozen the kreplach, when you ready to eat them, thaw and then rinse to remove the oil. They can then be warmed up either in a pot of boiling water or right in the chicken soup.
A bowl of
chicken soup
with meat kreplach: