I believe
Hoover's Cooking
is widely regarded to be the best. The prices are high but the portions are huge. Sometimes it gets really packed and I've heard rumblings that quality has been on the decline. Their margaritas are awful.
Dot's Place
is probably the second best well known establishment but I believe they're in limbo after their building burned down two years ago.
I went to
Tony's Southern Comfort
on Monday. If you look at their
menu
you'll see that half the items are actually Tex-Mex, like nachos and enchiladas. When I arrived with my friend we learned that they were BYOB so we ran to the corner store and picked up a sixer of Ziegenbock.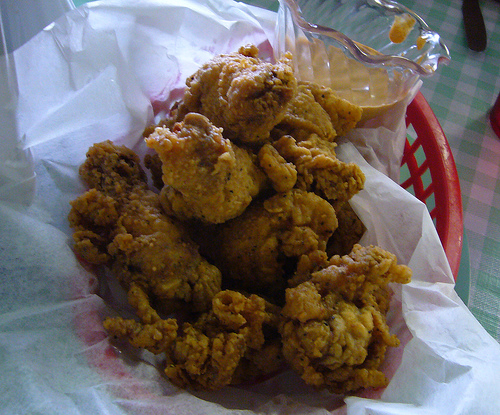 Fried chicken drummettes ($4.95). Wonderful, huge chunks of crisp batter. Some of the best fried chicken I've ever had. The spicy dipping sauce was nice, too.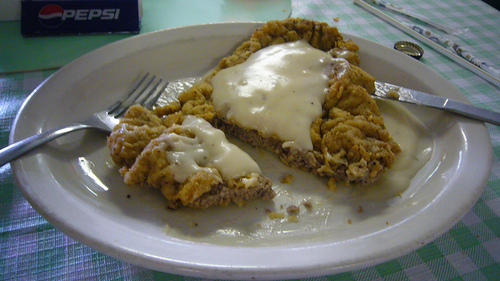 Chicken fried steak ($5.25). This can probably be considered a textbook chicken fried steak. I'll refrain from judgment as this is a sensitive topic and I need to eat more CFS before I can give a reliable opinion.
In Spicewood, about 30 miles west of Austin, there is
RO's Outpost
. Their CFS is really fluffy, which I believe many consider to be untraditional. Frankly I like it the most. Their rib end appetizer is also superb and their desserts are recognized by the Austin Chronicle.