Anyone who is a supporter of good food in New England already knows about
Farmstead Cheese
in Providence RI.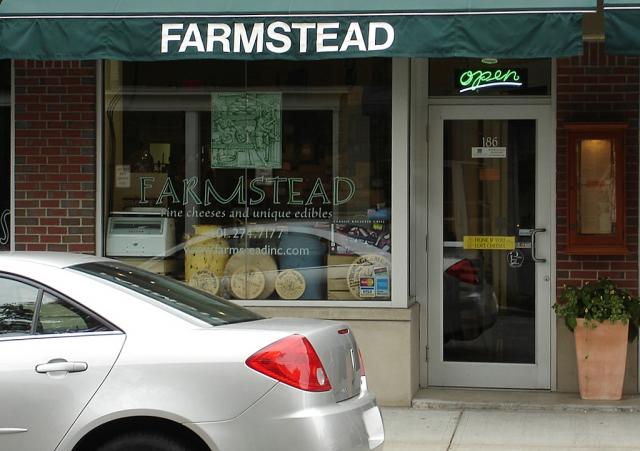 Run by Matt and Kate Jennings, Farmstead has spent three years bringing the highest quality artisanal cheeses to their shop on Wayland Ave in Providence RI, and the shop has a stack of awards to prove it.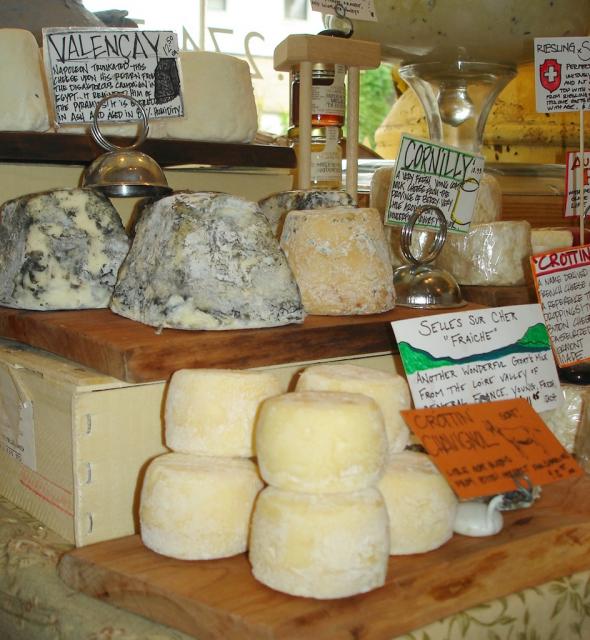 They also provide cheeses to the very best restaurants in the greater Providence area, including Chez Pascal, Gracie's, New Rivers, Castle Hill Inn, Persimmon, and Nat Porter Restaurant.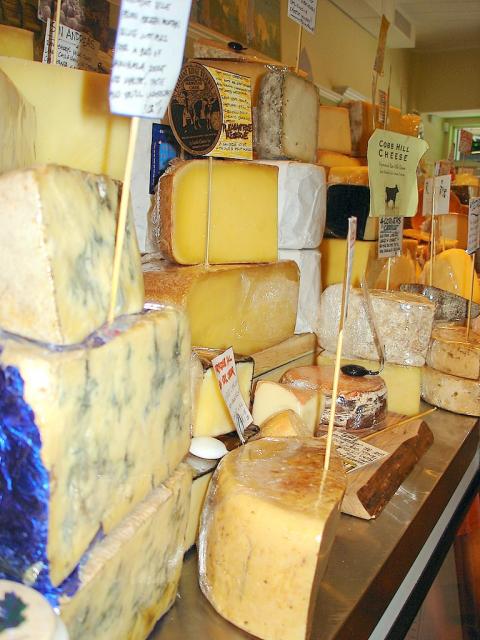 Visiting Farmstead is always a highlight of my day, as I feel surrounded by the hard work of cheesemakers and other food artisans who care deeply about what they do. Sareh Amber's standing next to the bowl of chevre; I'm pretty sure that's Terrence Geary, the fourth member of the Farmstead team, over her shoulder.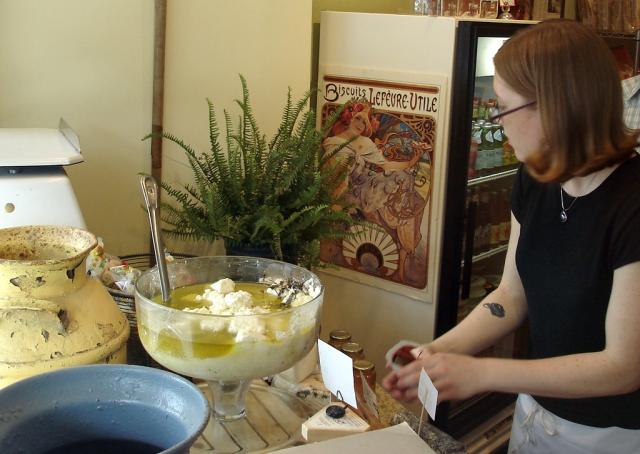 Matt, the cheesemonger at Farmstead, travels far and wide to find the best cheeses in the world.
The shop also provides artisanal foods such as olives --
-- honeys, crackers, and, my personal favorite, charcuterie.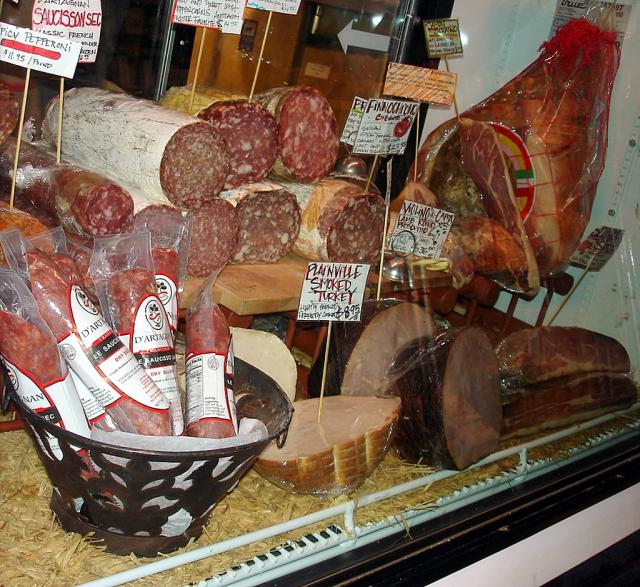 I fixated particularly on this crespone on my last visit.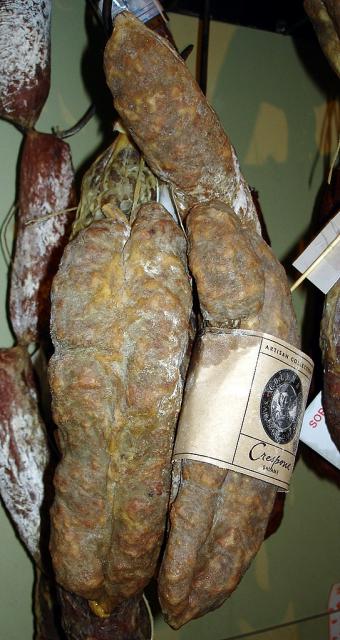 Just a couple of weeks ago, I found out that Matt and Kate had just created a new way to share their deep love and respect for remarkable foodstuffs with the rest of us: their new restaurant, La Laiterie at Farmstead, right next door.
It's designed to fit into the neighborhood, with subdued decor and lots of windows up front. Here's what it look like just before opening.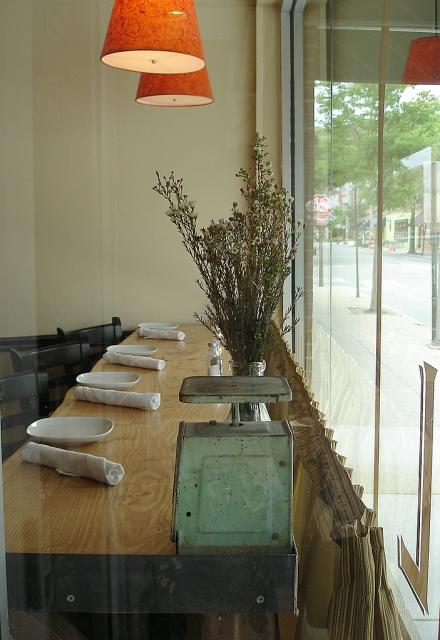 La Laiterie's mission is to provide diners with the opportunity to eat the finest artisanal cheeses, charcuterie, and other foods coupled with the handmade wines and beers. With Matt behind the stove and Kate doing the baking and managing the front, they're committed to making and serving what they call honest food -- and it's all reasonably priced, I'll happily add.
I spent some time there at the bar on Saturday evening, focusing most of my attention on this wonderful charcuterie slate.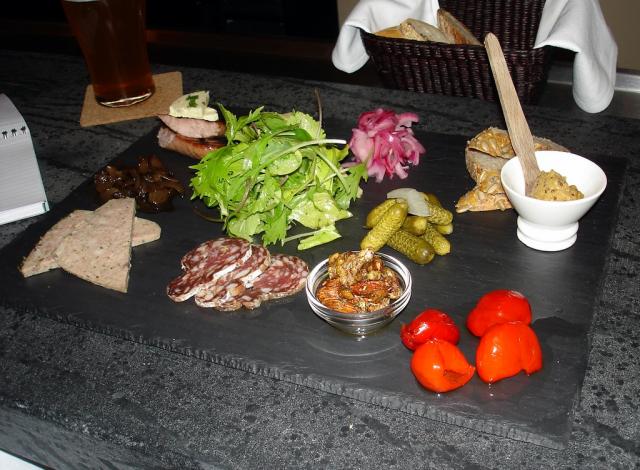 I had fantastic pheasant pate and rabbit sausage, both of which placed extraordinary meat at the foreground. The "extra mature" Montgomery's cheddar lurking behind the microgreens was, without question, the best cheddar cheese I've ever had. The mains played off the tid bits, including some mighty fine cornichons and thyme-spiked toasted nuts, and the condiments were mighty fine as well, including balsamic shallots, some picked peppadew peppers, and Matt's homemade mustard.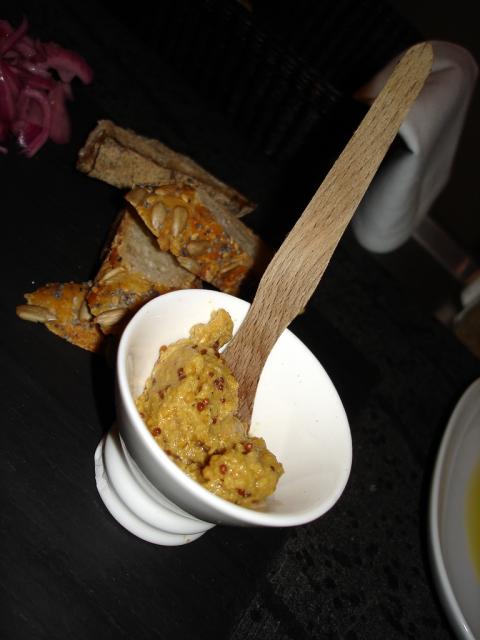 Remember that crespone that was hanging on the wall over in the shop? Here it is, up close and personal. The flavor matched the definition of this miraculous sausage.
When I asked Stefan, who has developed the great wine list and was tending the soapstone bar, what I should have with the slate, he instantly suggested a saison au point made by Vermont brewer Shaun E Hill.
I later had an Ayrshire brown ale from Hill that was also perfect with the food, this time Kate's wonderful chive biscuits. (No photo; I ate 'em too quickly.) Here's an entire flight of the beer selections right in front of a wedge of that blockbuster Montgomery's cheddar:
All in all, a wonderful meal in a wonderful place, the first, I'm sure, of many. Has anyone else been? If not, well, go and report back!