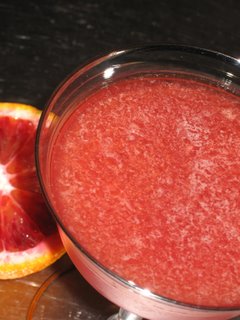 Blood and Sand Cocktail
1/4 Orange Juice (3/4 oz fresh Blood Orange Juice)
1/4 Scotch Whisky (3/4 oz Compass Box Asyla)
1/4 Cherry Brandy (3/4 oz Massenez Creme de Griotte)
1/4 Italian Vermouth (3/4 oz Cinzano Vermouth Rosso)
Shake well and strain into cocktail glass.
This one is supposed to be named after the 1922 movie of the same name featuring Rudolph Valentino. The story of a bullfighter rising from a poor background only to be defeated by his own ambition.
As far as the cocktail goes, I think the Asyla is a bit too civilized for this company. The cocktail probably could have used a more assertive a Scotch. Also, while not syrupy, the Blood and Sand is pretty sweet. When I make it again, I will probably drop the Creme de Griotte to 1/2 oz.
Oh, and oddly, Patrick Gavin Duffy instructs this cocktail should be stirred, not shaken.
edit - add a couple links to much better writers than I tackling the mystery that is the Blood and Sand.
Professor gets some Education
, Gary Regan, in a SF Chronicle Cocktailian column from 2003
Naming Names
, Paul Clarke, from his Cocktail Chronicles blog in 2005
Edited by eje, 28 January 2007 - 05:17 PM.