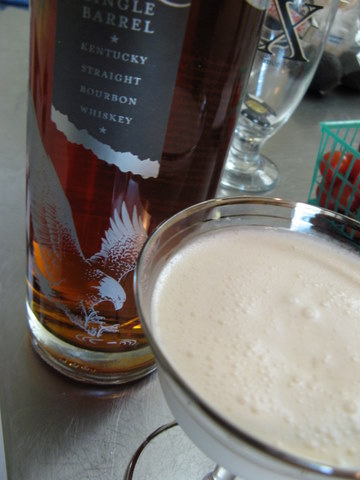 The Cowboy Cocktail
2/3 Whisky. (1 1/2 oz Plump Jack selected single barrel Eagle Rare 13 year old Bourbon)
1/3 Cream. (3/4 oz Cream)
Cracked Ice.
Shake well and strain into cocktail glass.
Another cocktail ripped from the pages of Judge Jr.'s 1927 "Here's How".
I dunno where a Cowboy would get cream, or why he would put it in his Whisk(e)y.
Maybe to cover up really bad "bathtub" whisky?
"Here's How" was published during the period of prohibition in the US. Perhaps I should have used Canadian Whisky (I am not implying here that Canadian Whisky is "bad", just that it might be a more appropriate choice for the time period this cocktail was created.)
In any case, another drink that didn't do much for me, bordering on a waste of perfectly good Bourbon and cream. I didn't pour it down the sink; but, a dash of liqueur or simple would do a lot to perk this up.
If you're going to mix Whisky and cream, at least make yourself something nice like the
Barbary Coast
.
Edited by eje, 13 September 2007 - 09:18 AM.